Podcast
Muscadine So Fine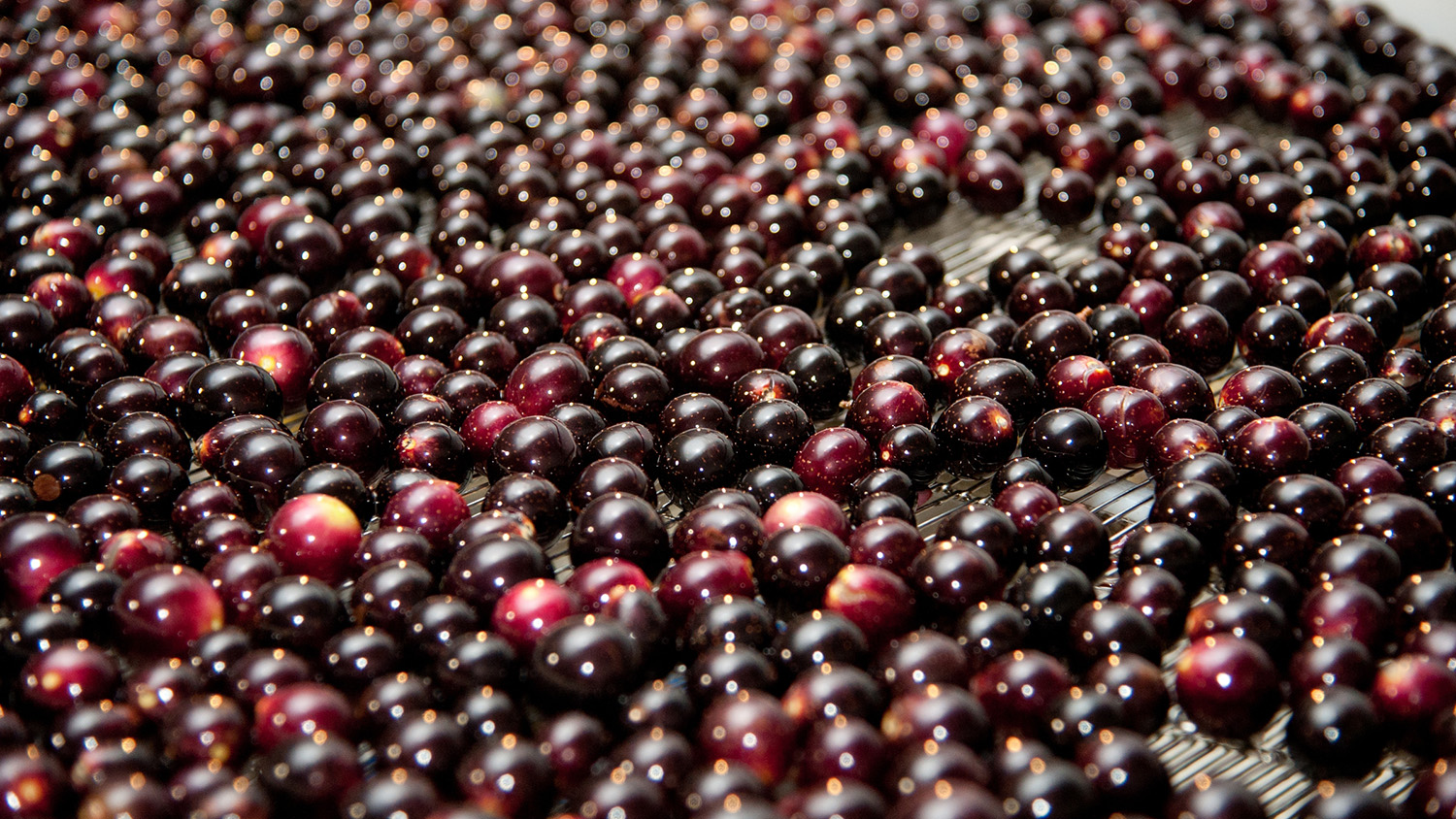 People say to believe half of what you see and none of what you hear, but the rumors are true: muscadine grapes are one of the new "it" superfoods. Native to the Southeast and grown in North Carolina well before the "mother vine" was planted in Manteo over 400 years ago, muscadines are the sweet, thick-skinned grapes fueling a stable, booming wine industry, pick-your-own operations and a burgeoning health supplement market.
In this episode of Farms, Food and You, we talk to Mark Hoffmann, a small fruits specialist with NC State Extension, about this super grape and why it's suddenly en vogue again both at home and abroad.
Podcast Transcript
HOST:
People say to believe half of what you see and none of what you hear, but the rumors are true: muscadine grapes are one of the new "it" superfoods. Native to the Southeast and grown in North Carolina well before the "mother vine" was planted in Manteo over 400 years ago, muscadines are the sweet, thick-skinned grapes fueling a stable, booming wine industry, pick-your-own operations and a burgeoning health supplement market.
On today's Farms, Food and You we talk to Dr. Mark Hoffmann, small fruits Extension specialist, about this super grape and why it's suddenly en vogue again both at home and abroad.
If you're a native North Carolinian, you may have grown up picking muscadine or "scuppernong" grapes in a family member's backyard. These often golf ball sized grapes come in several varieties and are bronze, purple, red or black in color. They're grown all over the state and have developed a thick skin and reputation for their sweet, sugary wine. Dr. Hoffmann tells us a little bit about their history in the wine industry in North Carolina.
HOFFMANN:
The muscadine industry, the wine industry, in North Carolina before prohibition was one of the largest industries in the country actually. So, a lot of the grapes and a lot of the wine that was produced before prohibition was actually grown in North Carolina and the majority of that was muscadine grapes. There is a tradition in North Carolina to grow grapes in the first place. That's probably also why everybody has them in the backyard because it was a very popular commercial industry before prohibition.
And then during prohibition, most of the wineries and grape producers didn't continue. There are just a few that made it through the prohibition on a very, very small acreage. And then after prohibition, the industry started all over again, basically new, and that was really in a world then where we had a lot of European grapes and European wines coming from the West Coast.
HOST:
Those European grapes also made their way to fields in North Carolina. But they didn't quite replace the muscadine wine tradition.
HOFFMANN:
Here in North Carolina, we have a European wine industry that continues to grow. However, muscadine wine is a popular product in North Carolina and the Southeast. The traditional muscadine wine, which is very sweet, is a very popular product. So that even several wineries that probably don't grow muscadine still offer a muscadine wine in their portfolio because it's what people want to drink sometimes, you know. So I would say currently, in terms of cases produced of wine, probably like 40, 50% of the wine that is produced in North Carolina is muscadine wine. Yeah, so I would say it's about half. So that's pretty stable. I don't think that's a growing, market, but it's a pretty stable market
If you want to be popular in several regions of North Carolina and you want to address a bigger audience, often you have a sweet muscadine wine in your portfolio. So that's number one. Number two is that now where we have like this different wine industry than we had before prohibition where we have a lot of European wines, you can buy them in the store, they're in the portfolio, they have a very different taste profile. So we do have several wineries, muscadine wineries, that play around with dryer muscadine wines and semi-sweet muscadine wines, which are actually very good. And, so that's becoming a little niche as well, and they are all in the 10 to 20,000 case range. Yeah, 20 is probably a lot, so they're a little smaller, but they have established a niche market for them where they have their people and their audience coming and buying that wine.
HOST:
Beyond the wine and helping with viticulture development, Hoffmann's research focuses on fresh market grapes as well.
HOFFMANN:
A growing aspect for muscadines is the fresh market aspect. On the fresh market side, there were a lot of breeding efforts over the past 30 years on developing better tasting and with a better mouth feel and a better cardiovascular, which you can store longer as well. So that has been very successful. There are several fresh market cultivars on the market for two decades or so that have very good qualities for fresh market grapes.
They have larger grapes, the taste is better. If you take them off the vine, they don't split. So you don't have all this juice coming out. So there's still a lot of development on the breeding side on those fresh market cultivars, but that is something which is a growing market, so more growers started getting into fresh market muscadine grapes.
HOST:
Here in North Carolina, there are several fresh market producers who grow up to 150 acres of commercial fresh muscadine grapes. And the demand for this grape goes beyond the borders of the American Southeast.
HOFFMANN:
There are big markets abroad. There is a big question how we can serve them. So that's something which is an active research question as well. There are markets in Asia, which, because of the shipping time and everything, are hard to serve, but there are markets all across the East Coast. So the growers I work with, they ship all the way up to Canada basically. And, it's mostly bigger cities, so, you know, New York City and Baltimore, and then all the way up in Canada, Toronto, and those cities are served with muscadines outside of North Carolina. Then in North Carolina, the Triangle is a big market. And then of course, traditional fresh markets, but it's really driven, as far as I understand, it's driven a lot by immigrants, especially from southeast Asia and China and those areas. And I was an immigrant and I like muscadine. So I'm driving it too because I buy.
But, it's mostly driven by new populations basically coming into North Carolina. So there is a steady traditional population in North Carolina who eats muscadine, and that's stable, but it's a lot driven by others. And then of course the other factor is that you also have newer cultivars that taste better, so it might attract new audiences, which weren't familiar with muscadines as well. Every grower I work with who does shipping, who ships muscadines every year, they don't have enough to serve everybody they need to serve. So it's a growing market at the moment.
HOST:
Beyond wine and fresh market grapes, Hoffmann explains muscadines are the base for some other health supplement products.
HOFFMANN:
So the health benefits in crops or fruits and vegetables usually come from components that the plant developed over the time it evolves in nature to defend themselves, you know, from abiotic stress factors like diseases, pests, frost, other things, you know? So, the plant didn't have in mind, oh, this is gonna be good for the human so I'm developing this. This is good for the plant. And muscadines co-evolved with the pests and the diseases, which are, you know, prevalent in the southern United States. So it's a native plant to the South. And if you go outside and, you know, there's like a lot of critters outside and it's humid, so there's a lot of disease, so the conditions in the south are very conductive for high disease and pest pressure.
So any plant, which is native to the South and which evolved here, co-evolved with those diseases and plants have to have like a lot of defense mechanisms to make sure. That's where the thick skin is for, for example, coming from that's where all the phenols and phenolic compounds are coming from. And those are the compounds, which provide health benefits, that are now being investigated even as not just as a nutrient supplement, but even as part of medical treatment.
So there's a lot of research going on. How can we move the phenolic, the natural phenolic compounds, which we find in muscadine grapes — there are more than 200 different compounds — into medical treatment for cancer medication and other things. So that's active research and that's even in some of those applications in phase three research or clinical trials with humans, so they went through a lot because before anything goes into phase three, you have to go through a lot of loopholes.
So there's some evidence that those compounds, which you find in muscadine skin and muscadine seed and muscadine pulp, and those phenolic compounds, do have a health effect on humans. So now in those medical treatments, that's highly concentrated. That's 200 times more than you would eat in the muscadine grape. So if you want to get that same amount, you're probably gonna die of a sugar shock before you get to that level. So I'm not saying they're not healthy, definitely superfood. I would completely say it's a superfood. It's definitely something because it provides a lot of fiber. It has those phenolic compounds. It provides a lot of vitamins. It's definitely something which you can eat as a superfood, which you should eat as a superfood. But the health benefits will come from the highly concentrated compounds that are in treatments that are currently being investigated.
HOST:
For now, those on the market are food supplements called nutraceuticals, usually made from the skins and seeds that have high phenol compounds. Otherwise, muscadines are mainly consumed in wines, jellies and other products you may find at wineries in the southeast.
So what's the next big thing in muscadine grapes? Tastier cultivars.
HOFFMANN:
On the fresh market side, there's a lot of development still going on in the cultivar. So there are a lot of newer cultivars coming out and breeders look into now seedless and better cluster size. So basically muscadine grapes that have a little more of the quality of a fresh market bunch grape as you can buy it. So that's a new development in the breeding side. It will take some time before we have cultivars readily available. There are a few out there which are already seedless, but the development is still going on those. But this will be the next thing basically for muscadine.
HOST:
The other big thing Hoffmann and his researchers are working on? Having muscadines available year-round.
HOFFMANN:
And on the other hand, we do some research on how can we store those a little longer so that you get two weeks more at the end of the season. So the grower stops picking in the end of October, but then he has some in storage, which he can still can sell through November. But we are very far away from providing muscadines through the entire season. Like you have it with blueberries where blueberries come either from the East Coast or they come from some of the northwest of the United States, or they come from areas in Mexico, or they come from southern South America so that you have a supply all year round of blueberries. So we are very far away from that. But we have some, I would say early, that there are entrepreneurs who starts looking into this as well, you know, but again, very infancy stage there.
HOST:
For now, we suggest getting your fresh muscadines in season — August through October —and sampling the products at wineries across North Carolina.
Thank you for joining us on Farms, Food and You. This podcast is a product of NC State Extension and the College of Agriculture and Life Sciences at North Carolina State University. If you would like to support the show, please share this episode on social media and leave a review on your podcasting app of choice. Let's talk soon!