Growing Upward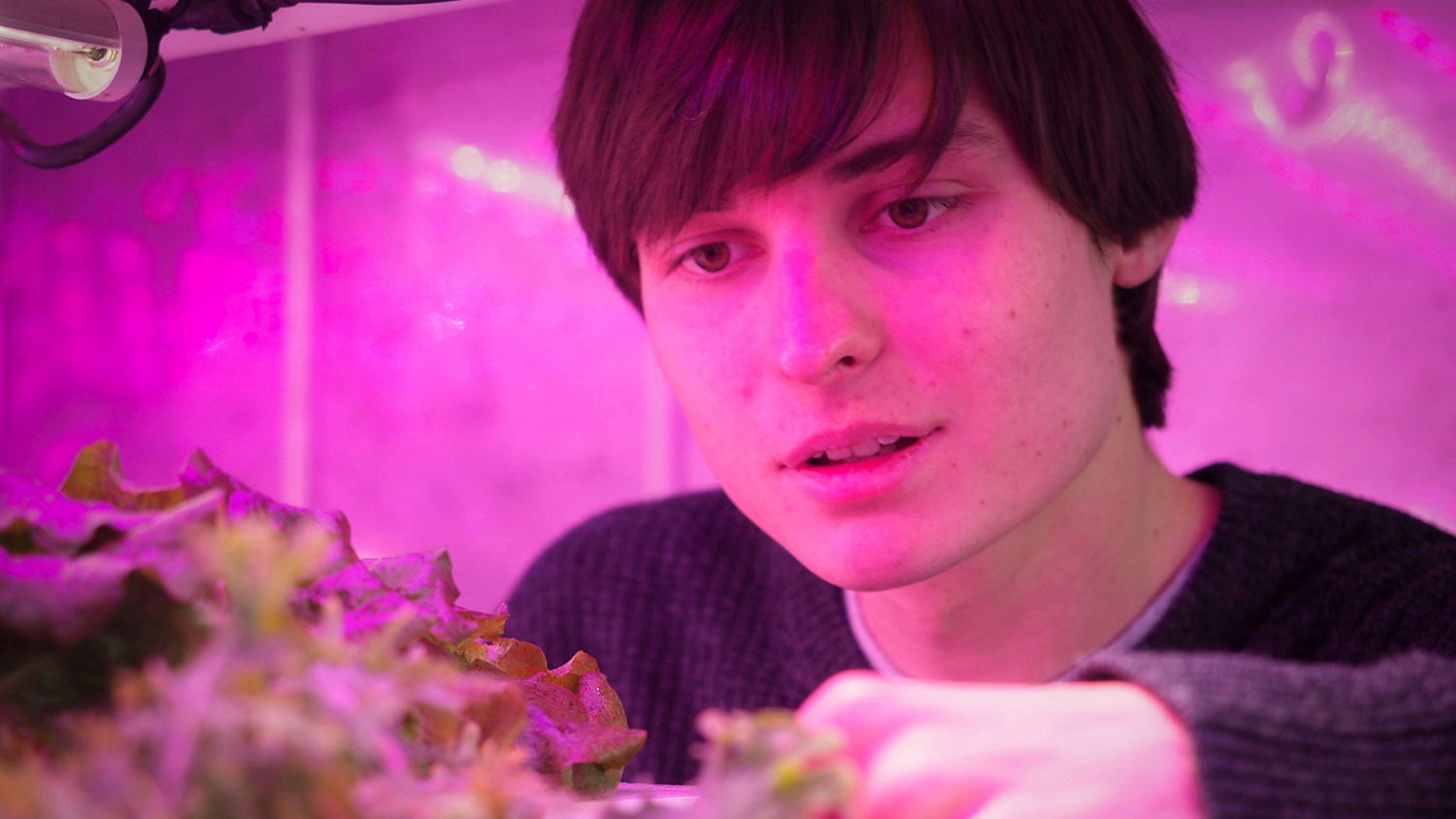 Mark Watson, a summa cum laude senior who's wrapping up his studies, has flourished during his time with the College of Agriculture and Life Sciences, just like the plants he's tended in an innovative mini-farm he helped create.
While at NC State, Mark pursued ambitious course work that led to three majors, two minors and two concentrations. His bachelor's degrees are in horticultural science, with a concentration in plant breeding and biotechnology; plant and soil sciences, with an agronomic science concentration; and plant biology. Watson's minors are in genetics and Spanish.
As if that weren't enough, he's also conducted agricultural research in South America and played a major role in turning a shipping container donated to NC State into a farm where plants grow in vertically stacked trays. The farm, tucked among greenhouses behind NC State's JC Raulston Arboretum, serves as a classroom laboratory as well as a demonstration site.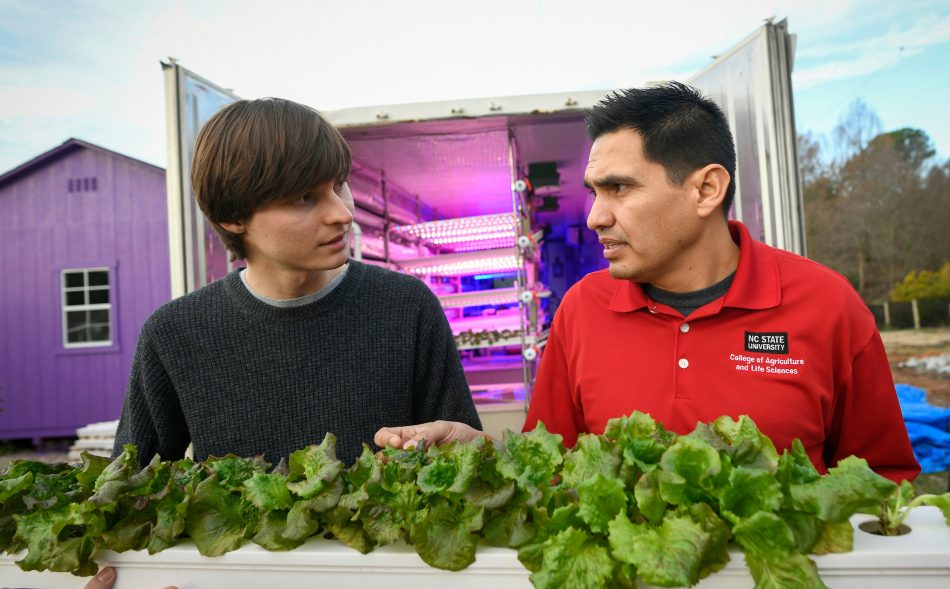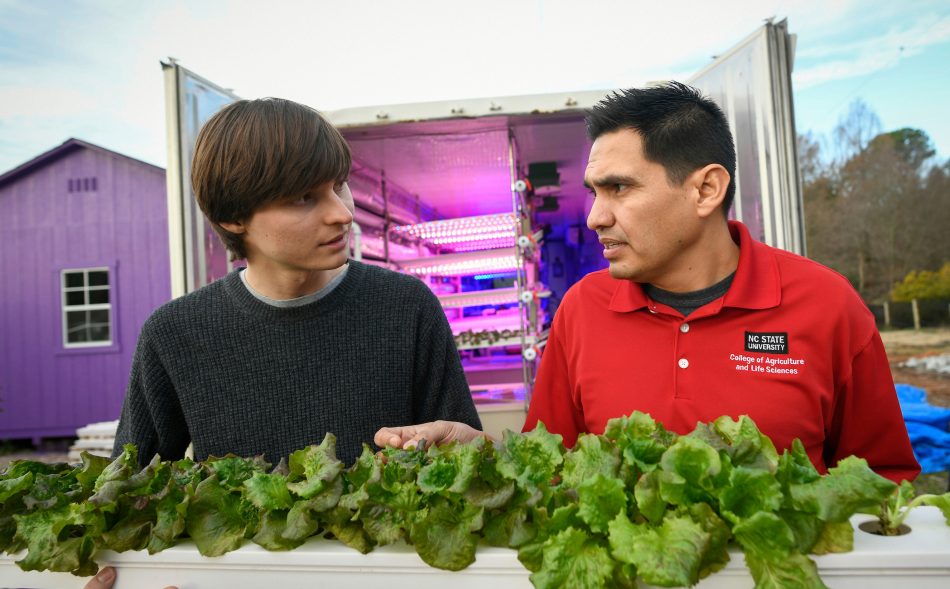 Proudest Achievement: Contributing to Innovation in Vertical Farming
After taking a class on Plant Physiology and Production in Controlled Environments last spring, Watson helped organize and served as founding president of the university's Vertical Farms Club. The eclectic, cross-disciplinary student group helped Ricardo Hernandez, of the Department of Horticultural Science, set up the mini-farm. The club also tracks the plants' growth and spreads the word about vertical farming's potential.
Watson had never heard of this type of farming until he started a course that Hernandez taught last spring. As Hernandez explains, the goal of controlled-environment agriculture is to produce crops that flourish in enclosed structures where farmers tightly manage factors such as light, temperature, water, air movement and carbon dioxide.
Through Hernandez's course, Watson learned that boosting the density of plants in vertical farms could be one way that farmers are able to feed a fast-growing population at a time when land available for farming is shrinking. These structures are just one example of controlled environment farming and gardening systems that have sparked increased investment and public interest in recent years.
The systems can be expensive to set up, but scientists are homing in on strategies to boost production potential in ways that make the farms more affordable and sustainable, Watson says.
Most Memorable Moments: Research Abroad
While the Vertical Farms Club has been Watson's proudest achievement, there are other aspects of his CALS experience that he says will live with him forever. He formed his favorite NC State memories when he traveled solo to conduct research at the International Potato Center, also known as CIP (short for its Spanish name), in Lima, Peru.
There, he joined a research team identifying potato varieties that had high iron and zinc concentrations. These potatoes could help address anemia in the Andes region. He also visited field experiments, farms and other sites in some of Peru's more remote areas – the Andes Mountains and their foothills in the Amazon rainforest.
What's Ahead: More Research, Plant Breeding and International Development
That experience, coupled with what he saw and learned growing up in Penang, Malaysia, influenced his decision to pursue a career in international agricultural development. He's preparing a scientific paper on how changing humidity levels in growth chambers can, over time, help heal grafted tomato plants, then he will pursue a master's degree in plant breeding.
"Living abroad led me to consider how thoughts on progress differ between development workers and the people they serve." he says. "Progress happens when people understand each other, which may look like moving forward toward a goal or may look like turning backward to better grasp a situation before solving it.
"I want to have an international impact," he adds, "but I want to create community wherever I go – not just to move from place to place but to actually grow roots where I'm working. I want my work to serve the goals of my peers and the people and communities it is intended to benefit."
Discover more amazing CALS students like Mark.
[button]Student Stories[/button]