Alumni and Friends
Fulfilling Dreams
Genia Tyson Bone sponsors NC State Plant Sciences Building test plot to honor her husband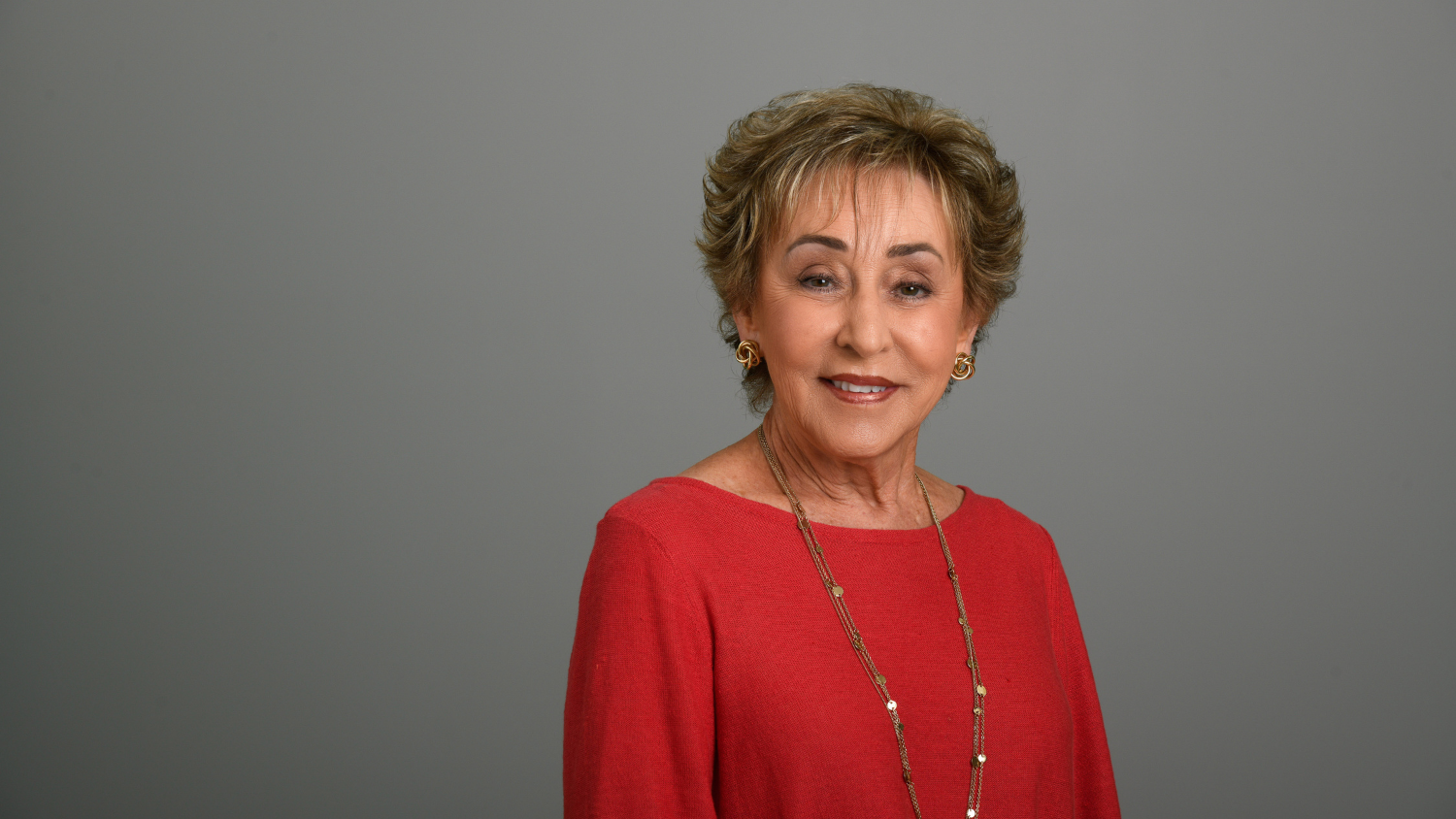 Genia Tyson Bone is a take-charge person. She was a leading IT professional before the term "IT" even existed, starting as an operator of keypunch machines, sorters, printers, calculators and other equipment, then advancing through a 30-year career that took her halfway across the United States and back at a time when few women were in the corporate world.
When her husband, NC State CALS alumnus Dale Bone, passed away in 2012, she was suddenly faced with figuring out the extent of the farmland he leased, as well as his involvement with the various businesses he took on, even after his retirement in 2007.
Determined, organized, and well versed in dealing with complexity, she undertook the overwhelming task of learning about the business on her own while making the time to carry on her husband's long and storied legacy of giving, to the point where she became a prolific philanthropist in her own right as a major supporter of a youth club, as well as university initiatives and scholarships.
Recently through a generous donation, Bone supported the construction of the N.C. Plant Sciences Initiative's new home, the NC State Plant Sciences Building. She named the Dale C. and Genia Tyson Bone Test Planting Plot in honor of her husband's love for farming, education, and their shared passion for improving others' lives.
We connected with Bone to discuss her husband, her passions, her career, and the reasons why she supports education and the future home to some of the world's most advanced agricultural research.
Dale was an NC State alumnus majoring in agronomy and agricultural economics. Can you talk about what education meant to him – and to you?
Dale had a passion for education. He would have stayed in school forever if he could. He loved to learn and enjoyed reading. He also wanted to help other people get an education and had an educational program through his company to help with tuition for employees and their children so they could attend a two- or four-year college. He hired many young people in the community to help them earn some summer money, to teach them good work ethics, and to let them know how important an education was. He wanted to develop young people and see them get the jobs they wanted.
And my opinion on education? A good education is the key to making a good living and having a good future. Some of it will come from the school of hard knocks, too! I am a firm believer that not everybody was meant to go to a four-year college, but everybody should get a high school degree and then some level of schooling through a two-year college or a trade school. Dale and I set up an endowed scholarship at NC State. This is one way we support some of those young minds who want a two- or four-year degree. We have scholarships at other colleges, too.
My passion is to try to make obtaining an education easier for a few students every year. I get a great deal of satisfaction knowing that the Bone scholarship money has impacted a young person's life in some way that will help them build a good life and future.
Why did you decide to specifically name a test plot in Dale's honor? 
My husband was a farmer, and the test plot seemed very fitting for him. I'm really hopeful this plot could include some of the crops he farmed, like sweet potatoes, cotton, cucumbers or tobacco. That would be Dale Bone, straight up! Dale was the largest tobacco grower in North Carolina and the largest cucumber grower in the U.S. at one point.
Dale's intentions were actually not to come home and farm. His father passed away in August of 1964, the year Dale graduated from college, and he felt he had to help take care of his mother and brother. He felt an obligation to stay on the farm. Dale got into farming, and he developed a love for it. He couldn't have stayed in it if he hadn't loved what he was doing, even though it's a hard and sometimes thankless job. 
You had a long and successful career at Hardee's. Can you walk us along your road to becoming a successful woman in a largely male dominated environment? 
I started in data processing and was very eager to learn. I had some great opportunities in my three-person department. I was learning more about the equipment and all the jobs there. I wrote job procedures and ensured backup for all the company files and records and made sure everything was stored. I also helped outside my department, filling in for vacations, doing payroll, and running and checking reports.
After many years, with some encouragement from management, I changed fields and went into human resources. I helped with creating and running want ads, pre-screening applicants, setting up interviews with department heads, running background checks, and orienting new hires. I also helped revise a section of the restaurant operations manual – and with planning a large franchisee convention.
With all my background dealing with logical sequences, management asked me to develop a frontline employee training program that would be used for all new hires and restaurant openings. I'd never worked in a restaurant before, but I learned! I took the training program for newly hired assistant managers, plus worked the different jobs in the restaurant while putting together that training program. With all the hours I was working, I must have been making less than minimum wage! It paid off, though. The program was a hit!
The training program was used for new openings in North and South Carolina and for retraining in existing restaurants. Hardee's then began expanding in the Midwest. I moved to Davenport, Iowa, and then St. Charles, Missouri, to train employees there. These were some tremendous growth years for me. After spending 10 years in Iowa and Missouri, I moved to Winston-Salem, where I continued working for Human Resources and was in charge of more than 60 restaurants.
What was your secret to all your success at Hardee's?
How did I become successful? I grew up on a farm in a farming family, so that alone taught me about hard work. My mother and father gave me a good start by setting a good example and teaching me good morals, values and work ethics. I loved to work, and I loved every job I did at Hardee's. I worked a lot of long hours to get where I got, and it did not come easily. I was a woman in a man's world, but I was fortunate enough that a lot of people in the company were aware of my work abilities and knew I could work in stressful situations.
When Dale passed, you were suddenly put in charge of his farm leasing, land development, and property management interests. How did your career help you get through this difficult period? 
In most of my career, I had to be very organized and good with planning out my schedule. My jobs always involved a lot of detail and being analytical. There were so many different things to be versed in and knowledgeable about in my career. I wanted to learn about everything I was going to have to deal with for the estate. I was not going to pay an attorney to research everything and handle that for me. I needed to know what I owned, their locations, and value so that I could make decisions that were in my best interest. It was a long and tough process, almost overwhelming at times, but I'm a determined and never-give-up type of person! 
Most of my career, I wrote procedures for my job, other jobs, employee management training programs, and job descriptions. Things have to go into a particular and logical order for me to explain to others. I have to know how to do something in order to explain it. Dealing with the estate, I put together contact lists and wrote procedures as I dealt with and learned the details. Hopefully my family will have a much easier job dealing with my estate than I did dealing with Dale's!
You are already a generous supporter of NC State through an endowed Specialty Crops Program faculty position and a scholarship program. What drove you to support the NC State Plant Sciences Building, which will be home to some of the most advanced research in agriculture? 
I have a passion about our food source in this country. Before Dale passed, I remember him saying, "It's getting harder for this country to feed itself." I don't think I gave a lot of thought about that at the time. But as time went on, I saw climate change affecting farmers. There are too many variables that have always been out there but are getting worse: sometimes no rain or too much rain—or the fact that our winters are getting hotter and we don't have enough cold winters to kill the bugs in the ground. I'm very concerned about what happens here and how this country can feed the population. Many farmers aren't able to put money in their pockets. Some go bankrupt. The number of our country's farmers gets smaller every year, and people can't just start farming from scratch, because it's too expensive. If more farmers are going out of business rather than coming into the industry, it's going to hurt the food supply.
I'd like to see more research done on better crop production, doing more with less water, less chemicals, and maybe with shorter growing seasons. Growing seasons are changing to some degree. Not only will we help North Carolina farmers benefit locally doing this; but the research NC State does will benefit the world. I think it's good we have a college of this type with the financial and intellectual resources for research and development work. Plus, I like to eat good food from here! 
Like you, Dale had built quite a reputation for giving. How did he earn his reputation?
I think he had always given to certain community needs. It was a point and time in his life – I can't tell you when – that he had established himself, became financially stable, and made a point of giving more to things he felt were important and needed help.
After Dale passed away, I got this call from a guy from the Rocky Mount area interested in buying a lot. After we talked about the lot, he said, "I've got something I want to tell you. I don't know if you know. And if you do, please stop me, but I feel like you should know…"
So near Rocky Mount, where Dale had property, there was a small church that had been recently built. It had this pretty steeple that got delivered and just sat in the yard for months. The man said, "One day we finally got a little money where we thought we would start working on getting that steeple on the top of that church." He told me Dale drove in, rolled down the window and asked the guys, "Is the minister here? Can you get him for me, please?" They got the minister; they talked for some time; then Dale rolled up the window and drove away. Then the minister turned around and said, "Do any of you know this guy?" Some of them said, "Well, we know he's Dale Bone, and he's a farmer; but we don't know him personally." The minister said, "Well, let me tell you: This man just gave us the money to put the steeple on this church."
He had never told me he did that. I would have been so excited if he told me; but to him, it was just something that he felt like he wanted to do, and nobody needed to know. Dale could be rough around the edges, but he had a big heart; he really did.
Why did you continue Dale's legacy of giving?
Dale never told me to continue anything. We did have financial goals for our scholarship programs, and I've met those. It gives me a great deal of pleasure to know that, in some way, I am helping someone else. Fortunately, I am blessed to be able to give. And, of course, I have a passion for educating young people as Dale did. I also want to support students through scholarships and in other ways where I know there is a need. The specialty crops program and professorship and supporting the new plant sciences building are other ways I can help. I feel like Dale would be very happy and satisfied with what I've been able to do for NC State and other colleges and organizations.