Exploring CRISPR and Probiotics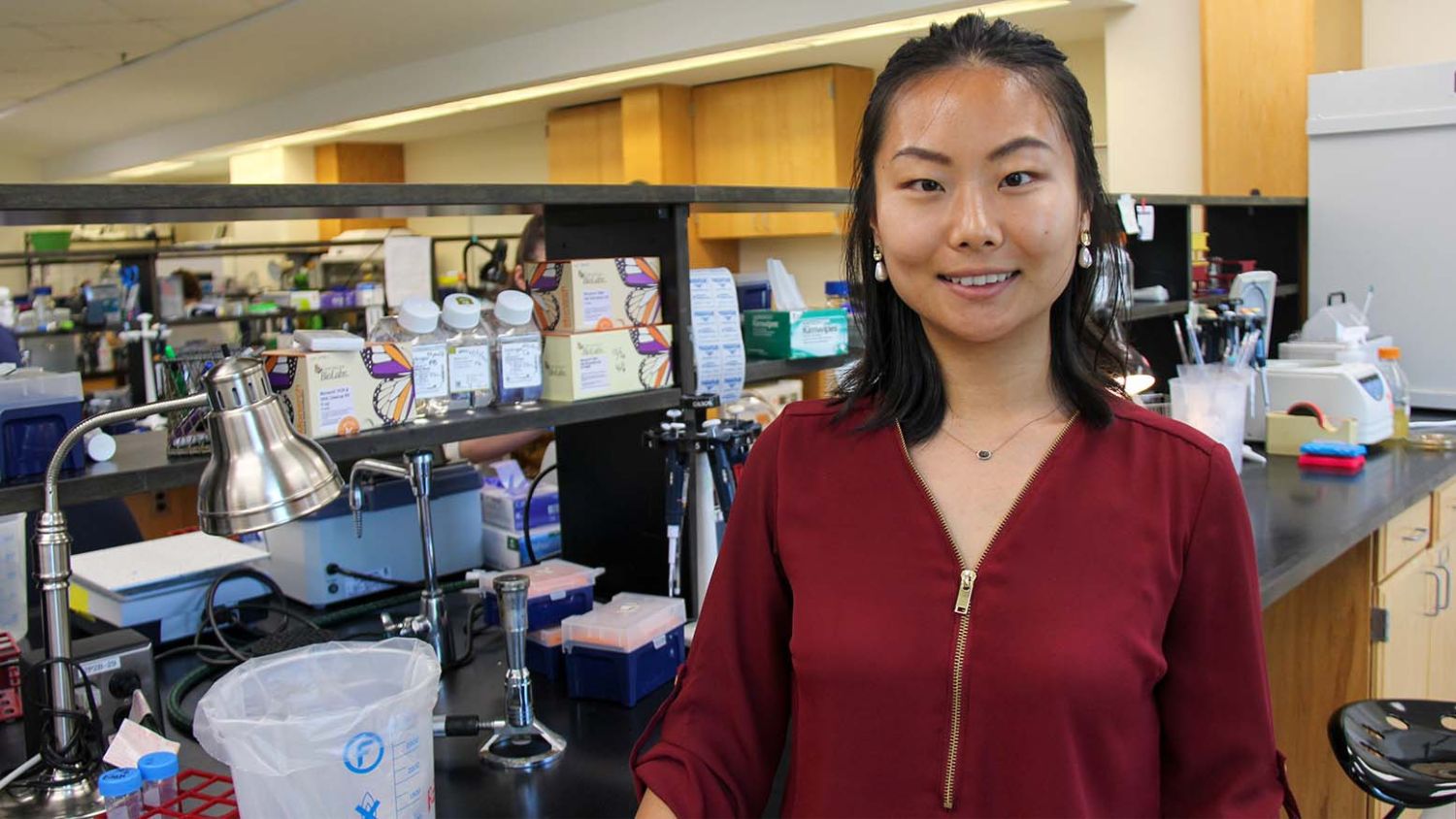 Written by Darren White
Echo Pan, a doctoral candidate in functional genomics and a Foundation for Food and Agriculture Research (FFAR) fellow, graduated with a master's degree in food science from the CRISPR Lab led by Rodolphe Barrangou. Her current research focuses on CRISPR-based genome engineering in probiotics.
Pan was born and raised in Qingdao, China, and came to the United States when she was 16 years old to pursue high school in New York State. Pan completed her undergraduate studies in food science at the University of Wisconsin–Madison, where she did extensive independent undergraduate research on plants, food pathogens and beneficial bacteria. During her undergraduate years, she interned with companies like Sargento and Smuckers, which helped her discover her interest in working in the industry after completing her graduate studies.
Tell us about your journey to graduate school and what led you to NC State.
I discovered my love for microbial research (and cheese curds!) while at UW-Madison. I knew NC State had a strong food science program, so I looked up the faculty list and found Dr. Rodolphe Barrangou. After multiple rounds of interviews and talking with the lab members, I was interested in the lab's research and intrigued by Dr. Barrangou's non-canonical leadership style compared to other academic professors I have met. I knew I wanted to enter the industry, and I felt this lab would be an excellent environment for me to learn both the technical and professional skills I need for a smooth transition to the industry. I joined the lab in 2017, planning to work with beneficial bacteria for my Ph.D. in food science. But instead, I ended up smack in the middle of the CRISPR craze in the CRISPR lab! I was fascinated by the molecular microbiology work, so I defended my master's in food science and switched to a Ph.D. in functional genomics in 2019.
Tell us about your research and teaching experience.
My research has primarily focused on the fields of CRISPR and probiotics. By applying CRISPR-Cas technology to probiotic strains, we aim to enhance their functional attributes and overall quality. Through genome engineering, we can improve their survivability in the gastrointestinal tract, which in turn enhances their probiotic efficacy and promotes better health for humans. There is still much to be learned about the importance of microbiomes in human health, and our research seeks to explore this further. In addition, we are also interested in mining metagenome samples for tool development and repurposing nucleases such as transposases and Cas nucleases for genome engineering. Nature is by far the best protein engineer, and we aim to leverage this by identifying these native enzymes for our purpose through microbiology and bioinformatic approaches.
How have the Graduate School and NC State helped you with your professional development?
As a graduate student at NC State, I have had the opportunity to be involved with several organizations, including the Graduate Student Association (GSA) and FFAR. These experiences have been instrumental in my professional development during my graduate school journey. Through the GSA, I have been able to connect with fellow graduate students across various disciplines, organize social events, and host travel grants competitions and research symposiums. As a FFAR fellow, I have received valuable mentorships from industry professionals and many other training workshops and networking opportunities. Overall, The Graduate School and NC State have played a significant role in my professional development and have helped prepare me for success in my future career.
What advice do you have for new or current graduate students?
Embracing new opportunities, being present, and making lasting memories and friendships are all essential to making the most of my graduate school experience. Graduate school is not just about academics and research but also about personal growth and development. Being present and fully engaged in my research and extracurricular activities has helped me form strong connections with my peers. Last but not least, I enjoyed building meaningful relationships and creating memories with people around me. This has helped me navigate the challenges of graduate school and made it a positive and fulfilling experience for me overall.
What does being an NC State graduate student mean to you?
"Think and Do" is more than just a slogan; it's a way of life at NC State, and I am proud to be part of the Wolfpack. Over the past six years, I have had the opportunity to learn and grow tremendously, and I am excited to give back and contribute to the success of the next generation of students at NC State.
What are your plans after graduation?
I'm excited to announce that I'll be joining the gene editing team at Eli Lilly in Boston. In my role as nuclease advisor, I'll be responsible for establishing the nuclease portfolio and designing therapeutic tools for treating genetic diseases.
Can you share a fun fact about yourself?
I went to four different high schools!
This post was originally published in The Graduate School News.