Students
Internship to Friendship: CALS Students Bond Over Agricultural Policy
Two CALS students spent the summer as legislative interns in Washington, D.C.
Two students in North Carolina State University's College of Agriculture and Life Sciences (CALS) spent the summer in Washington, D.C. learning about agricultural policy through the Senator Jesse Helms Agricultural Legislative Summer Internship Program, while also creating a new friendship.
Katie Forrest is a senior studying animal science with a minor in agricultural business management with a goal of becoming a food animal veterinarian. Although she didn't grow up on a farm, Forrest started working at a horse farm when she was about 10 years old and then moved on to work with food animals.
MacKenna Clifton, a junior studying agricultural education with a minor in Spanish and agricultural business management, didn't grow up on a farm either. In fact, her first agricultural opportunity wasn't until she took a required class in high school. Her positive experience in the class influenced her decision to pursue agricultural education.
Forrest and Clifton were interns in the Senator Jesse Helms Agricultural Legislative Summer Internship Program this past summer—Forrest worked in Congressman David Rouzer's office, and Clifton worked in Senator Thom Tillis' office. The program was established to honor Senator Jesse Helms' public service to North Carolina's agricultural community.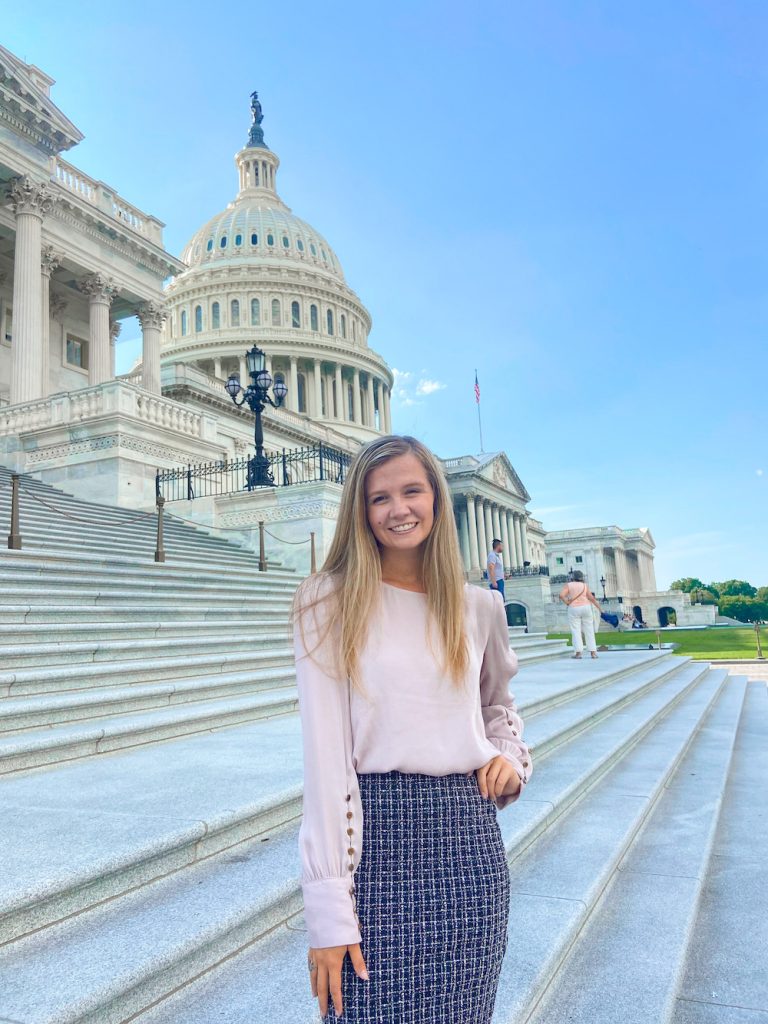 As part of the program, students from CALS or North Carolina Agricultural and Technical State (NC A&T) University's School of Agriculture and Environmental Sciences spend the summer in Washington, D.C. working full-time in a congressperson's office.
Discovering the Senator Jesse Helms Internship Program
With their different academic backgrounds, Forrest and Clifton had different goals for the internship. Forrest was interested in the internship because she wanted to learn the policy side of food animal agriculture.
"Veterinarians play a key part in the food animal industry, and I think it's important for them to know about the policy and how those policies get put into place," says Forrest.
Clifton had a taste of Washington, D.C. when she attended the Washington Leadership Conference with the FFA, so when she received an email promoting the program, it caught her attention.
"I wanted to open my eyes to the opportunities in agriculture," says Clifton. "I've always heard the statistic that we have over 200 careers in ag, but it was hard for me to visualize that. Education comes in many aspects, and it's tied to agriculture through policy and connections."
Building Agricultural Connections
Though Forrest and Clifton worked in different offices, they had a lot of the same tasks, including attending hearings and briefings, writing memos, giving tours, communicating with constituents and joining meetings with agricultural leaders.
"It was really cool to me to see how every aspect of the agricultural industry, whether that be crop or animal or anything else, was represented," says Forrest. "Farmers' opinions were valued and were really prevalent in the policy-making process."
Clifton also had the chance to work with farmers and other constituents in Senator Tillis' office.
"It was a learning experience for me, but we got to connect with people," says Clifton. "Having those connections and helping them see that their needs were something that we could help suffice made the difference."
Clifton worked closely with the legislative assistant in Senator Tillis' office, Harrison Walker. He is an alumnus of NC State and was also a Jesse Helms intern in Senator Tillis' office during college.
A New-Found Friendship
Forrest and Clifton didn't know each other prior to the internship, but they decided to live together for the summer. They became good friends and enjoyed exploring Washington, D.C. and the Capitol building together.
"I'm really grateful for Katie," says Clifton. "It was cool to have someone to go through the experience with and explore D.C. with that was from the same school. D.C. is a big place, and there are a lot of people there, so having someone I knew provided a lot of comfort."
Forrest shares in the sentiment about Clifton, as well as their other roommates. "It was kind of scary going into an internship and not knowing a single person in a brand new city, but by the end of the summer, my roommates and I had really made a strong community."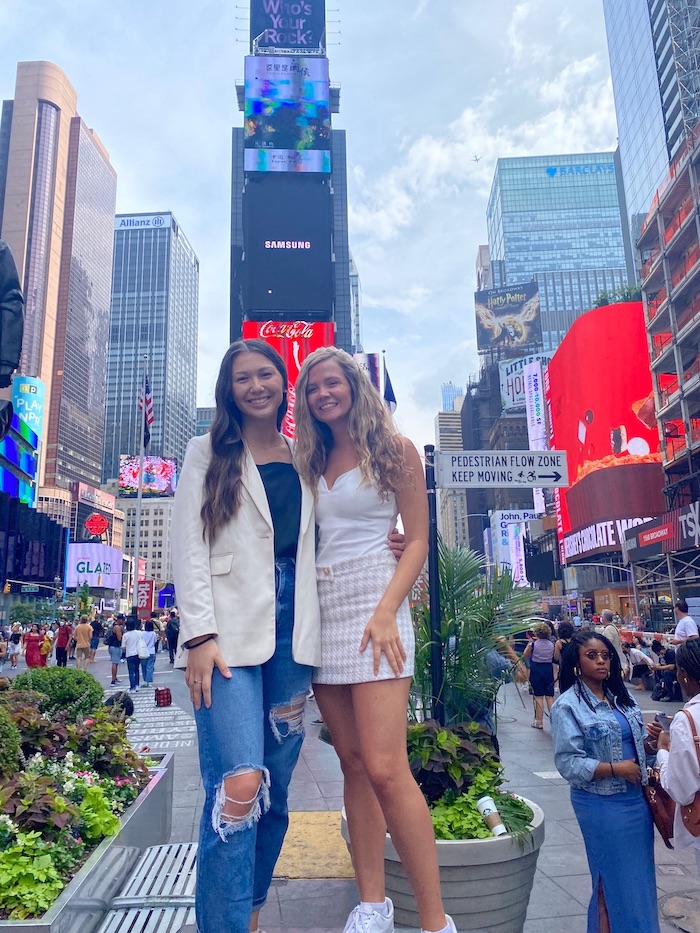 Clifton and Forrest also met several other friends around the city through networking and lecture opportunities, which were provided through the offices they worked in and through a Facebook-based agriculture intern network they joined. These events brought together students from around the country.
Rhonda Sutton, CALS' assistant director for student success and manager of the Senator Jesse Helms Internship Program, was also actively involved throughout the summer.
"Dr. Sutton was amazing this summer," says Forrest. "The whole summer, she texted and emailed us asking what she could do to help. She was an amazing resource for us, and she's an amazing resource for other students as well."
A Lasting Impact
Now that the two students have returned to Raleigh and started the new school year, they're reflecting on their one-of-a-kind summers, and what their careers look like going forward.
Forrest recently submitted her applications for veterinary medicine school, and she's excited to hopefully become a food animal veterinarian and use what she learned through the internship to advocate for the agriculture industry.
Clifton, who always thought she wanted to be an agriculture teacher, is now considering other policy-based opportunities following graduation next spring.
"Before, I thought my only plan was to go to the classroom," says Clifton. "And while I still think that that's an option for me, I'm really grateful that I had this internship because now I'm interested in policy, and I'm trying to open up my eyes to all the opportunities that can be afforded through agriculture and education."
Applications for next year's Senator Jesse Helms Agricultural Legislative Summer Internship Program are now open with a deadline of Nov. 4. Interested students can contact Rhonda Sutton with any questions.