CALS Donates Protective Equipment, Supplies to Area Hospitals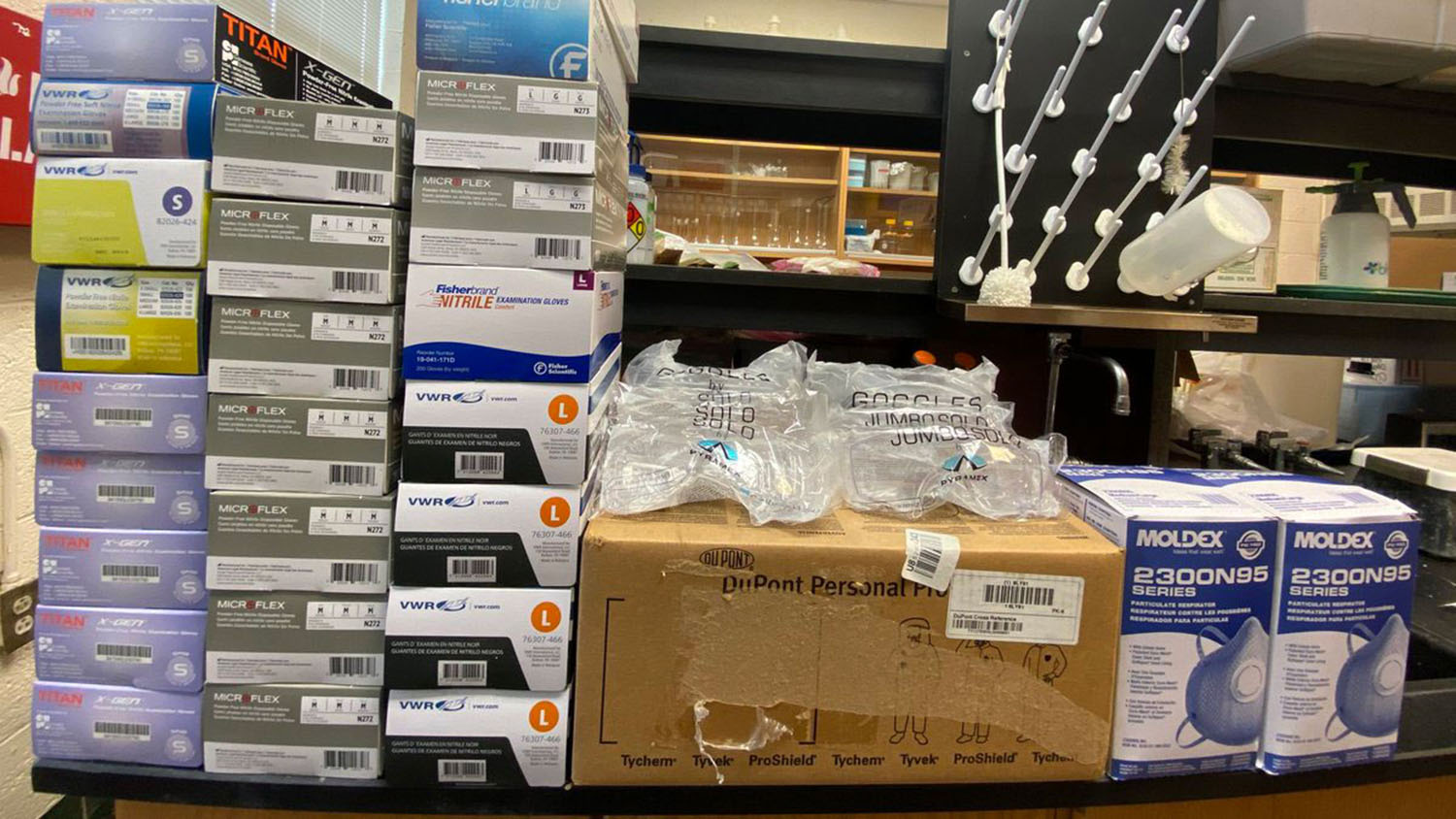 During an era of uncertainty surrounding the spread and impacts of COVID-19, CALS researchers have stepped up to help, joining forces with others across campus, the state and the world.
CALS faculty members donated truckloads of personal protective equipment, or PPE, including disposable gloves, N95 masks and eye protection, and other needed laboratory supplies to area medical systems.
Amy Orders, the Director of Emergency Management and Mission Continuity who is coordinating NC State's response, says CALS was a major contributor to a drive that collected more than 300 boxes of gloves, nearly 3,000 N95 masks, 125 sets of goggles and safety glasses, and a variety of other protective gear and sanitizing solutions.
[pullquote align="left" color="red"]We are all in this together and have to help in as many different ways as possible and donating materials was a great first start.[/pullquote]
The supplies were collected by the Capital Regional Advisory Committee and delivered to clinics, hospitals and other medical facilities in Wake, Franklin, Johnston, Lee and Harnett counties.
Luke Gatiboni and Deanna Osmond, professors in the Department of Crop and Soil Science who run the Soil Fertility Lab, donated 24 boxes of nitrile gloves, two boxes of 10 N95 masks, 12 sets of eye protection, and one box of six Tyvek suits.
"We are all in this together and have to help in as many different ways as possible and donating materials was a great first start," said Osmond, who is an associate department head. "Closer to home, my daughter is a physician who works in a hospital and I'm aware of the acute shortages that are occurring across the country."
Manuel Kleiner, an assistant professor in the Department of Plant and Microbial Biology, also donated gloves, masks and hand sanitizer.
"There is a strong need for this PPE in the health sector to take care of the population and right now there is no other PPE available for purchase," said Kleiner. "This equipment was purchased with taxpayer dollars and I felt that I must return it to the taxpayers in this crisis. The fact that NC State Emergency Management facilitated donations made it much easier to get the supplies to the right people."
In ordinary times, Kleiner's lab would use this PPE to protect themselves when handling hazardous chemicals or working with potentially harmful microbes. Critical research continues across the college and university, but in a reduced capacity in order to protect the health of faculty, staff and students. Now the equipment is being used to protect doctors, nurses and other healthcare professionals when they treat patients.
Kleiner encouraged others to donate their unopened boxes of laboratory PPE. He said, "It is relatively easy to do, it can make a big difference in saving lives, and ultimately I think that the PPE should be donated without hesitation if it was purchased with taxpayer money."
The Director of NC State's Emergency Management and Mission Continuity, Orders, said that her team is continuing to coordinate laboratory supply donations for the University.
She added that there is an ongoing need for N95 and surgical masks, eye protection, disposable shoe covers and disposable gowns, but disposable gloves are no longer an urgent need.
For the most up-to-date list of supplies needed by area medical systems check out the links below:
Duke Health: How You Can Help During COVID-19