Faculty and Staff
Arion Kennedy: Exploring the Effects of High Fructose Consumption on Liver Function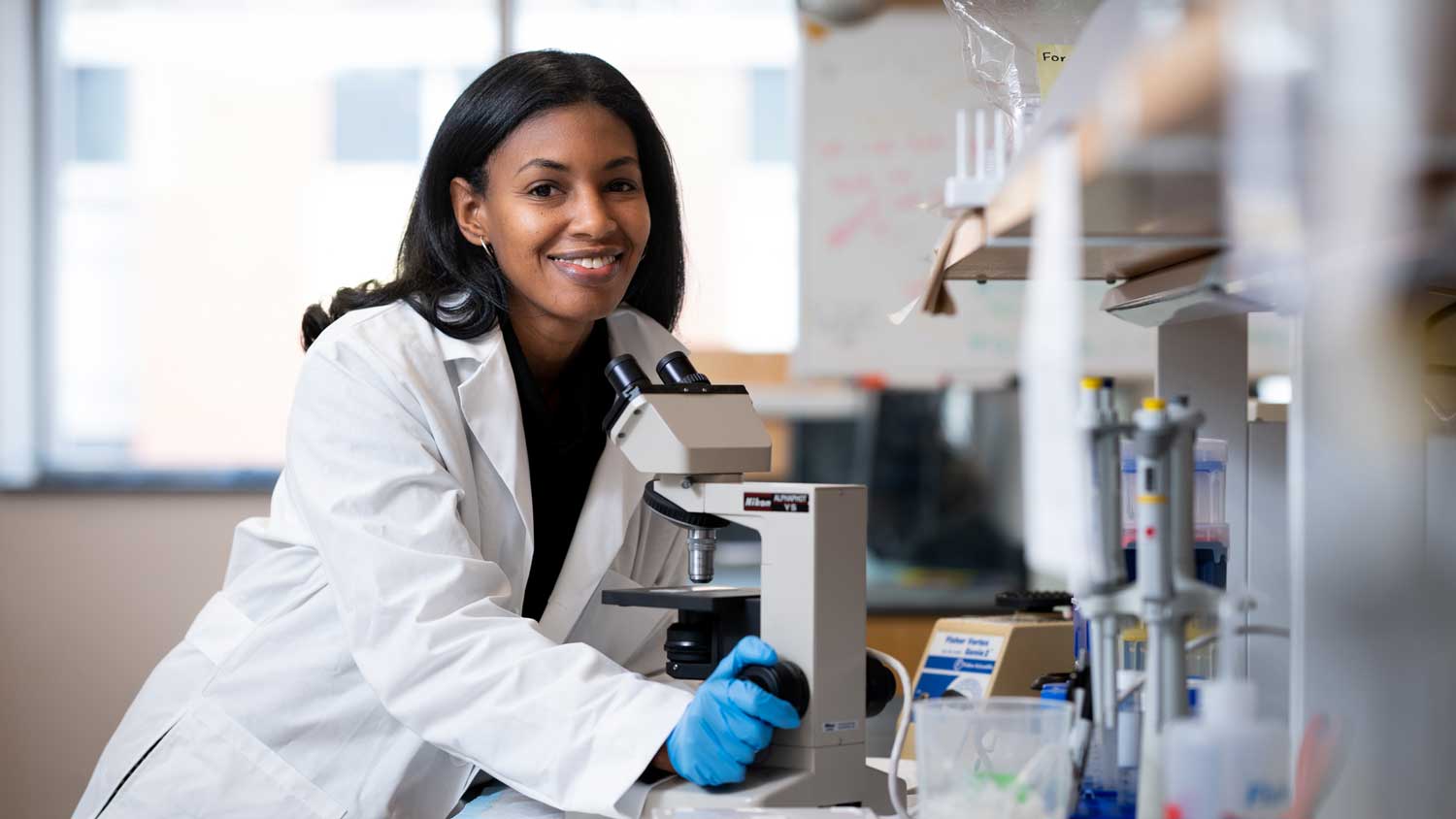 We've all heard the phrase, "You are what you eat." Through her work at NC State University, Arion Kennedy, an assistant professor in the Department of Molecular and Structural Biochemistry, looks to understand how our bodies respond to the food that we eat. She specifically is focused on answering how our decisions about what we eat affect our health in terms of metabolic diseases, such as fatty liver disease and obesity.
What brought you to NC State?
My experiences at the National Institutes of Health (NIH) piqued my interest in more nutrition and obesity research. I earned a Ph.D. at UNC Greensboro in the Department of Nutrition, where I studied molecular mechanisms by which a dietary supplement causes anti-obesity properties, essentially a loss of triglyceride in fat cells.
From there I went on to do postdoctoral training at Vanderbilt University to obtain a better understanding of how our immune system contributes to metabolic disease. While there, I developed a project on my own looking at T-cells in the liver and focusing on fatty liver disease. I wanted to start up my own research lab and began looking for assistant professor positions. NC State had the perfect opening in nutritional biochemistry in the Department Molecular and Structural Biochemistry.
Why nutritional biochemistry?
I have a big interest in understanding how things work at the molecular level and setting up experiments to figure out why they work that way. Biochemistry was my favorite subject in undergrad as a chemistry major.
Nutritional biochemistry merges my two scientific interests: nutrition and biochemistry. I have always been interested in what we eat and how what we eat affects the body — particularly, understanding how the nutrients we consume are broken down and signal to our cells and organs.
In the context of metabolic disease, this really hits close to home for me because of family members that were affected with Type 2 diabetes, cardiovascular disease, hypertension. I watched how they were always stressed about monitoring what they should eat. From these experiences with family members, my interest piqued on understanding how ingesting certain carbohydrates and fats changes the way our body uses these nutrients and how this leads to metabolic disease.
You recently received an NIH R21 exploratory grant. Tell us more about what you're researching.
The R21 grant is an exploratory grant. It's my first funded project at NC State. The grant funding is for about $125,000 a year and was awarded for up to three years.
Because of my interest in obesity and metabolic disease, I am really trying to understand how they develop. Everyone has heard that high fructose corn syrup consumption is considered a bad thing, but why is it a bad thing? Studies are out there that show if you ingest high fructose corn syrup, you get an increase in fat deposits and inflammation in your liver. We're trying to understand how it develops, how is it that because you consumed this high fructose, you developed lipid accumulation and inflammation of the liver.
Our study is focused on another set of cells in the liver. There's been work focused on looking at hepatocytes — major parenchymal cells in the liver that play pivotal roles in metabolism, detoxification and protein synthesis — which make up the bulk of the cells in your liver, about 70%. We're trying to figure out how the non-parenchymal cells of the liver (immune cells and stellate cells) communicate with those hepatocytes. How do they respond when they are exposed to fructose, and how does it change their function or phenotype? Do they become more inflamed, or are they more anti-inflammatory? The purpose of this grant is to understand how the non-parenchymal cells respond to high amounts of fructose.
What do you think you'll discover?
We are currently finding these non-parenchymal cells are able to take up and metabolize fructose. We will discover how the metabolism of fructose induces an inflammatory phenotype in these cells and contributes to fatty liver disease. If we can understand how these cells break down fructose and change their phenotype, we can figure out the best therapies and treatments or prevent the onset of metabolic diseases.