Alumna Designs and Donates Masks with Farmworker Safety in Mind
NC State alumna Lisbeth Carolina Arias designs custom clothing with handwoven fabric from Latin America.
Her company, Descalza, connects her with an international community of people who have shaped her life: friends and mentors from 4-H in North Carolina; a co-op in El Salvador, where she was born; weavers in Guatemala she met during an NC State internship; and customers in New York, where she moved for a year to gain design experience.
As the pandemic began this spring, Arias made alterations to her company, which sells online and through pop-up stores in North Carolina and New York.
"Since Descalza makes statement pieces, these pieces are usually worn whenever you know the spotlight's going to be on you, so most of these events are very special events, from weddings to galas to prom to formals," Arias says. "When COVID-19 happened, basically these events stopped happening."
Plans for a pop-up store in California were canceled. Home with a newborn, Arias and her mother, a skilled seamstress, saw other clothing companies making masks. So did her social media followers.
"I said, 'If customers are sending me messages on Instagram asking for these, then there's a demand for it,'" Arias says. "But I didn't want to just make these masks. Descalza's very centered around community. I wanted to find a way where we could work together with someone else."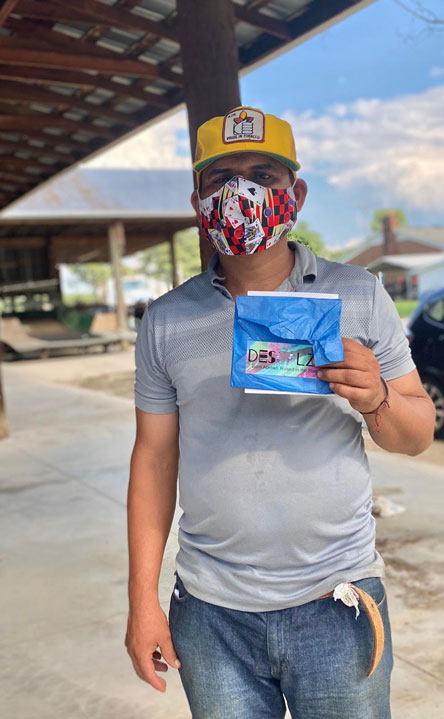 She talked with longtime friend Roberto Rosales, an educator with North Carolina Cooperative Extension's Farmworker Health and Safety Education Program. Rosales works with farmers and farm labor contractors to provide workers with instruction on safety practices and protective equipment, including masks.
"I thought of just reaching out to him and asking if there was a need for them. Maybe they have it all set and they have an abundant amount of masks, which is great, or maybe not."
Rosales told her that an estimated 75,000 workers contributed to North Carolina agriculture last year. With new workers arriving throughout the season, Rosales' goal is to provide farmworkers with masks along with information about preventing the spread of COVID-19 as they work, travel, shop and live together in farm housing.
"We're planning on doing the distribution of masks through our farmworker training so that it's actually an ideal partnership where we're directly taking the masks to workers that it's providing a service for," Rosales says.
The fabric masks distributed to workers will include bilingual information and illustrations of correct mask use.
"We are selling masks through the website and basically advertise it as a BOGO sale, which is a play on words because most people, when they hear BOGO, they hear 'buy one, get one,' but for us, it's going to be 'buy one, give one,'" Arias says.
"So for every mask that you purchase from Descalza, one mask is made for a farmworker and donated to them."
Those who order masks will also receive information about farmworkers and Extension health and safety programs offered through NC State.
A Foundation in 4-H
It's no wonder Arias thought of Extension when she wanted to contribute to the community. She has deep roots in 4-H and Juntos, two other programs offered through NC State.
When she was 9, a woman from her church in Sanford started a folklorico group, sharing dance traditions from Mexico and Central America. Arias was drawn to the dancing and the colorful dresses. Practices took place in garages and parking lots – until leaders asked Bill Stone, then a Lee County Extension agent, about providing rehearsal space. Stone agreed and asked if he could offer 4-H programs to the group, and a partnership began.
"I remember being involved in 4-H from the end of middle school through high school and doing these different programs with them, participating in public speaking," Arias says. "At the time I didn't see that these activities and experiences that they have for 4-H'ers were helping me develop skills that I now use as a businesswoman.
"I never thought I would still be talking about 4-H right now. I'm 28 years old, and I'm still somehow connected."
Cintia Aguilar, Extension community and rural development program manager, has witnessed Arias' growth since 2013, when they met through Stone.
Arias was featured in a fotonovela explaining how 4-H participation could teach life skills and prepare young people for college. Then, she was recruited to volunteer with Juntos, a program to help Latino students graduate from high school and enroll in college.
"4-H is a lot about giving back to the community," says Aguilar, who directs Latino programs and co-founded Juntos with Andrew Behnke, a former faculty member, and Diana Urieta.
"I know in Lisbeth's case, I think she has had such a wonderful role model in her mother. She brought that with her, but I think also the culture of Extension, 4-H and the Juntos program contributed to her actions to help others and promote and seek educational opportunities."
Since its start in CALS, Juntos (Spanish for "together"), has expanded to other states and is managed by NC State's Division of Academic and Student Affairs.
Internships and Homework
While studying fashion and textile design at NC State, Arias, who came to the U.S. from El Salvador at age 2, found new ways to connect with her culture and her family.
She had several internship experiences, one with Mayan women in Guatemala.
"Working with these women left an imprint on me, and I knew I wanted to go back to those textiles. I just didn't know how," Arias says.
Kate Annett-Hitchcock, an associate professor of textile and apparel, technology and management, first encouraged Arias to follow her instincts. Arias found more inspiration at the North Carolina Museum of Art's Ebony Fashion exhibition, where she met Precious Lovell, then an associate professor of art and design at NC State. "I asked her to be my mentor because of the African textiles I saw on her table," Arias explains. "I knew she was just as passionate about indigenous textiles as I was."
And her mother, who had worked as a seamstress for manufacturing companies, had valuable knowledge to share.
"She didn't get to go to school when she got to this country; she went straight to work," Arias says. "Going to school was my job. A lot of times she felt the language barrier holding her back from helping me with my studies, but when I started to show interest in apparel development and taking classes on how to sew, she felt that finally she was able to help me with my homework, because when it comes to sewing, you don't need a language, you just need your hands and your tools.
"She felt like she was contributing to my education. In reality, she's always been contributing, just having her support, but she felt that now there was something that we can bond with."
After earning her degree in 2015, at the urging of mentors, Arias moved to New York for a year to get fashion industry experience.
"Basically, what I got out of New York was validation, that I was capable of creating designs that were aesthetically pleasing, that were functional," Arias says, adding, "I had this epiphany that if I can work this hard for someone else's dream, then I can work this hard for mine."
Working Barefoot
Arias returned to the inspiration of the Guatemalan weavers. She found a group of weavers for her business through her former design professor and connected with another weaving co-op in El Salvador on a trip to visit her family. The bright, woven fabric was a perfect fit with her design vision.
"When I started Descalza, I knew that fashion is a way that we express ourselves, and as immigrants in this country, we're always trying to move forward but at the same time, we don't want to let go of our roots. These textiles represent that. They kind of reconnect us to our history, to our ancestors."
She launched Descalza in 2017. Why did she choose the name, which means "barefoot" in Spanish?
"For me personally, it reminds me of the artisans," Arias explains. "A lot of times they tend to work without shoes and they see the shoes kind of as an inconvenience.
"However, a couple years ago, someone asked my mom the question on why Descalza, and I love her version a lot as well, because she said that as immigrants, you start out here in this country descalza, meaning that you start out here with nothing. Then as years go by, you make something out of yourself. You make something for your family."
That's a goal Arias aspires to reach.
"At the end of the day, what I want to do – with 4-H, Juntos or Descalza – is be that reflection for my community because oftentimes, especially in states like North Carolina, you don't often get to see someone like me in the spotlight or someone like me starting their own business.
"I just want to be that reflection so that my community can see that you're capable of doing it, that you're capable of starting in this country, like my mom said, descalza and making so much out of yourself, for yourself, for your family, and for those that are looking at you."