Diversity and Inclusion
AGI Student Max Jeffers Forges His Pathway at CALS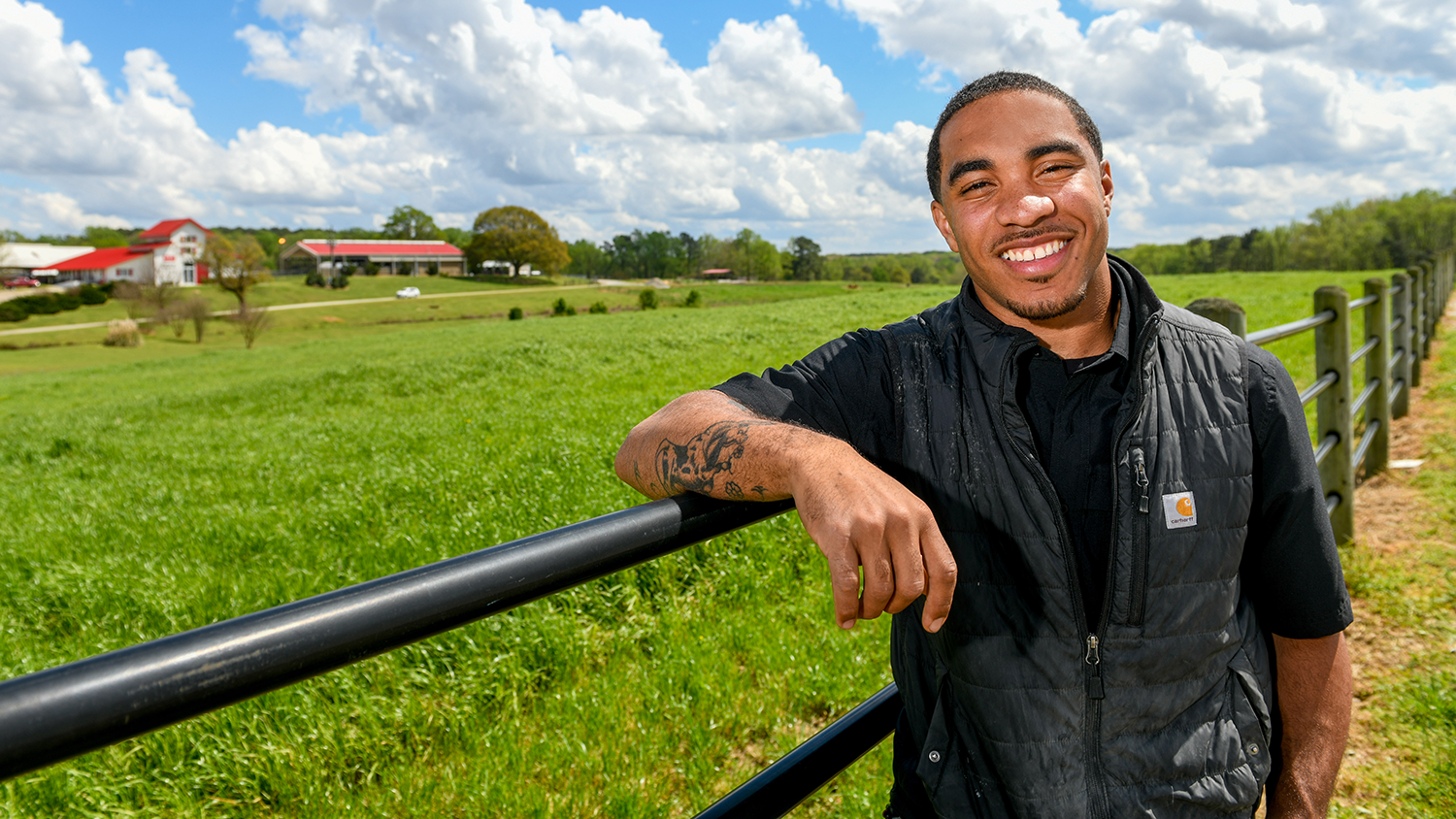 Being an AGI student allows me to take full advantage of everything CALS offers.
During Celebrate Diversity Month, we consider new ways to spotlight impactful stories and honor the numerous backgrounds and experiences among whom we learn, work and live. This month is also a fitting time to get to know our outstanding Agricultural Institute (AGI) students.
One such story belongs to Max Jeffers, a Durham, NC, native with deep roots in the Pearsontown neighborhood over several generations. They owned and operated Roy's Kountry Kitchen (named after his grandfather, LeRoy Brown) serving rich and comforting soul food to the Hayti community for 30 years.
Jeffers started his undergraduate career at NC A&T State University to pursue an English degree. Inspired by his cousin's course of study, Jeffers turned his attention to agriculture. However, between traveling back and forth between Greensboro and Durham and coping with his grandmother's health decline, Jeffers took a break from college to recalibrate his goals and reconnect to his dreams.
Now Jeffers is completing the AGI program and graduating with an associate's degree in general agriculture in May 2022. We had the chance to chat with Jeffers about his journey into the agricultural field.
What made you decide to earn a degree in agriculture and life sciences?
"I chose an animal science curriculum pathway during high school, including taking agriculture classes. In 2019, after leaving NC A&T and closing down the family restaurant, I had time to gather my thoughts. While working at the Southern States Farm Store, my former agriculture teacher spotted me in the shop. Talking with her helped me figure out different ways to pursue a career. Researching AGI gave me the information I needed to make school an option again and weigh the various opportunities available at NC State. I applied that day."
Currently, you volunteer at NC State's Reedy Creek Equine Educational Unit. Tell us more about your love for horses and working on a horse farm.
"I've been working on horse farms all of my life. My mother intentionally exposed me to various experiences while living in Durham. Though my living situation wasn't the best, exposure to numerous experiences showed me that I had unlimited options in how I lived my life. Since I was four years old, I've been riding horses. I was bitten by the bug early and stuck with it. During my teenage years, I always went to the local farm, checked on the horses and cared for them."
Do you feel your time working with horses prepared you for your current academic goals and plans?
"Working at the horse farm has given me a dream to follow and has helped me focus on what I want to accomplish. NC State presents so many options and diverse pathways to follow. Working with horses taught me that I want to work outdoors and not be confined to an office building."
AGI math lecturer, Prakash Bhave, Ph.D., praised your excellent performance in his math classes. You're an A+ student.
"I wasn't always good at math, but I believe Bhave's perspective and his teaching methods made me feel more confident in my abilities. Even now, his influence remains with me beyond his class. I feel confident in my knowledge."
Describe what you have learned about yourself as an AGI student.
"I've learned to be a better team player and leader, knowing when to step up and initiate to get the wheels moving."
What impact has the AGI Ambassadors program had on you?
"The AGI Ambassadors program gave me the confidence to express myself diplomatically and be the young man I want to be. As an ambassador, we have the privilege of taking prospective students on tours — which is always fun! We spend our days at NC State with activities revolving around prospective students and their families. We also serve as a welcoming committee and an information hub for students, prospective students and families who want to learn more about AGI."
What has surprised you most about AGI?
"The amount of access to information and facilities surprised me. At my previous school, the library wasn't open 24 hours. But at NC State, the library is open 24 hours; if I have something I need to get done, I can stay at the library until the sun's up. Also, I enjoy the variety of events on campus, whether it's a career fair or a zoom call with one of my professors about aquaponics or infectious arthritis in horses."
During your time at CALS, is there a memory that stands out to you?
"Getting through the first entire semester of college was big for me. Doing well in that first semester gave me the willpower to reach where I am right now, applying the knowledge that I gleaned from my professors. Being able to walk into the AGI office, speak directly to Director Lee Ivy, and have a relationship with him has been a core memory. Enjoying that family feeling was the greatest."
Which achievement are you proudest of?
"I'm most proud of being inducted into the Delta Tau Alpha Honor Society. I received a medallion, and my mother was super proud of me. It was a testament to my ability to persevere and get that far — with honors!"
Who inspires you?
"My granddad inspires me. My family takes care of him, and I check on him daily to make sure he's eating. He was born in 1934, so I admire his resilience. I cherish sitting down and having those times where I can talk to him. He tells me that he always worked three jobs and would give my Nana his paycheck when he came home. Seeing how far he carried his life, I want to make sure that I can take his legacy twice as far, so he doesn't go in vain."