In February and March, Dr. Hannah Burrack and Dr. Steve Hall led a series of virtual and intensive courses for a group in Lima, Peru to offer a guide for publishing articles on aquaculture in international scientific journals. The publishing process can be daunting, whether the author is seeking to be published domestically or internationally, and limited resources on the expectations for published articles can prevent very hardworking researchers from sharing their work effectively. 
Dr. Burrack and Dr. Hall's course is designed to aid its participants through the entire process, from guidance on experimental design all the way up to the best way to avoid predatory journals during submission. The course consisted of four days of in-person instruction with two virtual assessment periods, an introductory assessment and a final assessment as part of the course follow-up. The hybrid makeup of the course allows for the least disruption to the daily lives of the course participants while giving them the tools to further their publishing.
Dr. Burrack and Dr. Hall's course was made possible through the partnership of NC State with the Perú Ministerio de la Producción, Programa Nacional de Innovación en Pesca y Acuicultura, and the Fundación para el Desarrollo Agrario (FDA). The Programa Nacional de Innovación is focused on food security, sustainability, and the continued competitive growth of Peru's aquaculture sector. 
As of 2017, Peru's aquaculture exports make up over 20% of their total seafood exports, making academic literature on the sector especially valuable. As the sector continues its economic growth, sharing research internationally will offer the opportunity for Peru to develop a lasting presence in the global aquaculture market.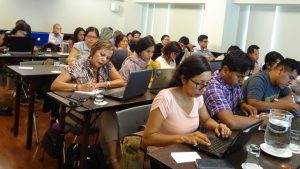 Dr. Burrack and Dr. Hall's course comes as part of a partnership with Peru that CALS developed in 2018, which would allow faculty and students to visit Peru and engage in cultural and academic exchange benefitting both Peruvian and American agriculture practices. Over the last two years, CALS has been able to grow this relationship through both hosting Peruvian visitors at NC State and sending students and faculty to Peru through Research Pack Abroad and other initiatives.
The collaboration of NC State and Peru's agriculture agencies demonstrates the importance of international connections in research, now more than ever. In the world's current state of isolation, courses like Dr. Burrack and Dr. Hall's offer the tools to keep us connected and keep science moving forward. 
Programa Nacional de Innovación en Pesca y Acuicultura posted an interview video on their facebook page to highlight this training.  View it here: https://www.facebook.com/PNIPAPeru/videos/2588743841360895/