Academic
Heeduk Oh: Improving Shelf-life Fruit Quality in Blueberry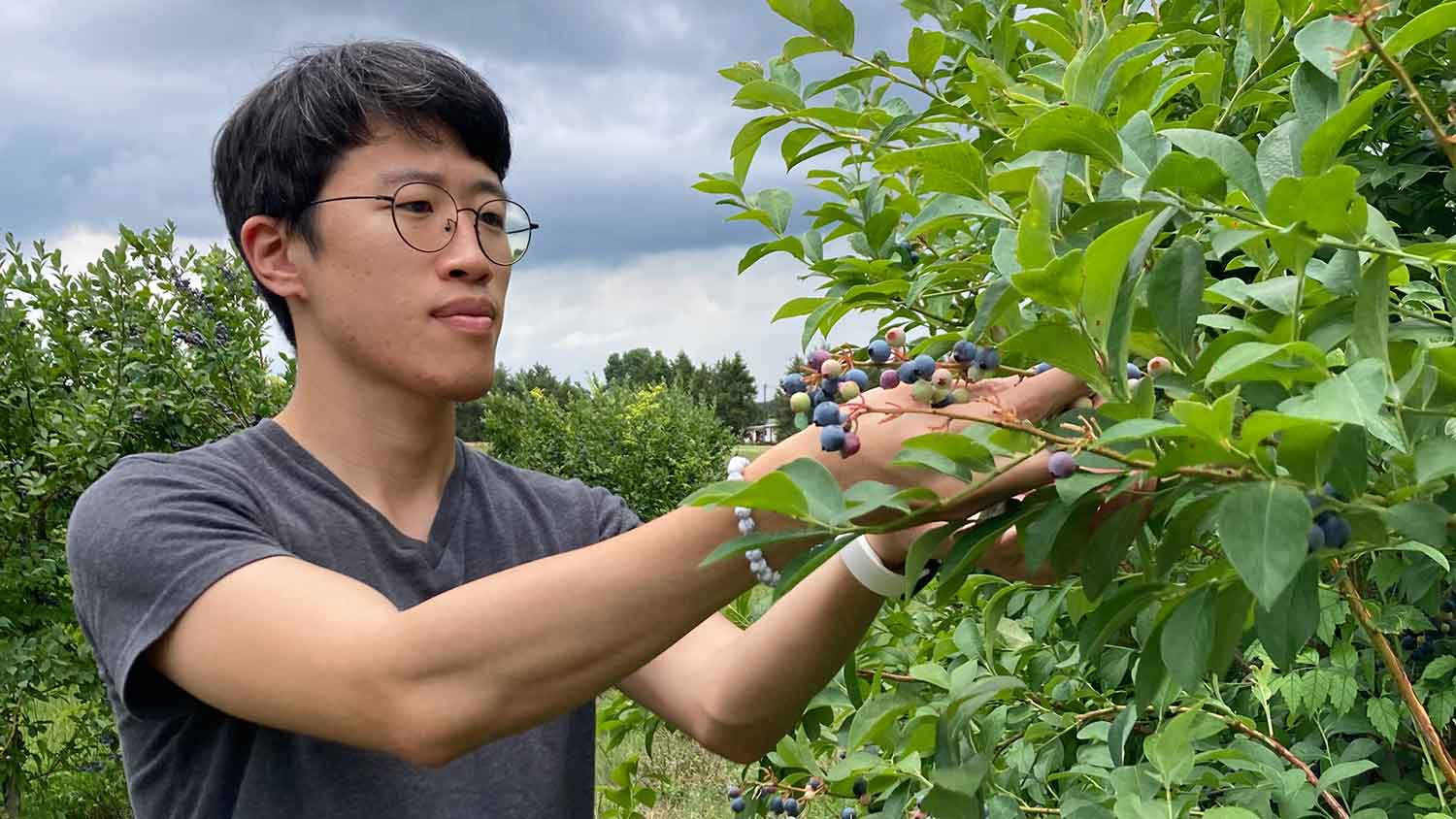 North America is the world's leading producer of blueberries and cranberries, the major fruit crops in the Vaccinium genus. Heeduk Oh, a doctoral student in North Carolina State University's Department of Horticultural Science, is on the nationally-coordinated transdisciplinary team to improve Vaccinium industry production by developing and implementing marker-assisted selection (MAS) in breeding programs. The Vaccinium Coordinated Agricultural Project (VacCAP) aims to make available the data and tools that will enable breeders to select and pyramid preferred fruit characteristics and increase market value. These scientific resources will improve overall production and quality to meet industry, market, and growing consumer demands.
Vaccinium breeding is the industry's top-priority with approximately 15 programs supported by 13 commodity groups. MAS targets include disease and pest resistance, stress tolerance, plant physiology, machine-harvestability, and fruit quality.
Heeduk Oh has taken a moment to introduce himself and his role in the VacCAP project to improve blueberry fruit quality.
Tell us a little about yourself. Where are you from?
I am from Daegu, South Korea. I earned my bachelor's and master's degrees at Seoul National University (SNU), where I developed a passion for horticultural science. My background in horticulture and my parent's love for education – both of whom are retired English teachers – have played significant roles in shaping who I am today.
Why and when did you get into horticulture?
At the end of my freshman year at SNU, I discovered my passion for horticulture while I was exploring the various majors offered within the College of Agriculture and Life Science. At the time, I knew almost nothing about horticulture but the idea of learning about fruits piqued my interest, and I took the leap by choosing horticulture as my major. I was surprised by how fun the courses were and I have been dedicated to the field ever since. From that moment on, horticulture has been my chosen path, and I have not looked back.
What brought you to NC State?
I had always dreamt of pursuing my Ph.D. in the United States and I worked towards this goal during my mandatory military service after completing my master's degree. When the opportunity came to join the VacCAP research team led by Massimo Iorizzo and Penelope Perkins-Veazie, my current advisors, I was immediately drawn to the exciting project they were working on. I was thrilled to have the chance to be a part of such an interesting project, and I jumped at the opportunity. I am grateful to be a part of the NC State community and to be working with such talented people.
Can you tell us about your research?
My research focuses on improving the shelf-life of blueberries as part of VacCAP. Blueberries are soft fruits that can quickly soften and decay during postharvest storage and transportation, leading to decreased profitability and a poor consumer experience. My goal is to understand the fruit characteristics related to the shelf-life of blueberries and identify the genetic components to potentially apply molecular approaches in breeding programs to improve their storability and prolong their market life.
What upcoming project are you most excited about and why?
I am eager to move on to the next step of my research, which involves identifying quantitative trait loci (QTL) and candidate genes for various fruit quality traits in blueberries. We are hoping that our findings will ultimately enhance breeding efforts that aim to improve fruit quality both at harvest and during shelf-life.
What has been the highlight of your graduate school experience so far?
The highlight of my graduate school experience has been the relationships I have formed with the people I have met. I have made many great friends through my lab, the department and various fellowships, and I am grateful for the positive impact they have had on my experience.
Do you have any advice for incoming graduate students?
I highly recommend reaching out to the kind and inspiring individuals within the Department of Horticultural Science at NC State. The department is full of amazing people who are eager to help and support you in your academic journey. As a shy introvert, I am still working on this myself, but don't be afraid to approach them, introduce yourself and ask for assistance when needed. Building relationships with your colleagues and professors can greatly enhance your experience and provide valuable connections and support throughout your studies. Your network in the department will become a valuable asset, so don't hesitate to invest time in building relationships.
Are you interested in studying horticulture?
The Department of Horticultural Science provides a hands-on academic path that provides real-world benefits and applications. Explore our undergraduate and graduate programs to learn from expert faculty and have career-focused experiences.
Connecting students with opportunities is part of how we advance plants.
Get the latest Horticultural Science News
Sign-up to get the latest news and updates from Horticultural Science straight to your inbox every month.