Turf Expertise at Bat
Watching the World Series? Game 3 moves the Series from Houston to Washington DC, home of the Washington Nationals. Notice the beautiful field? It is courtesy of John Turnour, a 2001 turfgrass graduate of the Department of Crop and Soil Sciences at NC State University. John will be on the largest of sports stages as the Nationals host the World Series for the first time.
The Road from RDU to DC
So how did John get to one of the sports largest and most high profile venues? After graduating from NC State University in 2001, in chronological order, John worked with the Durham Bulls, Carter-Finley Stadium, Baltimore Orioles, San Diego Padres, and then in 2010, was named head groundskeeper for the Washington Nationals. John manages a total staff of 38 people to take care of the Kentucky bluegrass + perennial ryegrass field – four are full-time employees, four are interns, and 30 are game day staff. On game day, John and his staff work 15 hours/day.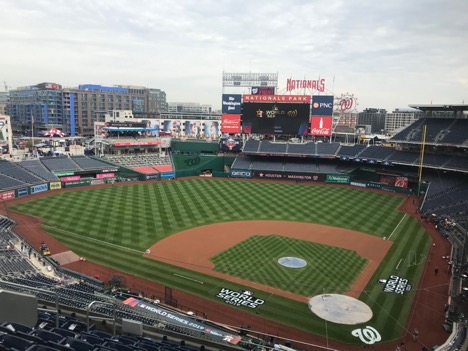 A Level Playing Field
What is John's biggest challenge/concern? As with any sports field, it is the consistency and safety of the playing surface. As John mentioned to me this morning "our goal is to provide the highest quality and most consistent playing surface for both teams." Needless to say, the NC State University turf faculty are proud of John's accomplishments.
A Pack-ed Team
So while most viewers will know Trea Turner, the Nationals' shortstop, is a former Wolfpack player and Ryan Zimmerman, the Nationals' first baseman, is from Washington, NC, the Wolfpack family can be equally proud knowing John Turnour is the person behind the scenes that has a role as important as anyone's. Tune in to the Series, and you will see turfgrass perfection, courtesy of John Turnour.
Written by Dr. Fred Yelverton, NC State University Professor & Extension Specialist in turf and forage weed science
Want More on Turf Management?
John Turnour was also featured earlier this year on NPR's Weekend Edition Saturday.  Read or listen to the interview about how he prepares for gameday.
NC State University Extension hosts TurfFiles, a web-portal serving up the latest news and research on turfgrass.  Thinking of a career in turf?  Our department offers both two and four year turfgrass programs that lead to rewarding careers in the sports and recreation industry.  Or join our personal email series through our undergraduate Crop & Soil Science degree programs.