Three AHS Students Recognized at CALS Honors Celebration
The College of Agriculture and Life Sciences (CALS) recently held their annual honors celebration where three Agricultural and Extension Education (AEE) students were recognized for their accomplishments. During this event, CALS Honors students share the research accomplishments they presented at the NC State Undergraduate Research and Creativity Symposium. The event also acknowledges student awards and scholarship winners. Students are nominated by their respective academic departments in CALS and winners are chosen by a selection committee made up of faculty and staff members. Two students, Grace Baucom and Parker Greene, were awarded the Outstanding Undergraduate Student Award while Elizabeth Espino was recognized for her research.
Outstanding Undergraduate Student Award – Grace Baucom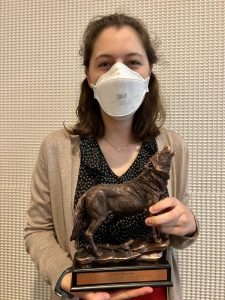 Baucom will be graduating with a double major in Extension Education from the Department of Agricultural and Human Sciences (AHS) and in Agroecology & Sustainable Food Systems from the Department of Crop and Soil Sciences, both in CALS on Saturday. Dr. Joseph Donaldson, her advisor for Extension Education, comments, "Baucom has been a highly engaged and successful student, and it was a pleasure to serve as her instructor for both class and internship experiences. In addition to performing at the highest levels of academic achievement, her work experiences amplified her scholarship and career development. Grace demonstrates extraordinary care for people and the environment, and NC State is a better campus community for having Grace as a member of our Pack."
Baucom will have a concentration in Community Food Systems within the Agroecology & Sustainable Food Systems degree and also earn three minors in Environmental Education, Parks, Recreation, and Tourism Management and Spanish. While maintaining a 4.0 GPA, she holds numerous positions within the campus community. She serves as a communications assistant for the AHS department, a food-inspired resilience and equity intern for the Center for Environmental Farming Systems and is a Park Scholar as part of the Park Scholarships Program. Baucom also earned the NC Environmental Education Certification while completing her community partnership project with the Orange County Cooperative Extension's 4-H Youth Development Program. Baucom states "It was so exciting and meaningful to be a nominee for the CALS Outstanding Undergraduate Student Award! I feel so lucky to have learned and grown over the past four years with the support of wonderful faculty and staff across our college."
Outstanding Undergraduate Student Award – Parker Greene
Parker Greene was nominated by Dr. Wendy Warner, who remarked, "Greene is truly an exceptional undergraduate student and most deserving of the CALS Outstanding Undergraduate Student Award." Greene will be graduating with her BS in Agricultural Education and will earn minors in Agricultural Business Management and Animal Science this week. She served as a departmental assistant, providing support for the organization and delivery of Teach Ag events across the state and other student recruitment efforts. Also, she was selected to attend the Agriculture Future of America Leaders Conference and the National Association of Agricultural Educators Future Agriscience Teacher (FAST) Symposium. She also has served as a research assistant for the Agricultural Institute, where she has evaluated the role of soft skill development in the classroom and the impact it has on both employer and employee when transitioning into the workforce.
In addition, Parker has taken on an active role in several extracurricular organizations. She serves as the President of the NC State Club Softball Team, who has been consistently ranked in the top teams in the country for the NCSA (National Club Softball Association). Parker has earned national recognition as a first team All-American for the NCSA, and has been awarded national player of the week on multiple occasions. She has also been an active member and officer in Sigma Alpha Professional Agricultural Sorority and the Agricultural Education and Extension Education Club. Greene noted that "It's an honor to be recognized as an outstanding undergraduate student and have the opportunity to represent my department in CALS. I would not have been able to achieve this level of academic success had it not been for my supporting mentors in the AHS department. My experiences at NC State have shaped who I am today and how I choose to perceive my role in the future of the agricultural industry."
Recognition for Research – Elizabeth Espino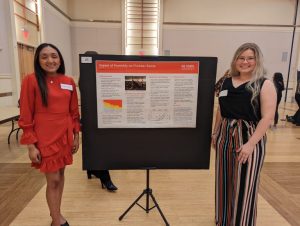 Elizabeth Espino was recognized for her research on environmental factors and their impact on finisher swine that she completed with her partner, Lexi Ezzell. Espino is a sophomore majoring in agricultural education and currently serves as a North Carolina Agromedicine Institute and Cooperative Extension Intern. As an intern, she helped create the first Spanish class so migrant workers would have the opportunity to become certified in pesticides. Spino currently serves as the North Carolina FFA president and is actively part of the CALS honors program.
Dr. Travis Park, director of undergraduate programs for the AHS department, notes that "Elizabeth is a wonderful student, leader, and scholar. She seeks opportunities to expand her horizons and challenge herself. Additionally, she is the epitome of positivity and a "can-do" attitude." Espino adds, "It was an honor to be recognized for doing research on the study of environmental factors and their impact on finisher swine at the CALS Honors Celebration. I'm thankful to have been given an opportunity for me to do research as an undergrad and for my time in the CALS Honor Program while helping me excel and grow academically while at NC State."
Congratulations everyone on your awards and recognitions. The department wishes you continued success in your future.