Alumni and Friends
'We Can All Do Our Part'
Distinguished CALS alum stresses the importance of supporting N.C. PSI at large and small levels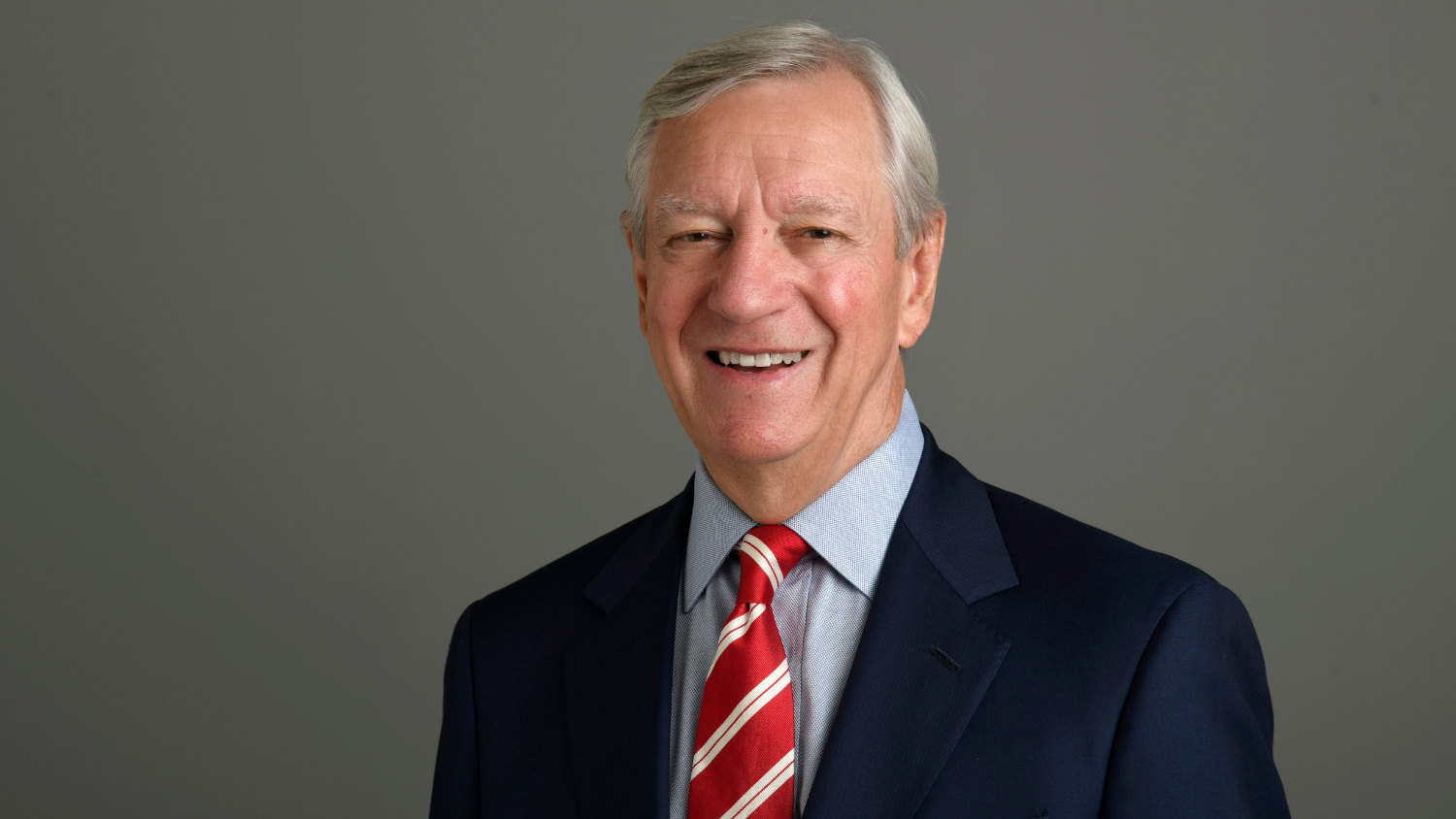 Allen and Ann James enjoyed most of their successful careers in the Washington, D.C., area. For many of those working years, they had supported their universities financially. As both transitioned to retirement, they began donating their time.
Allen, who graduated from NC State in 1967 with a B.S. in biological sciences and who later became president of a major trade association for the fertilizer and pesticide industries, had no shortage of opportunities. Among other things, he served on several CALS boards, as well as special initiatives for Chancellor Randy Woodson and CALS Dean Richard Linton.
Among the most important efforts where Allen answered the call for help: construction of the NC State University Plant Sciences Building. This future home of the N.C. Plant Sciences Initiative (N.C. PSI) will house the latest technologies and greatest minds in academia, government and industry to solve today's grandest challenges for agriculture and the environment, such as mitigating the impacts of climate change and making pesticides and fertilizers more sustainable.
Allen and Ann became more than strong advocates of the NC State Plant Sciences Building when they chose to donate what funds they could to name the building's E. Allen and Ann B. James Study Room in their family's honor.
We reached out to Allen to learn why he supports the building's construction, the passions behind his work on N.C. PSI, and his opinions on donating and volunteerism.
Among his views is a special message he would like all alumni to know: We can all do our part to support the efforts we believe in, and we can do it at all levels, big and small.
You dedicated much of your career to promoting the safe use of pesticides and fertilizers for a sound environment. How do you see the N.C. PSI carrying on those efforts through research? 
This future cutting-edge research at NC State has the goal of bringing about a safer and more abundant food supply for our state, our nation and, for that matter, the world. And to the degree which those kinds of discoveries impact or improve pesticides and fertilizers, I'm optimistic that can occur through the Plant Sciences Initiative. 
Why are you and your wife, Ann, supporting the N.C. Plant Sciences Initiative? 
We've been involved at our universities—both NC State and Meredith College—for more than a decade; and, in fact, we've been supportive of our colleges for most of our adult lives. When we came back to North Carolina, we became interested in helping out as volunteers. And eventually, the Plant Sciences Initiative came online, and I was part of the group working with the legislature and others to raise money initially. We've been inspired to do more at NC State and at Meredith. We're both very supportive of our universities and, in my case, we're very supportive of CALS and the Plant Sciences Initiative. And when the opportunity came to give a number we could afford, we felt strongly about taking the step to make a gift and to support this exciting initiative – not just with our time but our money.
We're not in a position to make multimillion-dollar contributions during our lifetime, but we make contributions when we can. I hope people get the message and are equally inspired by this statement. The gifts to support the Plant Sciences Initiative do not need to be in the millions. Those are wonderful gifts; they're terribly needed, and we need more of them. But smaller gifts, like I can make, can be given by other alumni; and I hope they do.
The NC State Plant Sciences Building will be a hub for collaboration. As a former industry executive, how do you see advanced research collaborations with industry benefiting the people of North Carolina, our nation and the world? 
Having the Plant Sciences Building and what it's going to contain is simply going to result in huge advancements in plant science. To achieve great things, the wave of the future is not only greater collaborations among different disciplines, but also greater collaborations between university and industry researchers. That will mean greater opportunities for the farm families of North Carolina to produce more abundant and safer food, and we can promote these same achievements for food sources around the world. 
You and Ann decided to name a Study Room in your family's honor. How did you come to this decision?
Considering the other contributions we've made, the study room was what we could afford to sponsor. There were many opportunities to dedicate areas much larger and at a much greater cost, but we gave as much as we could at the time. I really want other alumni to come to the understanding that they can help in this initiative—and all across CALS and the university— through reasonable gifts that meet their ability.  
What is your single fondest memory of your undergraduate years at NC State, and why?
My fondest academic memory is my class with Dr. Reinard Harkema. He taught a course in comparative anatomy, and he was a very challenging professor. He also had a lab, where I worked as a student. And so I had the opportunity to take advantage of going into the back room of the lab, where all of his special bones were stored. These were the bones he didn't bring out to class. But what made me the happiest was when I found out that the big 50-liter jug of alcohol marked "XXX" in the lab turned out to be ethyl alcohol instead of methyl alcohol. Methyl alcohol is poisonous. Ethyl alcohol is what they make whiskey out of. And so I learned one might be able to drink some of it. I'm not going to continue that memory any further!
You have volunteered your time on various NC State boards throughout the years. Why do you give back to the NC State community through volunteerism? 
Well, I've managed associations virtually my entire working career, and I knew the value of volunteers. When I retired, I wanted to be a volunteer, too. I volunteer predominantly at NC State, but I belong to numerous organizations where I serve in different capacities. It's in my nature to be a volunteer, and I found some great opportunities at NC State, ones that were welcomed by the CALS administration—and for that matter, even up to the chancellor. It's been a great experience to volunteer, just as Ann has found it equally rewarding at Meredith College.
So I guess you could call it giving back, but we give because we want to give our time and our money, and we feel a special reward when we do both. That's why we do it.