Water Collaborative Makes Waves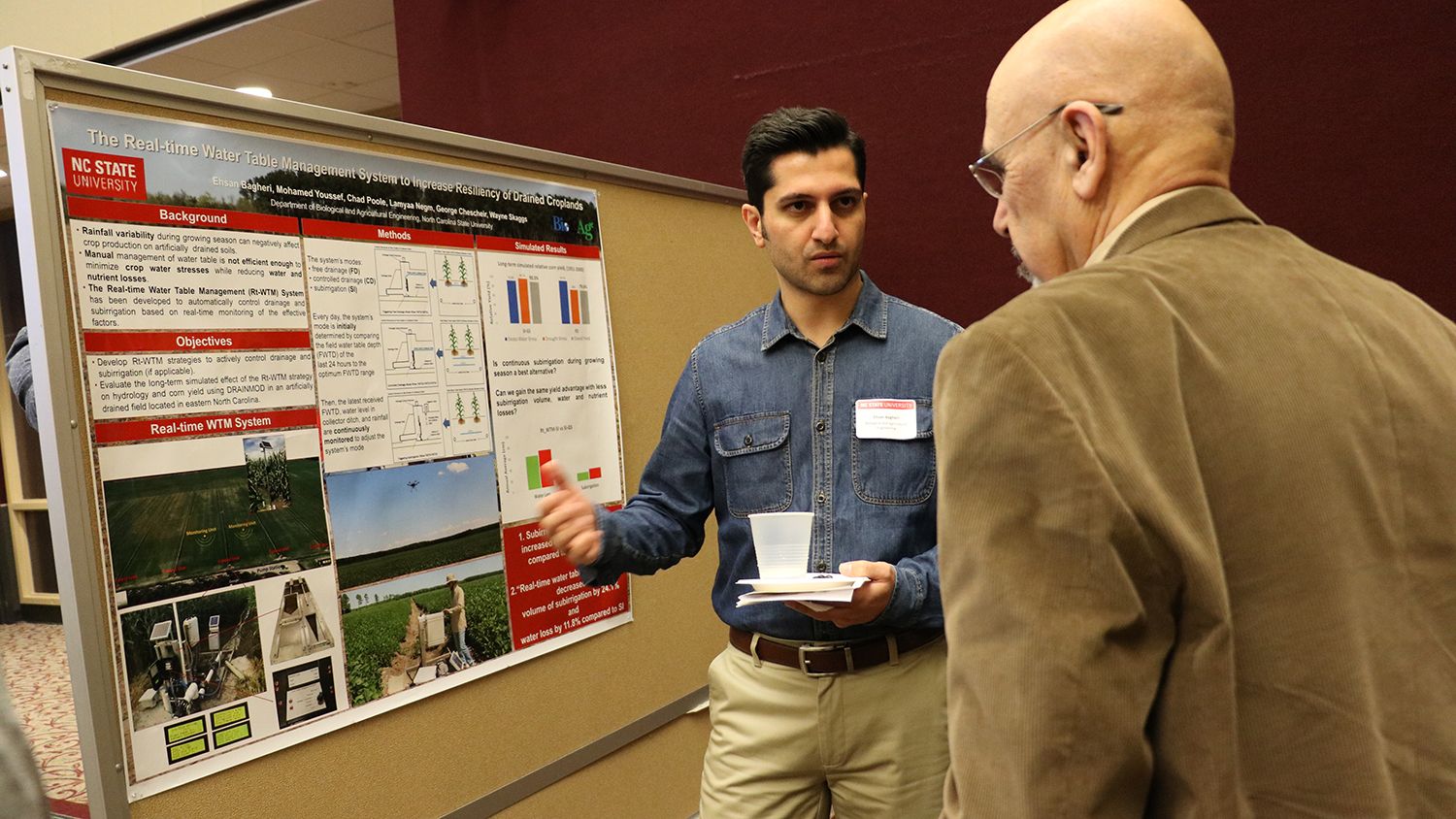 Concerns about water – too much, too little or too polluted – are rising. At NC State University, researchers, teachers and extension professionals are exploring ways to pool their collective water expertise. Their goal: to better understand and protect human, environmental and agricultural health from threats posed by flooding, drought and contamination.
Michael Burchell, a professor in Biological and Agricultural Engineering, launched the effort, and over the past 18 to 20 months, he and a committee of other College of Agriculture and Life Sciences faculty members have hosted a series of meetings to help create what they call the Water Collaborative.
Sharing Ideas
[pullquote color=red align=right]An organized group with a common mission will help us achieve a higher level of success as we address current and future water resource challenges.[/pullquote]
A mini-symposium held Jan. 16 at the McKimmon Center highlighted the breadth and depth of water expertise in CALS and the broader university. About 60 faculty members, staff members and students took part.
Susan White, director of the Water Resources Research Institute and NC Sea Grant, gave the keynote presentation, then 23 faculty members briefly described their water-related projects.
Topics ranged from understanding pollutants' effect on freshwater mollusks and fish to advancing controlled drainage and irrigation use in agriculture. During breaks in the faculty presentations, 18 graduate students presented posters on their projects.
CALS Dean Richard Linton took the podium briefly to endorse the faculty-driven Water Collaborative and to encourage more collaboration among university water experts from disparate disciplines.
Funding for the symposium and earlier meetings came from the CALS Faculty Big Ideas Innovation Program.
Next Step: Stakeholders
[pullquote align=left color=red]The next step will be getting both the faculty and outside stakeholders to … best guide our path forward.[/pullquote]
Burchell said that the collaborative plans to follow up by involving stakeholders from outside the university. "We've drafted a skeleton mission statement and goals," he said. "The next step will be getting both the faculty and outside stakeholders to help us refine them to best guide our path forward."
"We have a college and university with strong programs in water," Burchell added. "We've historically been able to really make an impact in our state, region, nation and world by addressing a vast array of water issues. An organized group with a common mission will help us achieve a higher level of success as we address current and future water resource challenges."