Student Spotlight: An Artist with a 'Passion for Plants'
Artist. Scuba diver. Former 4-H'er. Self-professed plant geek.
Amy Arnold is about as well-rounded as a college student can be — and then some.
An aspiring landscape designer, she recently won the 2017 CALS Alumni and Friends t-shirt design contest. Her unique drawing of the wolf hand gesture beloved by NC State fans won the top prize for best illustrating this year's contest theme, "Growing the Extraordinary." The limited-edition t-shirt will be sold this Saturday at CALS Tailgate and will benefit the CALS Alumni and Friends Society Scholarship Fund.
Read on to learn more about Amy, her passion for plants and why she thinks NC State is the best place on Earth.
Tell us about your upbringing and what makes you who you are.
I grew up on my family's farm in eastern North Carolina, so naturally my love for agriculture is rooted deep. I was involved with FFA and 4-H. Being involved with these organizations helped mold me as an individual while gaining connections and developing people skills. Growing up close to the coast and living near a river, I developed a love for water, and swimming competitively led to getting involved in scuba diving. My parents have always encouraged me to pursue this love as well as traveling and playing the violin. They have done an excellent job of fueling my adventurous side. I've been scuba-certified since I was 15 and am now a dive master with Scuba Diving International. I'm also the first female to have gotten AIDA Freediving-certified in the state of North Carolina. I enjoy spear-fishing, playing the violin, shooting, traveling to new places, swimming with sharks and being home with my family on our farm.
Why did you choose NC State?
There was no question in my mind that I was NC State-bound; my dad and brother are both alumni of the Agricultural Institute. Hearing their experiences from State and knowing what field I wanted to go into led to my decision to be a part of the Pack. CALS has so many opportunities, they are so ahead of the curve, that NC State was irresistible. There is just too much available in one college here at State to consider going anywhere else. NC State was the only school I applied to, I knew it was the best fit for me and where I wanted to go. Being part of the Wolfpack is a strong feeling, being proud of my college and to know that I am part of that is just mind blowing, like "I've finally made it." Now that I'm here, it's almost unreal, a dream come true, and it is very exciting. I'm able to contribute to my school that has the connections to contribute to the world around me.

How did CALS help you adjust to college life?
My hometown is Washington, North Carolina, the original! First town named after George! Many people call it "Little Washington" and it's easy to see why. Washington is a sweet, quiet, little town located where the Tar and Pamlico Rivers meet. There is a lot of history, environmental importance and rich culture tied here, I wouldn't wish to have grown up anywhere else. Going to a university with more students than my hometown's population was quite an adjustment. Being the adventurous social butterfly I am, I loved the opportunities found on State's campus. CALS requires the Freshman Transitions and Diversity class, which was very neat. CALS has helped me to make connections across campus and organize a path that's right for me with their helpful faculty pointing me in the right direction.
[pullquote color='red' align='right']Going to a university with more students than my hometown's population was quite an adjustment.[/pullquote]Being part of the clubs in CALS is great, too. Guest speakers come to share opportunities and their personal experiences to help students learn what is available to us. Clubs are also a great way to meet people with similar interests, friends are made quickly, and they help make it easier to adjust to college life. When we all get together friends are made and challenges seem smaller, that's what I love about CALS.
What is your favorite thing about your major?
I'm a Horticultural Science major in the Landscape Design concentration, and I love it. Having a passion for plants was instilled upon me from growing up on my family's farm; my creative artist side has drawn me to the landscape design aspect of horticulture. Over the years I've dabbled in pottery and painting and have always loved drawing. Being able to create and put thoughts onto paper just clicks with me, so putting those designs to paper is probably my favorite thing about my major. Having that creative freedom is amazing, and putting my ideas to paper makes the design seem real, tangible, no matter how out of the box it may be, and that creative process having the potential to become reality one day is very exciting to me.
What are your goals for after graduation?
There are so many possibilities, but one of my biggest goals would be to design landscapes for hotels and resorts around the world. I just want to create landscapes that will impact people in a positive way.
Why is agriculture important to you?
I love food as much as the next person, but to appreciate agriculture you really have to go further than that. The connection between agriculture and everyday life is so vital — we wouldn't be able to sustain our way of living without it. Agriculture is important to me, not only because it serves us three meals a day, but it also is the glue that holds the world together: It's something that everyone has in common. Even if you've never been on a farm or don't think farming is important, you are still undoubtedly connected to agriculture. It's such a huge part of our lives and my life that whenever I see this question pop up I ask, "How can agriculture not be important?"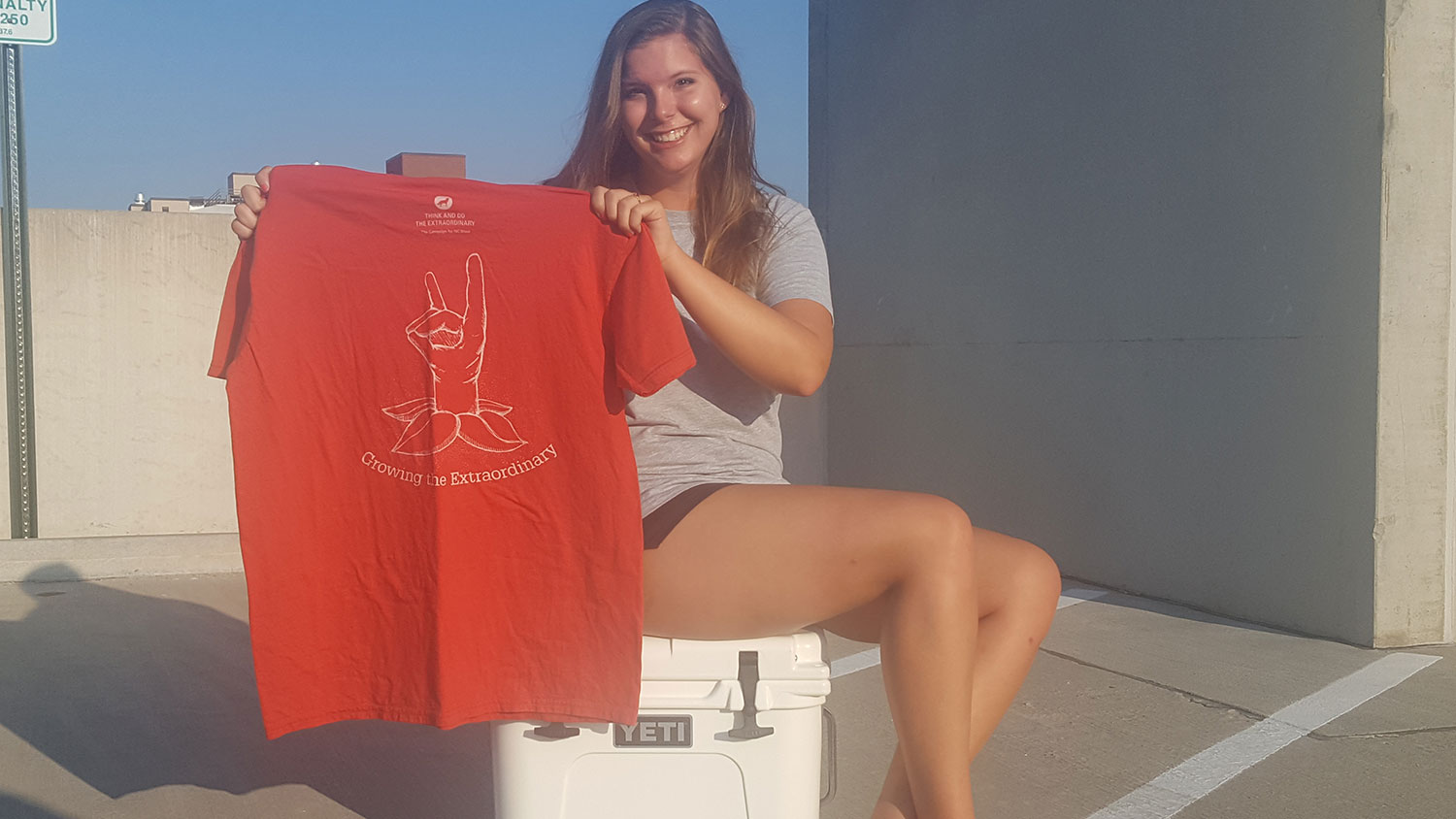 What advice would you give a student just starting out in CALS?
I would tell them that CALS is their biggest cheerleader, and we're here to help you succeed, so don't be afraid to ask for help. Go to a meeting with your advisor. Go to a professor with a question you may have. Seek out the "ask us" desk at the library. There are so many resources on campus for us to utilize as students.
Also remember that college is about your success, so make not only your education important, but also make yourself a priority so you can do your best.  You will see that CALS is full of friendly people, I would encourage them to go to a few club meetings, find one they enjoy, and try to commit to being an active member of that club throughout the year. The clubs are a great way to make connections and friendships on campus, the guest speakers that go to the club meetings are a great way to make connections for the future outside of campus as well.
My last advice would be this: Don't think college is about being a small fish in a big pond, but look at it as the bigger pool of opportunity it is, the little fish is growing up, you're becoming an even bigger fish that is able to navigate the big waters of opportunity ahead.
Every t-shirt sale supports students like Amy. Get yours today! 
[button]Order Your CALS T-Shirt[/button]