Routing Drought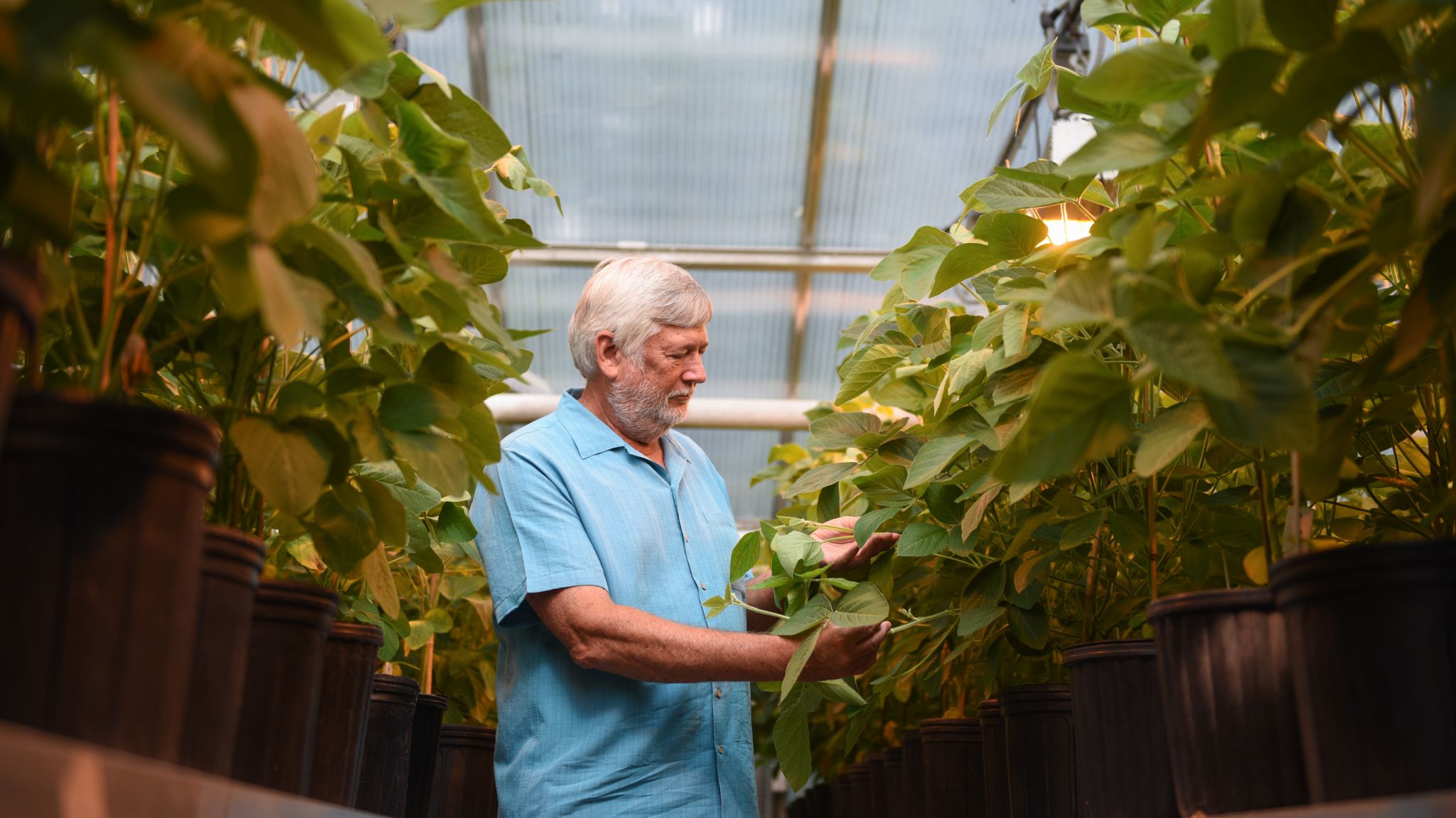 The No. 1 environmental limitation to soybean yields nationwide? Drought, especially when it hits in August.
Leading the way in developing new soybean cultivars that better tolerate drought? Tommy Carter, a U.S. Department of Agriculture plant breeder and geneticist who is located in NC State's Department of Crop and Soil Sciences.
For nearly 40 years, Carter has been exploring genetic diversity in soybeans. From the start, his goal as a USDA-Agricultural Research Service scientist has been to breed soybeans better suited to the varying growing conditions that farmers across the country encounter.
Partnering for Success
Carter says that partnerships with scientists at the USDA, NC State and other universities have been integral to shedding light on the genetics of drought tolerance. They've also yielded advanced tools and knowledge useful for plant breeders, including those with private industry.
That's important in North Carolina, where soybeans cover more ground, by far, than any other crop. In 2018, farmers grew soybeans on 1.65 million acres spread throughout the state. In good years, North Carolina soybean growers can generate about $800 million. However, that number fluctuates from year to year. Drought and other weather conditions are a major reason.
[pullquote align=left color=red]We were getting lots of signals that the soybean cultivars grown in the United States have a very narrow genetic base.[/pullquote]
Carter began his work with the USDA in 1981, just after he'd earned his Ph.D. at NC State. "Early in my career we were getting lots of signals that the soybean cultivars we were growing in the United States had a very narrow genetic base. They were as similar as brother and sister," he recalls. "We also had just enough data nationally to realize that when you started looking at soybean genetics under drought stress, there just wasn't much variability.
''When it's dry in August, yields go down," he adds. "And there was nothing else that you could point to at a national level that could explain the ups and downs of yield from one year to the next."
Looking Near and Far
To address the issue, Carter looked to the soybean's ancestral home in Asia for wild and cultivated soybeans with traits different from those found in the United States. And he looked closer to home for a place to test that germplasm — a place where summertime drought was more the rule rather than the exception.
That place, the Sandhills Research Station in Jackson Springs, is part of North Carolina's 18-station agricultural research network managed by NC State's College of Agriculture and Life Sciences and the North Carolina Department of Agriculture and Consumer Services.
The station and its superintendent, Jeremy Martin, have been a big help, Carter says, in supporting what is considered one of the most highly regarded drought-tolerance breeding programs in the nation.
[pullquote align=right color=red]Most of the soybeans grown in the sand wilted after a dry spell. But one exotic type stood tall.[/pullquote]
From 1983 to 1988, Carter achieved early success in field testing on a small, sandy area at the Horticultural Crops Research Station in Clinton. While most of the soybean types grown in the sand there wilted after a dry spell, one exotic type that stood tall.
Carter and NC State Professor Bob Patterson investigated this Japanese variety extensively. This involved round-the-clock sampling studies and tromping though soybean fields at midnight to retrieve leaves. Results from this early work were foundational to the following decades of drought tolerance breeding.
Breakthrough 'Beans
The drought tolerance breeding program shifted to the Sandhills station in 1989, because it has even sandier soil than Clinton. It also is more uniform and has larger fields for extensive testing.
"At the Sandhills Research Station, water doesn't puddle up in those sandy soils. It just sinks right in. With soybeans, once you get big plants and you go without rain for two weeks, they start to wilt," he says.
[pullquote align=left color=red]It's not only an adventure into the unknown, it's really meaningful for growers.[/pullquote]
In 2015, after testing thousands upon thousands of different types of soybeans, Carter released the first drought-tolerant soybean cultivar with yields as high or higher than others that were grown in the southeastern United States. There are more in the pipeline.
Carter credits university scientists and students for helping advance soybean breeding efforts, and he says he is encouraged by the North Carolina Plant Sciences Initiative at NC State. He hopes the initiative will lead to improved data-gathering drone technology that would speed the slow process of plant breeding.
Meanwhile, Carter continues to find his work rewarding.
"It's been great fun to do this work. It's not only an adventure into the unknown," he says, "it's also really meaningful for growers."
Our research addresses grand challenges — and overcomes them.
[button]Learn more[/button]