News and Events
Redpath Unlocks Doors to Faster Blueberry Breeding
A love of plants and biology steered Lauren Redpath to North Carolina State University, and the knowledge and skills she's gained in plant genetics and advanced molecular research recently helped her launch a career in crop improvement.
In July, the Ph.D. candidate began working as a scientist at Pairwise, a Durham-based start-up company that applies advanced gene-editing techniques and data analytics to crop science to develop fruits and vegetables with traits that farmers and consumers value.
Redpath's Road to NC State
Studying plant sciences and deciphering genetic code wasn't always Redpath's plan. After earning bachelor's degrees in biology and French at the College of Charleston, she taught English in Korea and Japan, then came back to the United States and studied horticulture at the University of Georgia.
As part of her master's studies, Redpath conducted research related to cold hardiness in southern highbush blueberry flower buds. That experience, along with a desire to learn and apply molecular techniques for crop improvement, attracted Redpath to Assistant Professor Hamid Ashrafi's blueberry genetics and genomics lab in NC State's Department of Horticultural Science.
A Gene Genie
Under Ashrafi's guidance, Redpath studied blueberry hybrids to determine their firmness, sweetness, color, acidity and puncture, or how crisp the fruit is when it's bitten, and she's finding the genes associated with those traits.
Her research is a genome-wide association study, or GWAS. A GWAS is particularly helpful in examining complex traits or multiple traits at the same time. Through this method, scientists search for genetic variations known as single nucleotide polymorphisms, or SNPs. SNPs account for variation in traits of interest, such as sweetness, size, or the presence of health-promoting compounds.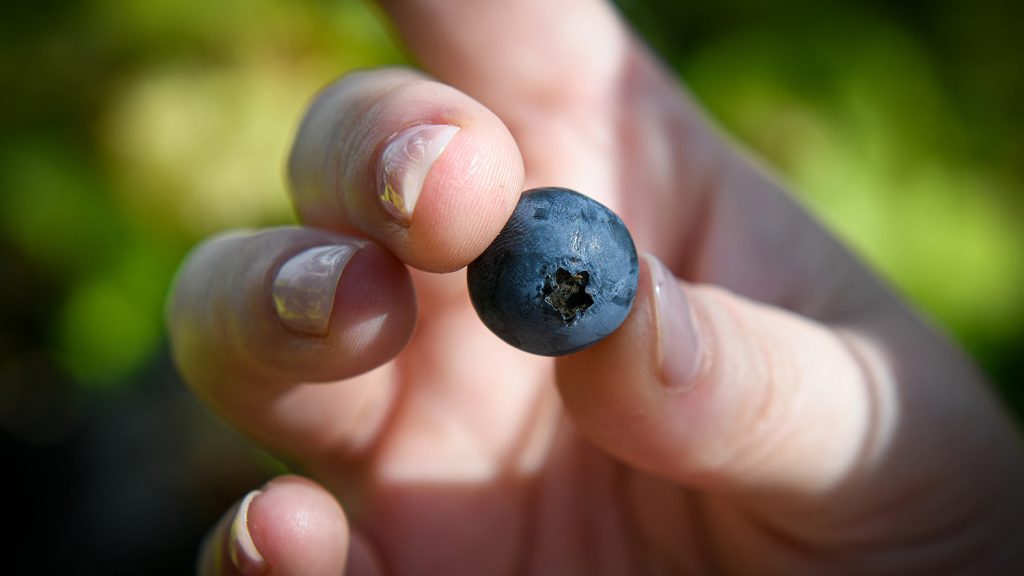 "We are working with 251 different genotypes – think of a classroom filled with 251 students, and you're looking at their hair color, their eye color, their height, their weight, their shoe size. And then you are trying to find the genes that determine these factors. That's what I'm doing with all those blueberries," Redpath explains.
Clearing a Path Toward a Better Berry
By knowing which genes are associated with particular traits, breeders can compare young plants to determine which ones have the genetic components it takes to make an excellent blueberry.
"Breeders can then remove the less-than-excellent blueberries, saving time, money and resources and directing these resources into the advancement of the best fruit and plants possible," Redpath says. "Additionally, the early genetic edification of young plants substantially decreases the amount of time it takes to breed a new variety for the precise traits a breeder wants."
Redpath, who's on track for graduation in December, believes her NC State research will have an enduring impact with implications not just for breeders, but for producers and consumers.
"Through my research, I feel like I have furthered blueberry breeding as a whole, and that difference will be noticed in the coming 10 years across North Carolina and hopefully beyond."