Non-Traditional: Full-Time Student, Full-Time Worker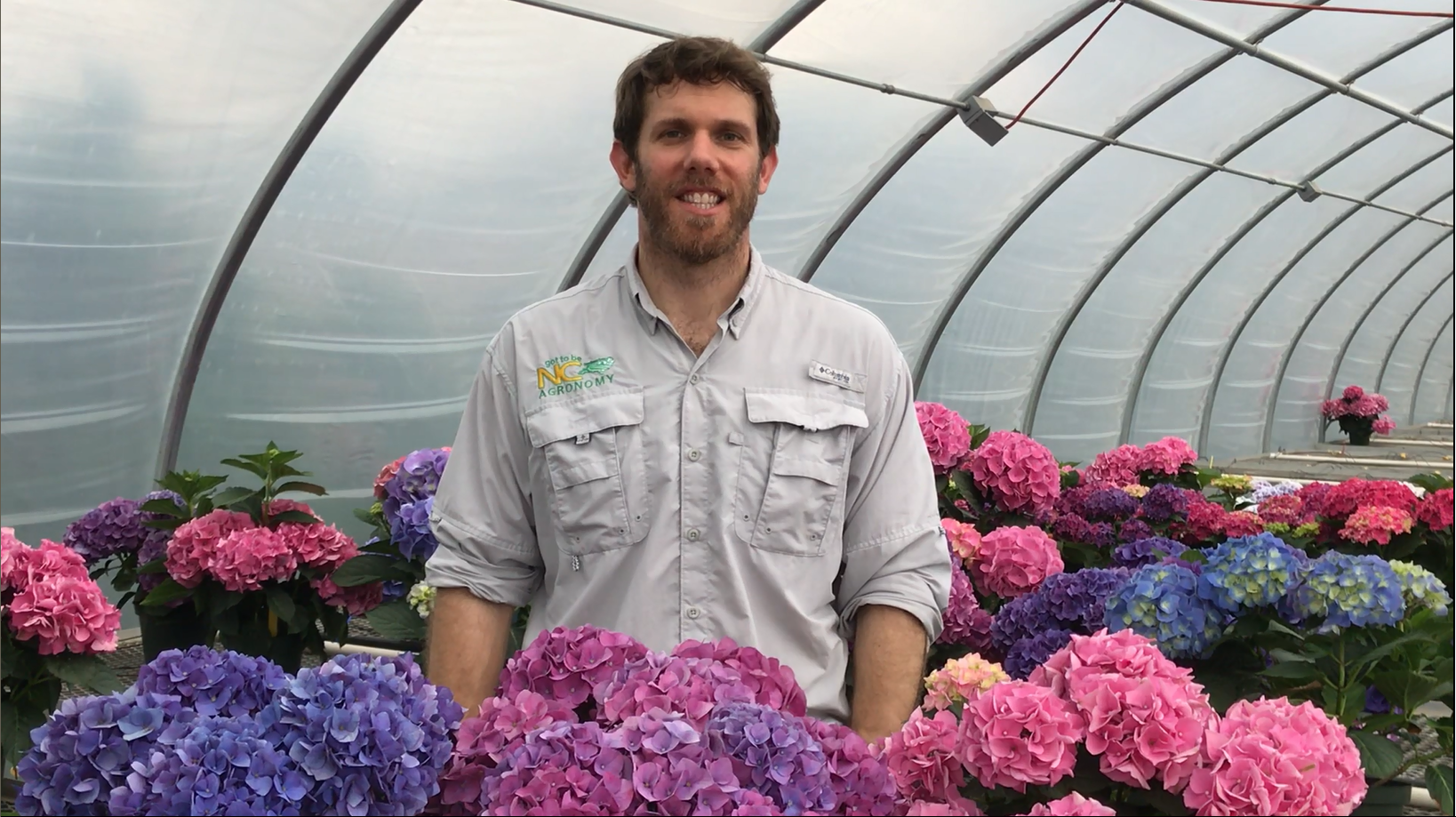 Editor's Note: National statistics show that "nontraditional" is increasingly the norm for students across the United States – in just one example, 75 percent of graduate students also work at least 30 hours a week. Over the next few months, we're highlighting some of our own amazing multi-taskers across CALS. This is the second story in our series.
Graduate school is already challenging, given the intensive research and difficult classes that come with the program.
Hunter Landis decided to take this on while continuing to work a full-time job.
While pursuing his master's degree in horticultural science at CALS, Landis also works full-time as an agronomist at the North Carolina Department of Agriculture and Consumer Services. He advises plant growers on ways to improve crop production.
Landis grew up on a Virginia dairy farm, but in college, he studied business as an undergraduate. After a few years working, however, Landis went back to attain a master's in agricultural education.
"The more I got interested in educating folks on agriculture, the more I … wanted to learn and be more of an expert within the field," he said.
So he knew the hard work that was on the horizon when he enrolled at NC State to earn his second master's degree – this time in horticultural science.
What's your experience as a nontraditional student?
The experience overall has been a positive one. It's been challenging, and part of the challenge is just doing more than what is usual or normal, in that I'm working full-time. I guess I'm considered a part-time student, but I think I've been marginally right under the line of what's considered full-time. It's great to have the opportunity to take the classes and do some research without having to leave my current full-time employment.
How did you end up working at the NCDA&CS?
I was an agriculture teacher for the past three or four years, and was looking to do something out of the classroom but related to agriculture – something that allowed me to have an educational or advisory role. That's where this position came up. It fit the interests I have in working with growers, being able to advise them and help them improve production.
What are you working on in your program?
My thesis project was looking at aluminum levels in hydrangea leaf tissue to determine the color of the flower. Growers have to apply aluminum to potted hydrangeas early in the growing season, and they apply the aluminum to produce a blue flower or blue sepal. But once they've applied it, they don't necessarily know that it's had its effect until they actually see the blue flower. It's a … big market potential to know that they can produce a blue flower early in the season versus having a purple one at the end of the season that they can't necessarily market. So our leaf analysis is on a green plant, a test for the aluminum that's been applied and a predictor for the potential blue flower.
How are you able to manage being a graduate student while working a full-time job?
I would say that it takes a lot of motivation and time management and flexibility. Working full-time, being a part-time student, and having the side project of "having a life" are all a challenge. … It's a challenge to do all of them as well as I would be if I were doing just one at a time.
After you finish your program, what do you intend on doing next?
I work full-time here at NCDA, and I enjoy the job that I'm doing right now. Part of doing this degree program was to enhance my ability or skills within my position.
As far as career goals, I think the degree and the experience is … enhancing me in the position that I'm in now. I guess next would just be doing better – continuing to improve at my current position.
What have you learned through CALS that you will take with you when you graduate?
I've appreciated the educational content and experience that I've gained through the coursework and the research. And I feel like one of the great parts of the program is the new people I've interacted with – through my research working group, or running into other students in classes or potentially at some of the scientific meetings.
Working with professors and with other students who have similar interests – those interactions and contacts are the big thing that I'll take with me going forward.
You can make a difference in the lives of students like Hunter Landis.
[button]Give Today[/button]