With the birth of her first baby weeks away, Extension Agriculture Agent Andrea Gibbs is still on the job covering 1,000 square miles of farmland — more than an hour from the nearest hospital.
---
From tromping through soybean fields to jumping ditches for soil-testing, being an Extension agriculture agent with NC State is always a physically demanding job.
Eight months and two weeks into Andrea Gibbs' first pregnancy, she hasn't slowed down.
"It's probably more challenging in this job than if I was just sitting at my desk, but I just keep going," Gibbs says. "But I do pay for it some days when I get home and sit down."
As the only Extension agriculture agent covering Hyde and Tyrrell counties, Gibbs spends long hours in her car, criss-crossing the combined 1,002 square miles. Most of the growers in the area know her by name.
It's more challenging than a desk job, but I just keep going.
On paper, this is Gibbs' job description: "to provide unbiased, research-based information to farmers by serving as their connection to Extension specialists and by implementing on-farm research trials."
Or there's how Gibbs puts it, which is much simpler.
"I'm here for the farmers."
That involves farm visits, in person, to any grower who asks. It means hours a week of phone calls and paperwork, shuffling through research results at her desk in the Hyde County Government Building, and many more hours in the car covering her territory. As the pesticide coordinator, she spends January and February holding meetings around the county to make sure farmers' credits are up-to-date. And she managed the wildly successful Blacklands Farm Managers Tour in 2017.
County Extension Director Natalie Wayne praises Gibbs' work ethic, eagerness to learn and dedication to the growers across both counties.
"Her drive comes from her love of agriculture and the relationships she's built," Wayne says. "She's made Hyde County her priority and Extension her home."
"Farmers are my heroes"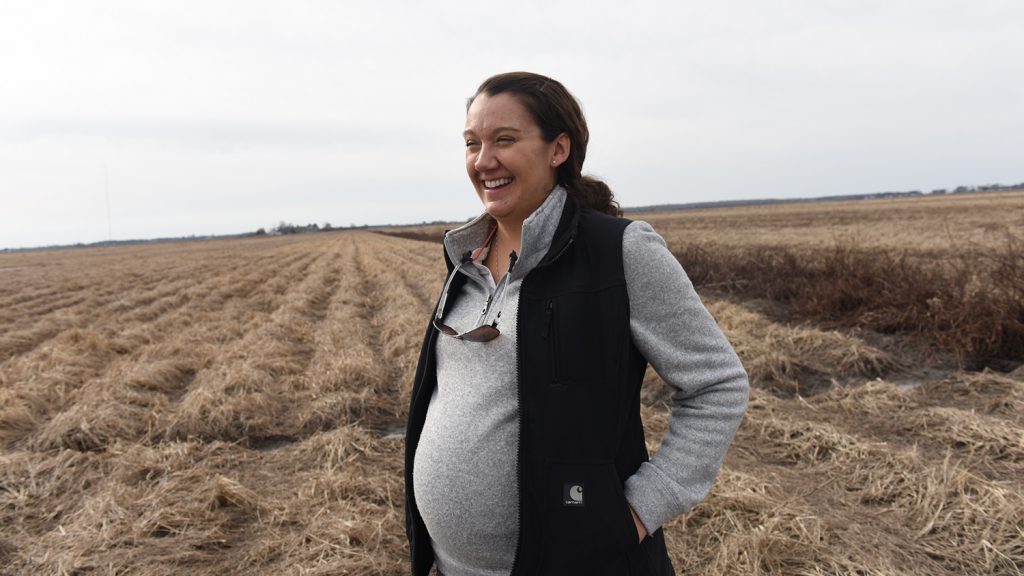 When Gibbs stops in at the Far Creek Gas and Grill, where gas is paid for on the honor system inside the shop after you pump, she's greeted by everyone at the tables.
"I didn't know you were pregnant! I thought you were just eating our delicious dinners in the neighborhood!" one man jokes. Gibbs laughs and assures him that her baby girl, name chosen but still a secret, will be showing up in about two weeks.
I don't know how farmers do it, when there's so much risk involved.
"We love Andrea," says the woman working the register. "We wouldn't trade her for anybody."
And Gibbs loves her work. She's got a custom sticker on the bumper of her Ford Escape that reads "Ag Agent" in cursive across a magenta map of the state.
When a call comes in from Tyrrell County, it takes about an hour for Andrea to drive there. They've been trying to fill the Tyrrell agent position that's been vacant since October, but it's challenging to find someone to move to a rural area. Andrea moved to Engelhard from Johnston County for another reason: Her husband grew up there.
Plus, she loves agriculture — every aspect, from watching things grow, to the kinds of people who do the growing.
"Farmers are my heroes," Gibbs says. "I don't know how they do it, when there's so much risk involved. They work so hard and have a lot of sleepless nights. They do a lot to feed all of us. I love getting to work with them."
Winning Trust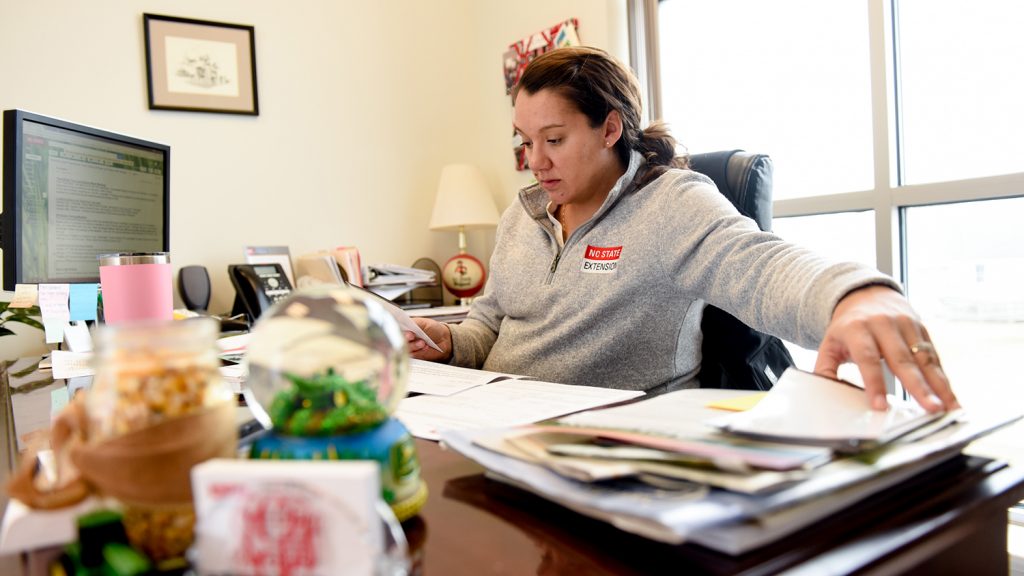 Though Extension has agents in every county across the state, each agent's job varies widely depending on geography. In the Blacklands — a four-county region near the coast spanning Hyde, Tyrrell, Washington and Beaufort — the soil is deep black from high organic content. Some areas have to deal with salt water intrusion from proximity to the sea. Hurricanes are always a threat. Gibbs works closely with other agents in the Blacklands on winter meetings, test plots and field days.
Andrea comes out here so I can produce more, so that … you can spend less on your food and more on, say, boats or whiskey.
The most important quality of a successful agent, especially one moving in from out-of-county: winning the trust of the farmers, says Dawson Pugh. He's past president of the North Carolina Small Grain Growers Association and owns Middle Creek Farm in Englehard. He's known Andrea for about five years.
"She went out and met the farmers in person to see what they needed, what their problems were, what they were interested in," Pugh says. "If she had questions, she would get the answer to them as soon as she could, not wait for them to call back and ask."
Gibbs' field uniform is an Extension polo shirt, a pair of blue jeans and sturdy shoes that can stand up to long walks around a muddy soybean field looking for the nematodes attacking plant roots — the problem she's been trying to solve for Hyde County farmer Richard Mann.
"Andrea comes out here so I can produce more, so that prices go down and you can spend less money on your food and more money on, say, boats or whiskey, if you'd like," Mann says with a chuckle.
Mann has been working the family farm since he returned from serving in the Army during the Korean War. In that time, Andrea is only the third Extension agent he's worked with. Recruitment can be a challenge, but agents like Andrea fall in love with the area and choose to stay.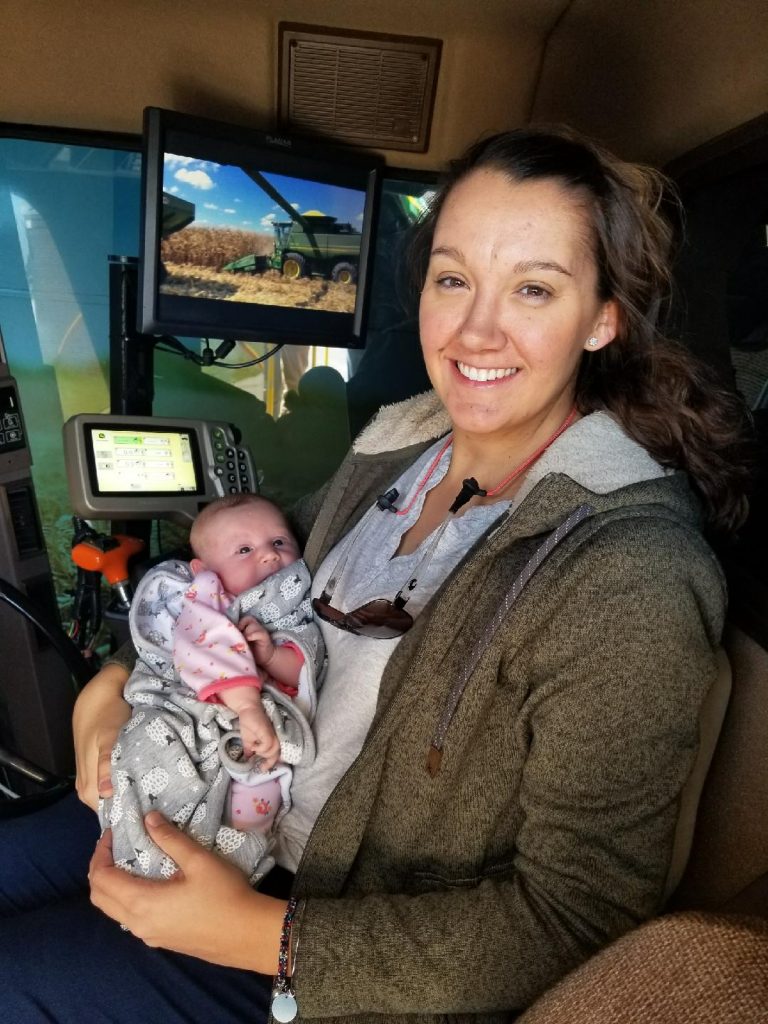 "We're going to miss her when the baby comes," Mann says.
With her due date in early February and the nearest hospital an hour away, folks started asking Gibbs in January when she would go out on maternity leave.
Gibbs answered like someone who loves her job.
"I tell them, well, I have a big farmers' meeting in the beginning of February," she said, laughing, in mid-January, "so maybe after that."
It was after that, but not by much: Gibbs and her husband, Johnny, announced the birth of their daughter, AdaMae Jean Gibbs, on Feb. 16.