Alumni and Friends
Sustainable Ag Leader Names Test Plot in Support of N.C. Plant Sciences Initiative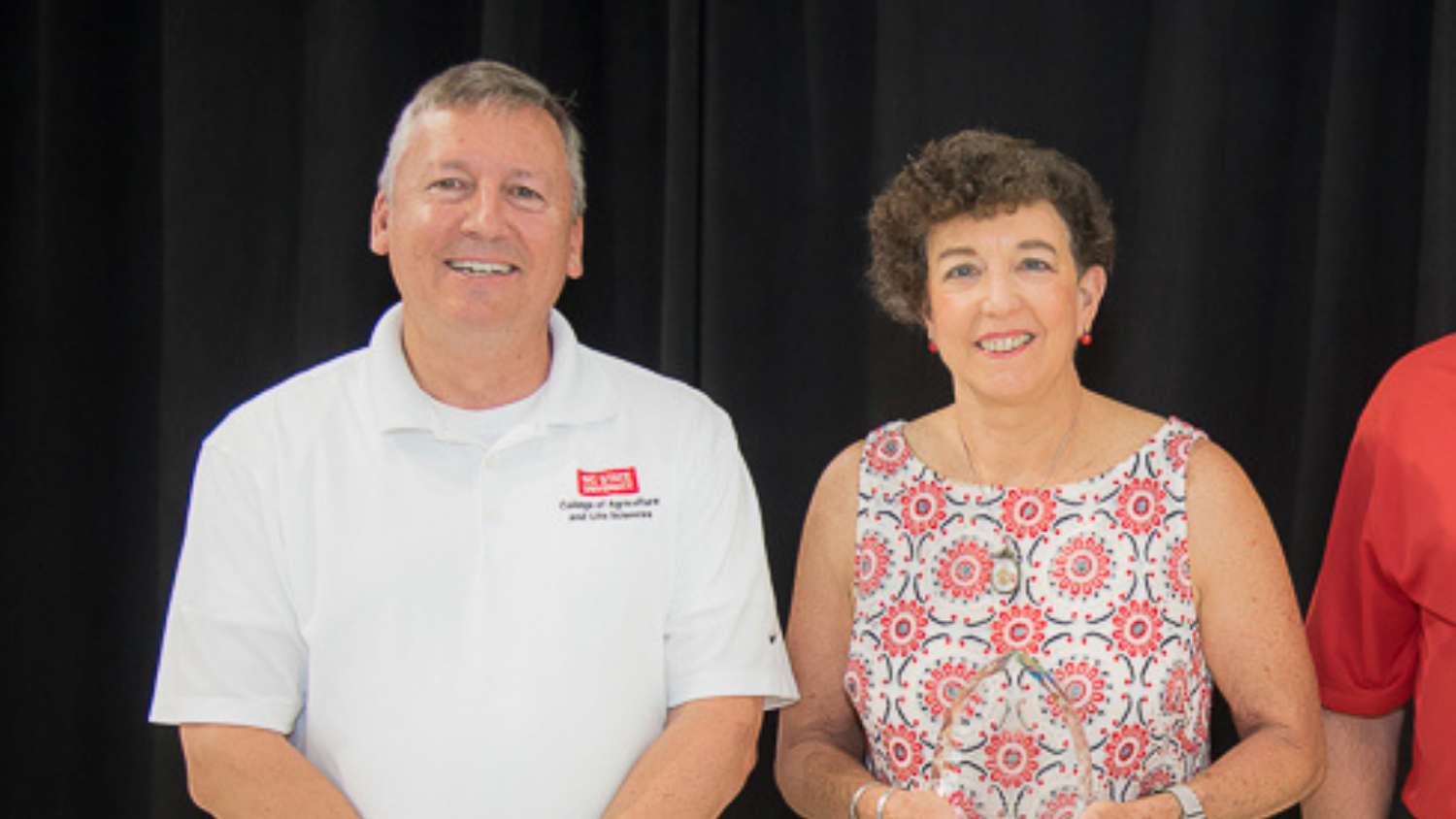 Pam Marrone lived her childhood in a tiny town near the coast of southern Connecticut. When she wasn't on her parents' 40-acre farm, she often spent hours standing in the tide pools spotting tiny aquatic creatures, carefully avoiding any sudden moves that could scare them away.
It was an ironic scene for someone who would grow up to make such huge waves.
Marrone is one of the key figures that kickstarted and fueled the sustainable agriculture movement. She is a key reason why biological pesticides are now a common tool in the grower's pest control toolbox, but she was making waves well before that.
Marrone's notoriety began at NC State as a Ph.D. student taking part in a groundbreaking agroecology study funded by the National Science Foundation. That notoriety rocketed ever higher after graduation as she founded and led one successful biopesticide company after another. She officially reached orbit on August 12, 2013, when one of her many successful biopesticide companies, Marrone Bio Innovations, was listed on the NASDAQ stock exchange. It was only the 22nd female-founded, female-led company to be publicly listed.
Her success came in part by never, ever giving up, a motto she borrowed from the late coach Jim Valvano, whose team she cheered on as a student during NC State's magical 1983 NCAA Basketball Championship season. 
And the other component of Marrone's success? The thousands upon thousands of test plots that proved her biopesticides worked.
It's fitting, then, that a person whose companies' success depended heavily on test plots named one in honor of her family to support the N.C. Plant Sciences Initiative (N.C. PSI), which among other things, brings together the brightest minds in academia, government and industry to produce research and innovations that will power the world's sustainable ag movement. 

We reached out to explore Marrone's personal and professional sides, plus learn why this CALS Distinguished Alumna of 2021 – and 2016 CALS Outstanding Alumna Award winner – is supporting the N.C. PSI and its new headquarters: the NC State University Plant Sciences Building.
Describe that seminal moment in your life when you decided to make the jump from scientist to scientist-entrepreneur. 
It actually took a while. I always wanted to be an entomologist when I was little. I grew up on a mini farm in southern Connecticut surrounded by nature. When I was growing up, I would do entrepreneurial things, like making arts and crafts. There's a traffic circle in the little town. I would set up my little craft stand there, and I would put my crafts on consignment in local craft stores. I sold a decent amount of stuff.
When I got out of grad school, I wanted to create biological products and get them into the market. Monsanto was looking for women back then, and I got a job through a new program looking for ways to control pests without the use of chemicals. That really allowed me to try different things: testing for microbes, looking for natural products, and all kinds of interesting projects. I set up the first ever automated robotic screening system for microbes against agricultural pests. I loved it. My group isolated, found and tested hundreds of thousands of microbes. Monsanto was going big into GMOs, so they moved my whole program into helping and supporting that.
I fell in love with these natural products by then. I left when I got a call from Novo Nordisk. They had a big facility in North Carolina. They hired me to set up a new company here in Davis. Working for Monsanto, I saw the limitations of working for a big company. It took one year from when I introduced the idea to the time that idea got action. That's an eternity when you're trying to solve problems. So when Novo Nordisk called me to set up Entotech, a subsidiary for creating natural products, I said, "Great." That was my first step toward a truly entrepreneurial career. It was still a subsidiary, though. Even though it was freestanding, I was still reporting to a big company. You still had the corporate politics, and it still took a year from the time you introduced ideas to the time it got action. So when they decided they were going to sell us because they had some issues with their core businesses, I said "I have to truly do it all on my own this time." That was in '95, and that's when I started AgraQuest. So it was a stepwise fashion. Even though I had it in me, it took a while to get there.
Twenty years ago, you began to bring biopesticides to the mainstream. How did you accomplish this in the male-dominated agricultural industry?
The industry was accepting of me. When I was raising money for my ventures, there were no women at all – ever; but I stood out. I had a Ph.D. in entomology from NC State and an undergraduate degree from Cornell. That got me credibility.
The skepticism was around biologicals. Growers and a lot of the distributors were the gatekeepers. We needed to show their efficacy through field trials, so I changed the paradigm of how the products are used.
The distributors said, "We'll put you on organic acres. And if they work as organics, we can sell them on the conventional acres." At that time, stand-alone biologicals were compared to stand-alone chemicals. I said, "Wait a minute. Farmers mix and match chemicals all the time, different classes and different types. Why wouldn't you mix and match a biological with a chemical in a program?" And this was just not done way back when I first launched Serenade in '98. And so we got data that showed two sprays of four with Serenade, where you'd use part of the spray for residue management and another spray for resistance management and so on. Lo and behold, you could see that the program was better, with better yields and better crop quality than the chemical programs. I also did a lot of on-farm grower demos, where our product was integrated and compared to their standard programs.
All that created demand. Integrated programs are driving the acceptance of the biologicals and driving the growth of the industry. When you have to change paradigms, that takes time and money. But if you're an entrepreneur and you're determined to meet your vision, you have to do some of that.
What were some experiences at NC State that contributed to your success?
I thought the professors did a fantastic job of mentoring us and helping us learn. They were all very dedicated to teaching. I learned a lot about practical entomology for my major, and I minored in nematology, soil science, and plant pathology. And when I got out, I was prepared to be out there with farmers in a practical sense.
I was also working on a project funded by the National Science Foundation. It was on the characterization of soybeans in North Carolina's agroecosystem. Agroecology is a very trendy area of study today. You'll hear about it over and over again, that we need to look at farming through a holistic, systems-based approach. I'm so fortunate that so early in my career, as a graduate student, I was part of a project that was so groundbreaking. It was amazing. 
Like you, the N.C. Plant Sciences Initiative is sharply focused on sustainable agriculture, but what are some other ways you align? 
Right now, there's just an explosion of innovation in agriculture. The land-grant universities are retooling to be at the cutting edge. The N.C. Plant Sciences Initiative is there to go along with that. I felt that it would be great to donate to that, because I try to always put myself at the forefront of the innovation ecosystem, always being on that innovation edge, seeing what's going on in soil health, in plant health, with biologicals, sustainable ag, and so on. 
You decided to name a NC State University Plant Sciences Building test plot in your family's honor. How and why did you come to that decision? 
Because everything we do is about the data and about test plots. I don't know how many times I had to say, "Look at these data." I've spent my career doing thousands and thousands of test plots proving the performance of biological products, so I found it very appropriate to sponsor a test plot. It was perfect. 
You are currently an advisor for nine startups in the agricultural field, seven of which founded by women. What sage advice will you give our female students who aspire to be entrepreneurs in the agricultural field? 
I don't think they have to wait as long as I did. I think, right out of school, you could join a startup or start up a company. I really do. It's the best time to be an entrepreneur in ag. There are so many problems to solve in agriculture. And not only is there a lot of money coming into the entrepreneurial ecosystem; we're at this transition toward sustainability in ag. That is really attractive to a lot of young people. They want to work on something that helps the planet, something that's sustainable. There are so many opportunities, and the big companies who are transitioning away from chemicals are getting into sustainable ag, big data and so forth. From little companies to big ones, everyone is talking about sustainability.
It's also a great time for women. There are a lot more women in this industry now coming into this space from the tech side, because, in terms of ag, it's an easier route to get into if you don't have an ag sciences degree. I was just talking to another company founder. She was doing an integration of IoT (Internet of things) drone flyovers, satellite imaging, and ground sensors to increase yields of crops. I was like, "Okay," but she knew what she was talking about – and she's pretty young. I keep a list of women in ag's entrepreneurial ecosystem, and I can't keep up.
What do you miss the most about NC State, your alma mater?
While I was getting my Ph.D. at NC State, my husband was getting his master's degree at UNC Chapel Hill. We both had graduate assistantships, and we were both pretty poor, but NC State gave us a little plot where we could grow our own vegetables. I rented the same plot each year. It was, like, $10; and I amended it with leaf compost from around the trees. And by the time I graduated, the soil was awesome. I grew all of the vegetables we ate there. It was fantastic and a very memorable time. There's no question.
If I talk about our time going to school in North Carolina, I also have to mention about basketball. We were going to school when UNC won the basketball championship in 1982 and when NC State won in 1983. The Alumni Association sent me a photo of Jim Valvano, and that was above my desk for so many years. What's really interesting is that anybody who came to my office knew who that was. I never even had to say who it was. That's how much name recognition Jim had. And he was really inspirational. There was a big quote in Reynolds Coliseum regarding that: "Never, ever give up." When you're an entrepreneur, you never give up. So I had him over my desk and looking at me. And for those days I just wanted to give up, I'd look at him and say, "I won't give up today, Jim."