High School's Not Too Early For Internships – Just Ask Addison Furr
By Addison Furr
Last summer, I worked on a unique CALS internship with the North Carolina Agricultural Research Service (NCARS) that gave me the opportunity to see firsthand the variety of careers in this field, from robotics to crop improvement to managing grants.
As a rising senior at Raleigh Charter High School, this internship was very exciting – not many people my age get to have the experience of working at CALS. It is never too early to start exploring what you want to do for a career later in life.
How to become a CALS intern
[pullquote color='red' align='right']It's never too early to start exploring what you want to do for a career.[/pullquote]Knowing that I wanted to get started on my internships early and knowing my interest in agriculture, when I decided I was aiming for an early internship, I researched NC State staff in this field. Deborah Thompson and Geoffrey Bock were open to showing me around CALS and later to having me as an intern for the semester.
Going back and forth from Raleigh Charter to my internship made me realize how big a step it was, and showed me that I am making progress.
A day in the life of an NCARS intern
Every Wednesday, I arrived at Patterson Hall to work on one of my four projects. The internship did not have strict plans, which allowed for flexibility and for the chance to find projects I could learn the most from.
Two of my projects were online research of BASF and their subsidiary, Nunhems. I wrote a brief on what each corporation does, who they are, their technology and their startups.
My third project was a pamphlet with background information on attendees of an upcoming industry partner meeting, which I later attended.
My fourth project was interviewing CALS staff across departments to discuss their careers, the Plant Sciences Initiative building and their past projects.
Challenges, triumphs and surprises
One challenge I encountered was having limited time for interviews. I could only intern Wednesday afternoons after school, leaving me only a couple hours to complete my interviews before interviewees left work for the day. This made it more difficult to both find times that staff members and I could meet, and to work through last-minute rescheduling needs like unexpected illness.
[pullquote color='red' align='right']I learned that it's important to expect things not to go perfectly as planned.[/pullquote]I tried to brainstorm good questions to get the most information I could. From dealing with this challenge, I found that it's important to expect things to not go perfectly as planned, and to work around these changes by having an open mind.
During my time as an intern, I was most surprised by the fact that lab and field research is just a small part of the wide range of work in agricultural science. Working with Deborah Thompson in the Research Partnerships Office and Geoffrey Bock in NCARS led me to realize that interviews and online research are just as important as more tangible research methods.
Interdisciplinary work, in my opinion, is what makes this field flourish. Without it, we wouldn't be as equipped to analyze research data and receive insights from others about what we can take from it.
"Developing my passion for science"
As a result of this internship, I have gotten in the habit of constantly making new connections and developing my passion for science. I've also improved my work ethic and time management since the internship pushed me make the most progress I could with the amount of time I had available.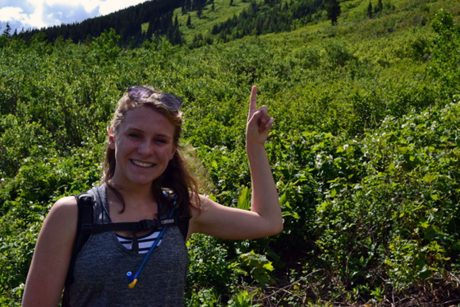 This summer, I plan to continue my employment at Hayes Barton Animal Hospital, attend the AgDiscovery camp and the VetCamp at NC State, and hopefully work with hands-on research with Associate Professor Katie Jennings in the Department of Horticulture. I plan to educate myself with new hands-on experiences to see what else the agricultural field has in store for me. 
This internship set me up for success because it gave me so many new connections around CALS who have similar interests as me. Without the help of my advisors, I wouldn't have had the chance to see the variety of careers in this field, from working with robotics to crop improvement and managing grants — all of which I saw through my interviewing project. My advisors also helped me begin my next path for the summer, including potential work in greenhouses and fields.
Five years from now, I hope to have a complete plan for my career and to be a part of the science field.
There's More Than One Path to CALS