Grow Academy: A Camp for Science and Math Teachers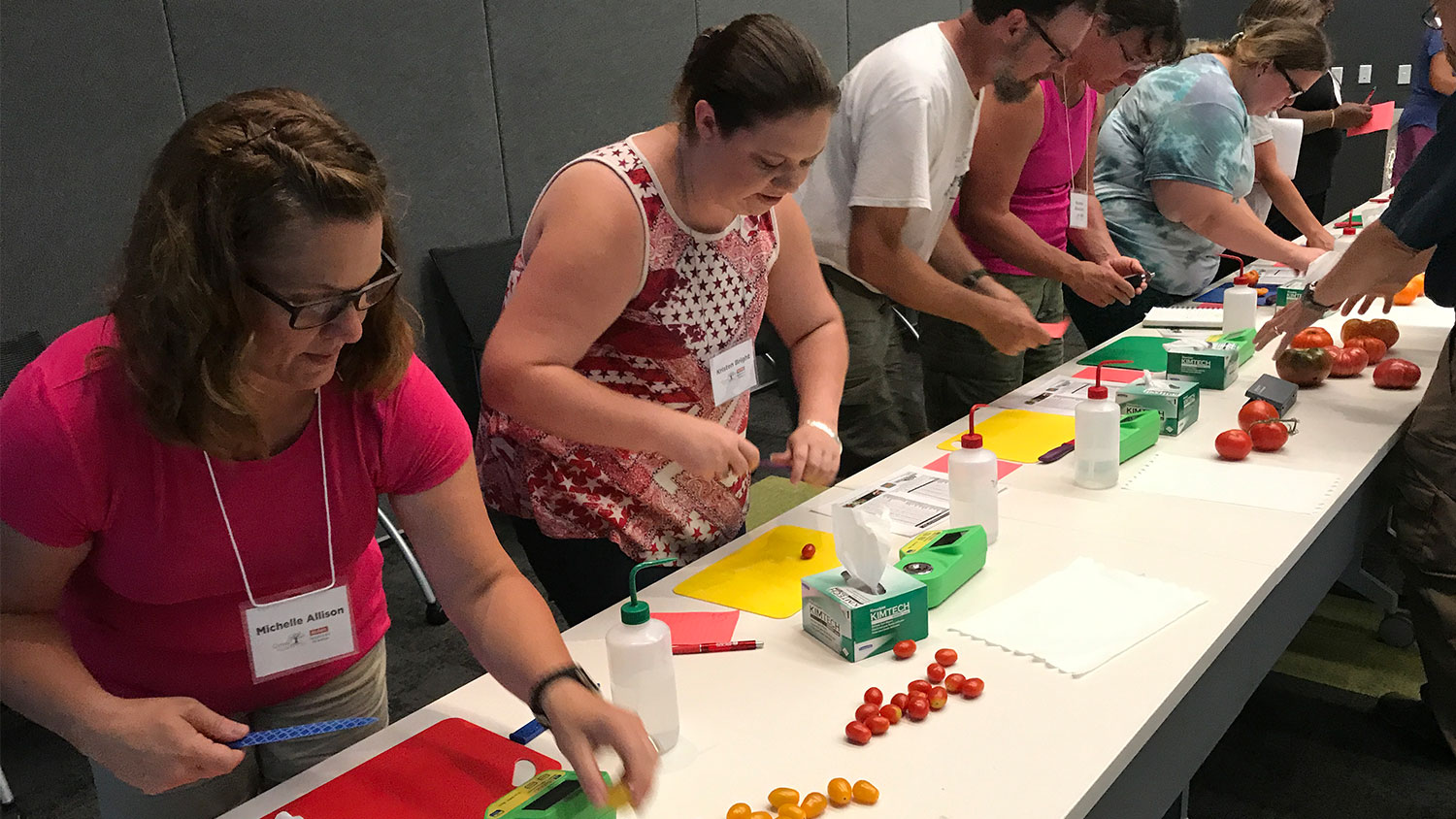 North Carolina high school teachers have a unique new opportunity to gain hands-on experience in agriculture and life sciences education, thanks to NC State's new Grow Academy.
Created by Helen Kraus of the Department of Horticultural Science, with support from department colleagues Elizabeth Riley and Liz Driscoll as well as Elizabeth Overcash of the JC Raulston Arboretum, Grow Academy is a hands-on professional development course that covers everything from plant breeding to soil testing. Partnering groups include the Department of Plant and Microbial Biology, the Department of Crop and Soil Sciences and the Plants for Human Health Institute. 
Ten teachers from throughout the state participated in the inaugural session in July.
A 2009 report of the Association of Public and Land-grant Universities (APLU) noted a widening gap between the number of agricultural job vacancies and the number of graduates needed to fill the jobs. The Grow Academy aims to repair this fissure by stimulating students' interest in agriculture and life sciences, Kraus said.
Grow Academy, made possible with the help of a Dean's Enrichment Grant, provides an immersive research-focused experience for secondary school teachers. It also establishes a space for collaboration between these teachers and NC State researchers and extension educators — while linking math and science curricula and web-based resources in an agricultural context to target the N.C. Essential Science and Common Core Math Standards.
Michelle Allison, an environmental science, anatomy and physiology teacher (who happens to be a past N.C. Teacher of the Year honoree) from Weaver Academy in Greensboro, N.C., said "It is so great to meet other teachers, and I'm loving the hands-on activities. I can absolutely use these in my classroom."
The organizational team didn't do it alone, Kraus said. They had help from faculty across the college. Sessions on everything from pest identification and bioinformatics to hydroponics and tomato testing kept the participants busy. Several activities also took place at the Lake Wheeler Road Field Lab.
"The faculty, at each session, were engaged and helpful," said Sarah Bright, a biology, Earth and environmental science teacher from South Iredell High School.
When asked if she hopes to host the academy again next year, Kraus said, "We are thrilled with how this session went. We'd love to continue it into the future."