Strategic Plan Makes Pandemic Food Response Easier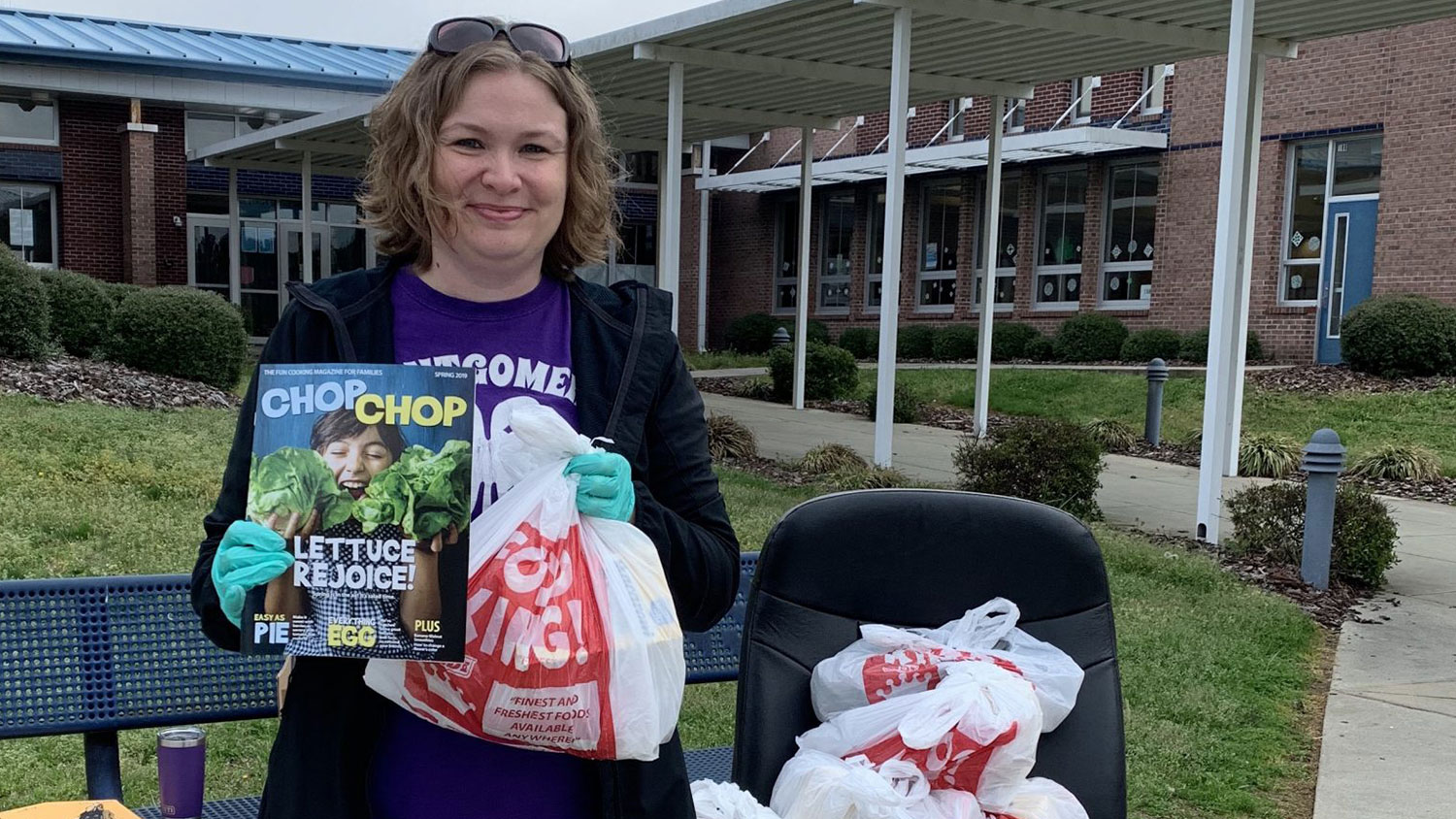 The closing of schools across North Carolina has left many economically disadvantaged parents concerned about how to feed their families. But through strong partnerships and dedicated staff, N.C. Cooperative Extension is working to change that.
In Wake County, 51,000 or 32% of public schoolchildren qualify for free and reduced breakfast and lunch. Those numbers have only increased due to job layoffs and furloughs as a result of the COVID-19 pandemic. To support the school's child nutrition efforts, many counties have turned to local Extension centers.
"It is a privilege to be working on something that you feel like is making a difference in a community," said Katherine Williams, county extension director in Wake County. "Food security is one of those areas that our county has asked us to prioritize."
"Raleigh alone is larger than some counties," Williams said as she described the overarching need for food and nutrition programs in Wake County. "When we started work in this area, 14% of our population was food insecure."
A Strategic Plan 
The work Williams referred to is a collaborative effort between the Wake County leadership, the Capital Area Food Network and Extension to tackle food security issues through a strategic plan adopted in 2018. From that effort, Wake county hired Food Security Manager Sydney Kline, who, working as a part of N.C. Cooperative Extension, organizes and mobilizes many partners in a coordinated approach to relieve hunger. Kline has been an invaluable part of Wake County's pandemic food security response.
"About 90% of the plan was activated before COVID-19," Williams said, explaining that this forethought positioned the county to quickly respond to the issues of food insecurity that have only grown through the impact of the novel coronavirus pandemic on family income.
Working with the schools is not new to Extension in Wake County. In fact, each summer Extension oversees the summer food program.
"In many counties, the USDA summer feeding program [for public school students] is administered by the school system, but in Wake the effort is orchestrated through a coordinated effort led by Extension through the food security manager and with the support of a full time AmeriCorps Volunteer in Service to America (VISTA) focused on building capacity across the community ," Williams explained with a nod of appreciation toward the strong partnership with the schools, food banks, faith-based partners, and others. "It really is a collective effort," she continued.
Since the statewide school closing, March 16, this Extension partnership has delivered more than 675,000 meals (as of April 30), most of which have been prepared by school child nutrition staff or the Interfaith Food shuttle. That's around 25,000 meals each weekday. The herculean effort also includes support from the Interfaith Food Shuttle that produces frozen meals, produce boxes coordinated by Extension, and the coordination of shelf stable food by the Food Bank of Central and Eastern NC.
As for distribution, this partnership staffs 32 curbside meal delivery sites, and has partnered with Dream Center, Kirk of Kildaire's Western Regional Food Alliance, and Bridging the Gap (all faith-based non-profit organizations) to hand deliver meals to about 67 community drop off sites.
"I am proud of our Extension staff, humbled by the volunteers, and really grateful for the school system's shared leadership in this effort," Williams said.
Down the Road a Piece
West of Raleigh and a bit to the south, Montgomery County, like many other rural N.C. counties, faces similar issues and Extension has tailored a response to fit the needs of public schools in those communities.
"When the pandemic began, feeding families was the greatest priority for our small community where 74% of students receive free or reduced lunch," said Chrissy Haynes, county Extension director in Montgomery County. While the challenge may mirror Wake County, the approach for Extension, here, is a bit different.
N.C. Cooperative Extension's Montgomery County Center has, for several years, partnered with Communities in Schools Montgomery County (CISMC) to deliver bags of food from a community warehouse to the local schools as part of the Backpack Pals program. During a typical week, Backpack Pals provides one bag of food per student on Fridays to help families through the weekend. "Since the pandemic prevents us from delivering food to the schools and directly to the students, volunteers have bags of food available at the elementary schools to distribute to families two days a week," Haynes said.
While the public school system in Montgomery County has provided breakfast and lunch Monday through Saturday, CISMC has obtained grant monies to fill the gaps that have widened as a result of increased economic deprivation, and has also begun to provide an evening meal. Montgomery County Extension has partnered throughout this time to help provide the basic needs of the students in Montgomery County.
"During North Carolina colleges' spring break, the week of March 9, our staff worked with Appalachian State University students completing an alternative service experience in Montgomery County. At that time, we could have never envisioned COVID-19 affecting rural Montgomery County in the way that it has," Haynes said. "The surplus of product already packed [by Extension and student volunteers], really helped initially when the pandemic began," she continued.
Meanwhile, Back in Wake County
Extension's food distribution efforts in Wake County extend out into the homeless community as well. "Many homeless students enrolled in Wake County Public School System may be staying in hotels. We have been working with Communities in Schools (in Wake) to deliver hot meals five days a week and frozen meals for the weekends – that goes to 37 hotels across the county," Williams said. She noted that the county has set up several hotels to house the homeless population giving them a safe place to shelter during the pandemic.
Extension's Work Continues
Across the state, Extension is busier than ever as staff support many local residents who, with time on their hands and concerns about the food supply chain, have decided to plant a garden and to cook more meals at home. And, much like the public schools, Extension agents have had to learn how to do this virtually, under state and county stay-at-home orders.
Despite all of their efforts to serve as many families as possible, for some county Extension educators, enough will never be, well, enough.
"We know we have not reached all of the children we need to. There are more children who qualify for free and reduced lunch in Wake County and (because of the pandemic) new families will now qualify. If we get to 40,000 meals a day we will be getting closer to the need," Williams said.
Students not currently receiving free and reduced lunch benefits but find themselves in need due to COVID-19 are encouraged to reach out to their school for information on how to apply.