Robots, Researchers and Resilient Agriculture
Discover the intersection of agriculture and engineering with Chris Reberg-Horton.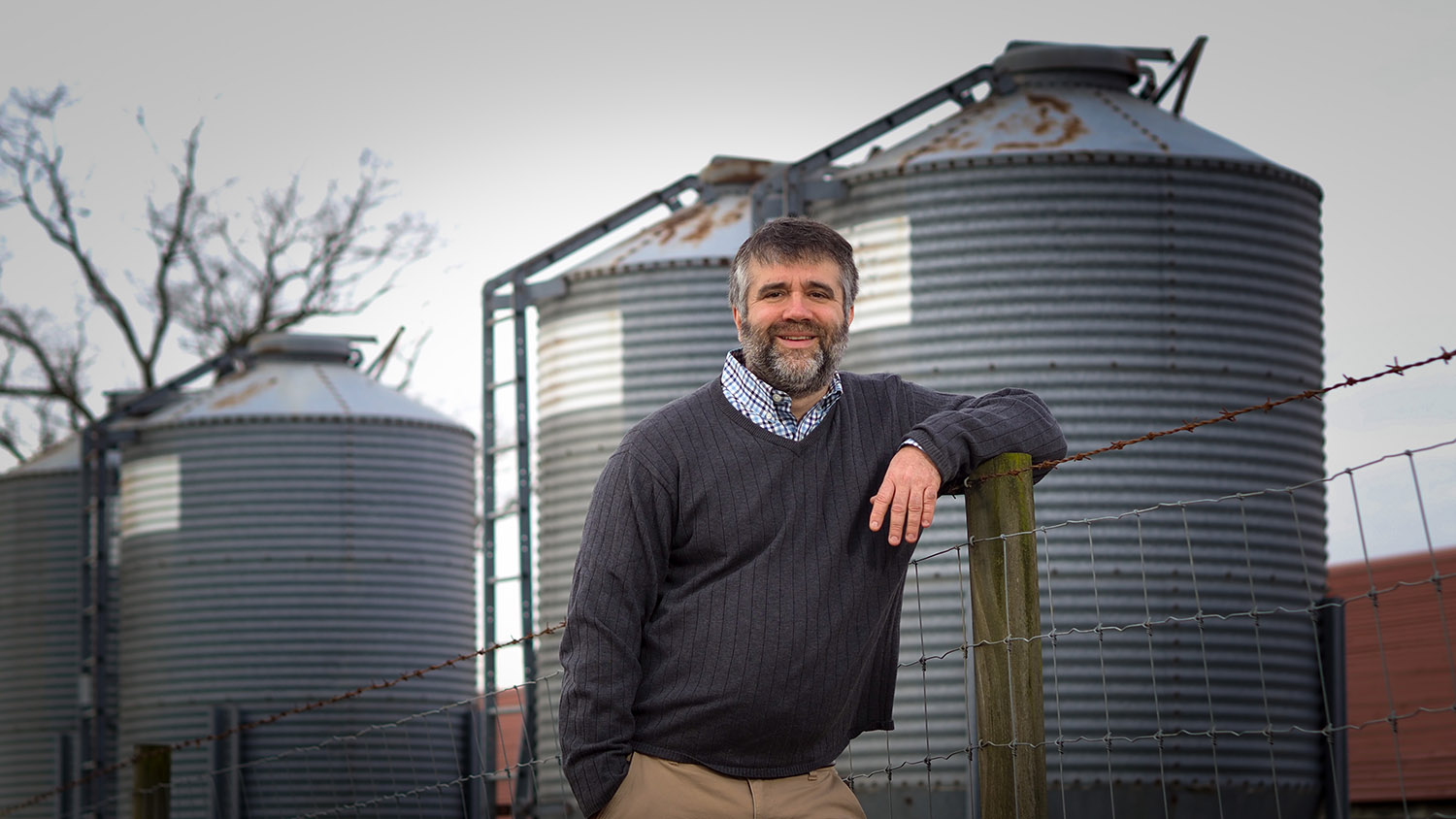 The robots are coming – and Chris Reberg-Horton is ready to work with them. Assistant director of collaborative research at the Center for Environmental Farming (CEFS), co-leader of the Precision Sustainable Agriculture network (PSA) and platform director for Resilient Agriculture Systems at the N.C. Plant Sciences Initiative, Reberg-Horton and his research teams are on the forefront of addressing climate change by implementing the evolving capacities of artificial intelligence (AI) into farm management.
"If we're going to get agriculture into the AI revolution, it's going to take a lot of grunt work to get those data connections set up," Reberg-Horton says. "Climate change is happening too quickly for traditional research models. A huge part of resilient ag systems is hooking up the agricultural landscape to computers so that we can have enough data to dynamically adjust how we manage those crops relative to weather and climate changes."
Currently, that includes field cameras monitoring crops in real time; soil moisture sensors that report data using a cellular connection that streams back to servers every 15 minutes; and replacing large farm machinery with smaller, more adept robots to harvest.
"Nobody denies that robots are going to be a significant part of the farm operation in 10 years," Reberg-Horton says. "There's a real opportunity here for the environment and for improving returns for growers."
Reberg-Horton was recently named the Blue Cross and Blue Shield of North Carolina Foundation/W.K. Kellogg Distinguished Professor in Sustainable Community-Based Food Systems. The prestigious recognition will allow him to bring more awareness to his research as he continues to support cross-disciplinary teams at CEFS, PSA and PSI who are addressing climate change, food security and the new use of technology for adaptive farm management. 
With the PSA, he's working with a network consisting of on-farm and on-station experiments that utilize the latest developments in sensors, IoT (internet of things) platforms and machine learning to collect and standardize field data from a wide range of agricultural environments. The network operates in 25 states and has more than 120 locations each year.  
"We are starting in a very small way with just a few members of the network trying out some trials," Reberg-Horton says. "The lead time to launching a new study is massive because my team has to develop a protocol that can be universally understood by people in 25 states with a variety of disciplines. It's no small feat."
With over 120 locations, streamlining data acquisition is key. Reberg-Horton and his team partner with engineers to create IoT systems–field devices with sensors, cameras and software that connect to servers–and write apps for tablets and phones that allow humans to directly input the data.
Once the data is collected, it is sent to the servers at NC State–which acts like a core IT service for the PSA network around the country.
"The data analysis is prepped on the NC State side by our graduate, doctoral and postdoctoral students and served up to other members of the network. Each member of the PSA network is getting funds to pay the students to analyze the data," Reberg-Horton says. "When it comes to the farmer-grade product, that's when we have the core IT people develop the software app for that farmer. The idea is to centralize the core data analysis and app development and then distribute the college knowledge acquisition among the members."
The massive operation's goal: develop a tool for farmers so that in real time they can look at their phone or a tablet and know exactly what's going on in their field and make adjustments that will positively impact their yield.
"It's a lot of gruntwork to get this going, but that's absolutely apropos of agronomists," Reberg-Horton says. "I've never met a farmer that wasn't concerned about future generations. And the future of farming is all about the interaction between engineering and agriculture. That's what the Plant Sciences Initiative is all about – bringing fields together in partnership is essential to giving our farmers the agility they need to adapt to the climate change that's already here."