Alumni and Friends
CALS Breeds Love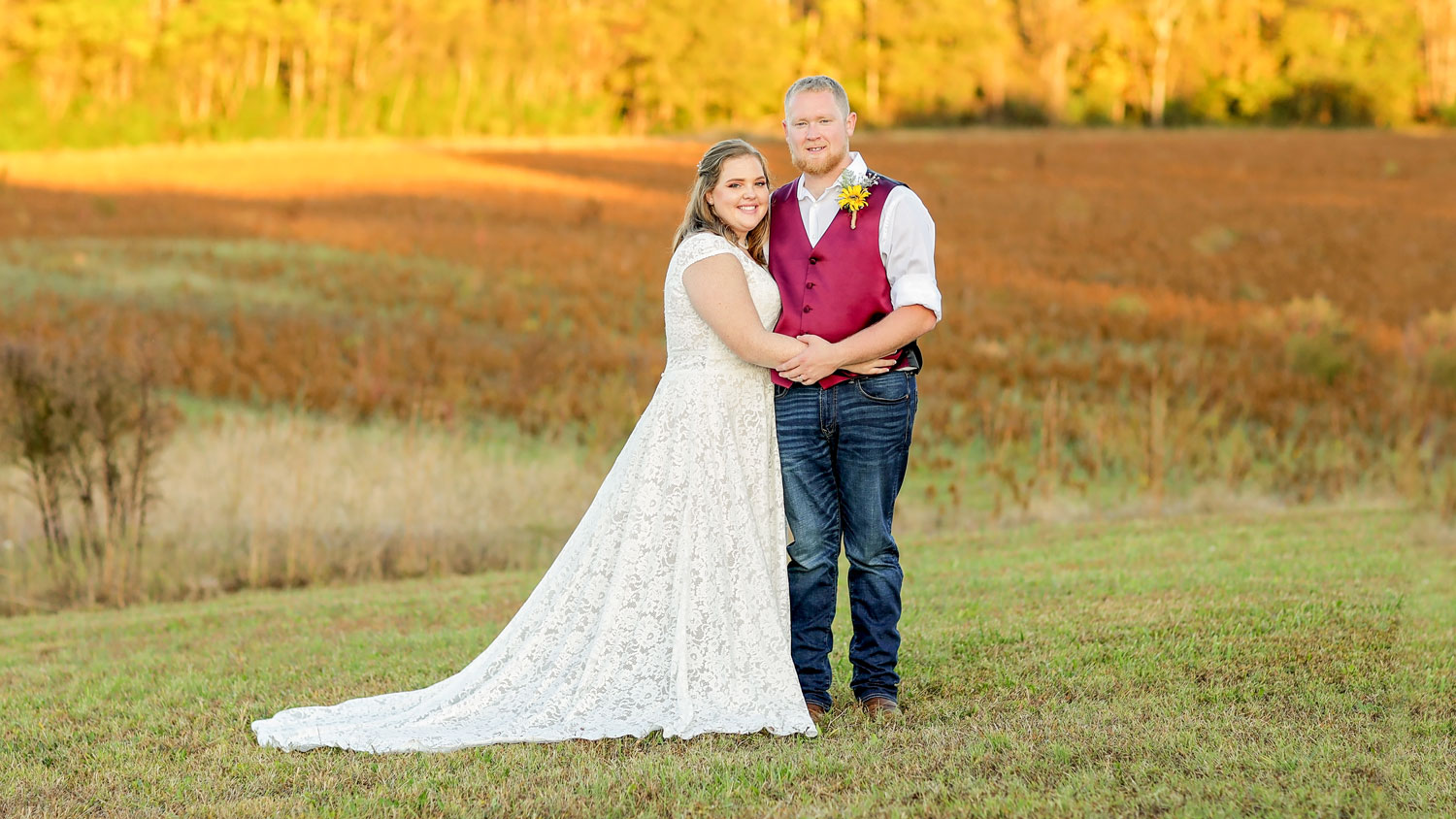 Meeting the love of your life in college is actually more of a rarity than one might think. College students have about a 28% chance of finding true love, per 2019 Facebook data statistics on married couples.
Though rare, it's possible and has happened quite often for students in the College of Agriculture and Life Sciences. Here are three couples that found love at NC State.
Heather and Jonathan Styers
Heather and Jonathan Styers met one another through the Animal Science Club at NC State. They knew each other as freshmen and sophomores, but their friendship grew in the final two years.
"Heather and I both prepped bulls to take to the NC State Fair and really got to know each other well through that. "After the state fair, we continued to hang out, but didn't really start falling for each other until spring semester," Jonathan shares.
The couple graduated in 2019 with bachelor degrees in animal science and minors in agricultural business management. They got married Nov. 7, 2020 in Halifax, North Carolina.
"My favorite part about Jonathan is his giving nature," Heather says. "He also has an amazing passion for animals and loves them all, even when I bring home something without asking," she jokes. And Jonathan feels the same about Heather.
"Seeing her working with our horses, rabbits, chickens, goats, and cattle every day and the love that she gives each of them makes my heart smile."
Heather works for a vet clinic that specializes in theriogenology, or reproduction. Meanwhile, she's completing her associate degree in veterinary medical technology. Jonathan manages about 50 truck drivers for Cargo Transporters, but the two have started their own hobby farm that they hope to grow into a steady source of income in the future.
Katelyn and Lucas Stegall
Katelyn and Lucas Stegall's love story is quite interesting. The two lived in the same town, about 10 minutes away from one another and never actually met until college.
"I even worked at an animal hospital with his sister, and we still had no clue who each other was," Katelyn says. Through six-degrees of friends and relatives, Lucas and Katelyn finally met when he offered to show her around campus.
"We started riding back and forth to school together since we lived so close and got to be pretty good friends." The rest is history. Despite an ongoing pandemic, the CALS alumni got married on Oct. 17, 2020.
"We already had plans to get married outside at a family friend's barn, so we didn't really have to deal with venues putting limits on the number of people or anything. We planned it with the understanding that some people may not feel comfortable coming or staying for the reception, and that was perfectly fine with us," Katelyn says. She and Lucas provided masks and hand sanitizer to their guests.
Lucas graduated from CALS in May 2019 with a Bachelor of Science in agricultural business management, and Katelyn graduated in December that year with a Bachelor of Science in animal science.
"The thing that I love most about Lucas is that he is attentive and pays attention to the smallest details. Whether it's at work, things that need taking care of around the house, or something I mentioned in a passing conversation, he remembers it all," Katelyn shares.
For Lucas, he loves his wife's determination. "She doesn't take no for an answer and she always gives 100% to whatever she sets her mind to."
Garrett and Marisa See
Garrett and Marisa first met each through 4-H livestock judging contests at NC State's Beef Unit during high school.
"Garrett approached me after one of the contests and jokingly said that he needed to redeem himself since I had won more ribbons. We kept competing against each other until our second year in college. He'd always beat me when showing pigs, but I'd always beat him in skill-a-thon," Marisa said.
Garrett graduated in 2015 with his bachelor's degree and earned his Master of Science in animal science in 2017 with a specialization in animal breeding and genetics. He's now a postdoctoral researcher at the University of Nebraska-Lincoln working in the Animal Science department. Marisa graduated in 2016 with a Master of Science in communications and now runs her own communications consulting business.
The couple got married on May 9, 2018.
"My favorite part about Marisa is she is extremely hard working, not only in our relationship but in life. She never gives up and always has a plan for what to do next. It's her impressive determination and grit that has made her the woman that I love today," Garrett said.
Marisa says there's a lot to love about Garrett, from his kind heart to his dedication to always making a difference and being his best. "He's always extending kindness to others," Marisa said. "I also love how much he makes me laugh and is always up for an adventure."