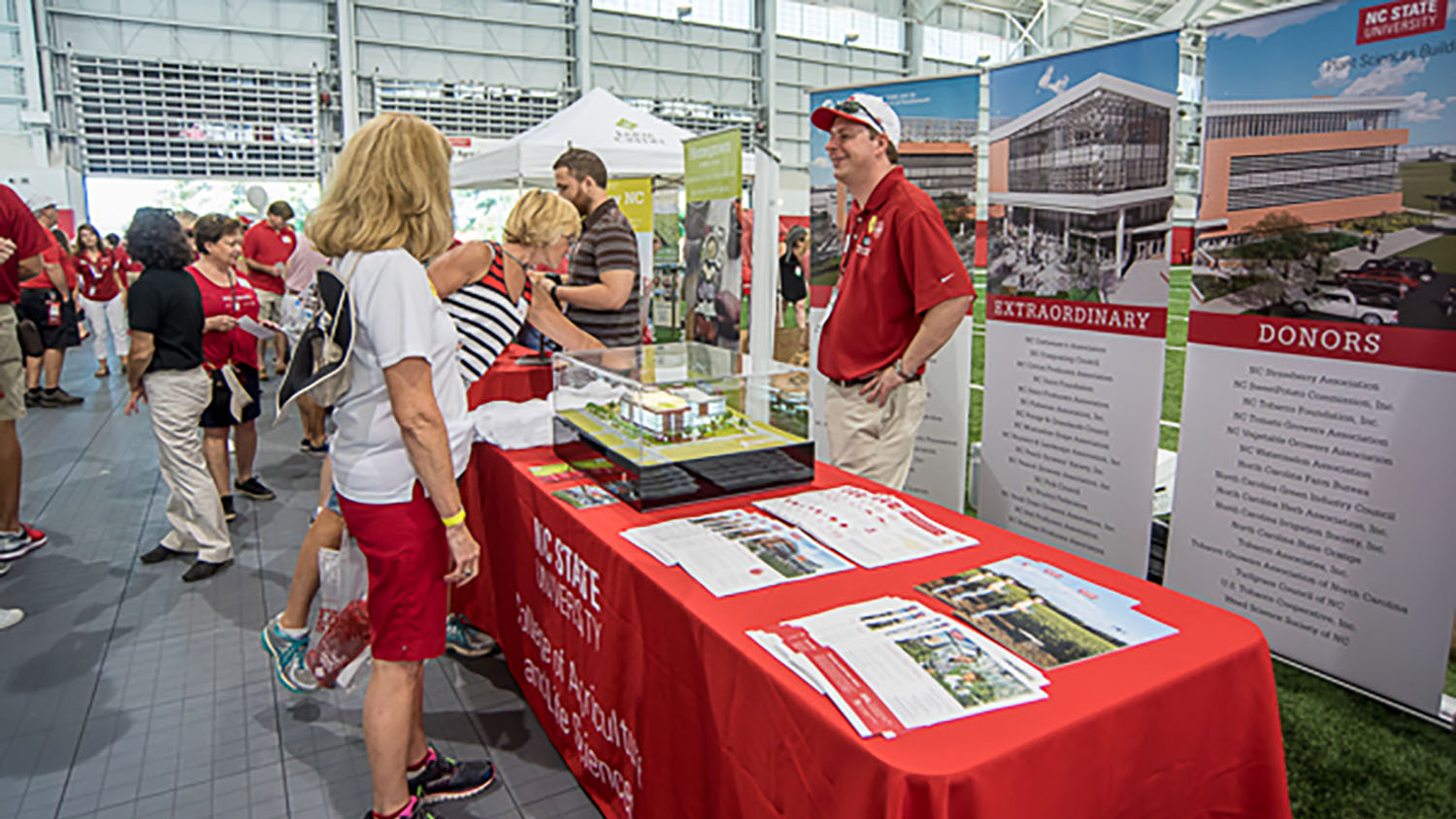 Registration to be an Exhibitor for for the 30th Annual CALS Tailgate is open!
30th Annual CALS Tailgate
Date: September 18, 2021
Time: 4 – 7 p.m.
Place: Close-King Indoor Practice Facility
Ag Day Game: NC State vs. Furman
Kickoff: 7:30 p.m.
Please register HERE to be an exhibitor. *
*The deadline to register is Tuesday, August 3, 2021, at 5 p.m.
Exhibitor Details
As an exhibitor, your responsibility is to provide an engaging experience for our donors, alumni, and guests that highlights your area of the college or program. You will be provided a 6 ft x 4 ft space.  You will be provided one (1) 6-foot table and one (1) black tablecloth at no cost.  Any additional tables will be $25 each. The deadline to register is Tuesday, August 3, 2021, at 5 p.m.
Exhibit space is limited. To qualify as a Tailgate Exhibit your display must be interactive and registration must be completed by August 3. Late registrations will not be accepted.
*All exhibitors will be required to utilize the transportation provided to shuttle their exhibit materials and those staffing the exhibit. Please contact the CALS Events Team if special arrangements need to be considered. (Ex. life-size cow display or portable cooking station.)
Due to an event in Close-King Indoor Practice Facility in the morning prior to tailgate, we would like all exhibitors to set up the night before. Information regarding that will be forthcoming.
For those that may be new or have never experienced tailgate before, below is some information regarding this event.
A little bit of history…
CALS Tailgate was first hosted by the CALS Alumni and Friends Society Board who remains involved in the continuation and development of this event. They hosted what was deemed "the largest reunion in the history of NC State" on October 10, 1992, just four short months after the board was formed. CALS departments were asked to host exhibits – a programmatic piece still intact today. Following the success of this inaugural event, the motion was approved to make it an annual occurrence. There are still a handful of those founding members who still sit on the board today.
What is CALS Tailgate?
Although this event has grown through the years and shifted to a staff-led effort the core intent has remained the same. A proud tradition of providing family-friendly fun and highlighting the people, programs, and partners that make our college great. There is typically a short program involving remarks from the NC Commissioner of Agriculture, Chancellor, Dean, and AFS Board President. In 2019 we moved CALS Tailgate to a larger facility to accommodate its growth and elevate the experience, here are some pictures for context on what Tailgate looks like.
What is Ag Day?
The 2021 CALS Tailgate will be held in conjunction with the Ninth Annual Ag Day. Ag Day, a game day theme set by NC State Athletics Marketing in partnership with Wolfpack Sports Properties and the College of Agriculture and Life Sciences. It is an important opportunity to promote the connection between NC State and the agriculture, agribusiness, and biotech industries in North Carolina in front of thousands of fans at Carter-Finley Stadium.
If you have any questions, please let us know.
CALS Advancement Events
Campus Box 7645
Raleigh, NC 27695
T: 919.515.6212
F: 919.515.5274
E: cals_events@ncsu.edu