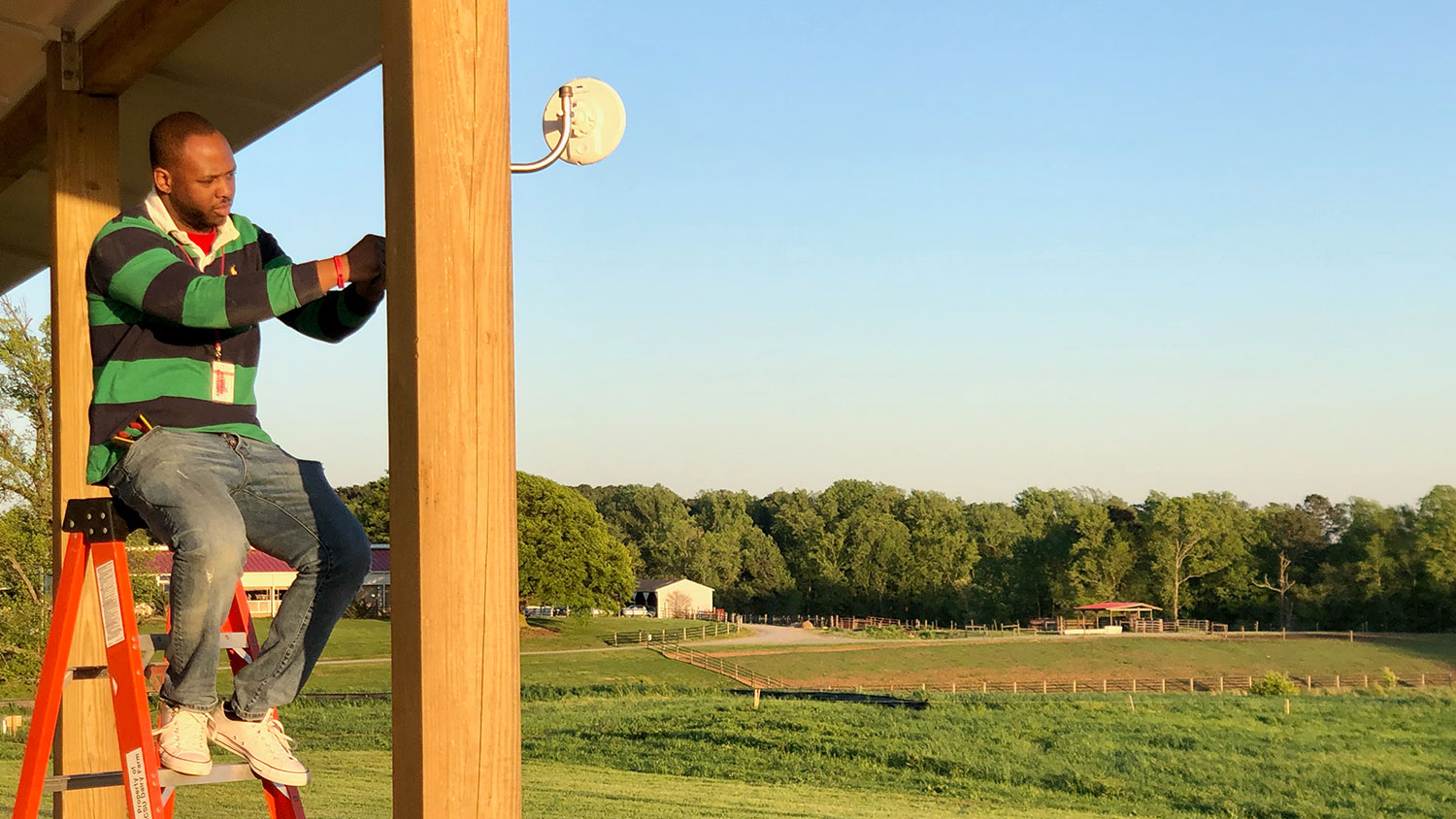 To know Jevon Smith is to like him. A thoughtful supervisor, a positive and authentic team player, CALS is fortunate to have Jevon (who just celebrated his five year anniversary with the college) leading the IT support team.

We caught up with Jevon to learn a little bit about his activities during the pandemic (make sure to check out the quotes about Jevon at the bottom).
How has your day changed since March 16?
Interestingly enough, on March 16, I was out performing scheduled IT maintenance at the Eastern 4-H camp in Columbia, NC. The day was surreal because you could feel the tension and stress that would turn into the reality that is today. I distinctly remember driving and witnessing the frenzy of people looking for gas and searching for the elusive bottles of bleach, hand sanitizer and paper towels. Upon arriving back in Raleigh, it was instinctive that something different and unusual was happening.
What is it like being on campus now?
Campus has been eerily quiet throughout the summer. The reduction of traffic has made the commute back to campus fairly effortless and almost enjoyable. Access to buildings and facilities has required a bit of planning due to the increased physical security on campus. The last few months, I've occasionally come on campus to walk the green trails early in the morning.
Recent projects at Lake Wheeler with Food, Bioprocessing and Nutrition Sciences (FBNS) and Howling Cow allowed me to spend time experiencing farm life. Getting to see the cows graze and go about their day was satisfying. I've taken the opportunity to explore parts of campus that I've always wanted to see.
With the return of the fall semester, I'm enjoying the increase in activity and excitement.
Why is it critical that you continue performing tasks in-person?
COVID 19 has permanently re-shaped our connectedness and reliance on technical solutions.
More now than ever, we're realizing the effectiveness of tools like Zoom, Cisco WebEx, and G-Suite for collaboration, teaching and learning.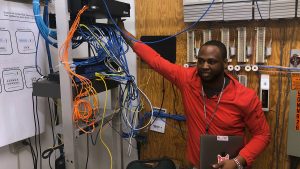 In relation to the broader NC State IT community, we are uniquely positioned to ensure continuity of operations to many of our critical life sciences areas due to animal welfare and lab specimen storage. Many of our departments and units like the FeedMill Education Unit, Howling Cow, Phytotron, Animal Science, 4-H Camps and research units use computer monitoring to track and automate potential problems with freezers, greenhouses, lab equipment, HVAC systems and various environmental controls. We monitor these systems for performance problems and outages. The gradual evolution of agricultural technologies, IoT (Internet of Things), big data analysis and high performance computing will only continue to increase the importance of these processes. We view IT as an important enabler and leverage point to the overall success of our college.
What challenges are you facing in this new environment?
COVID-19 has forced us to more closely inspect our IT support processes. Our IT group is unique at NC State due to our support geography. We have faculty and staff distributed all across the state of North Carolina working in research and extension. This operational support includes the Plants for Human Health Institute, NC Food Innovation Lab, University Field Labs, NCARS-Research Stations, CMAST and active coordination and partnerships with Extension IT.
The summer has been filled with a flurry of unprecedented activity to prepare our classrooms with the technology needed to support remote learning opportunities. Our acquisition of the remote support tool TeamViewer really gave us the leverage to provide assistance to faculty and staff anywhere in the world. If the problem isn't too severe and they have a working internet connection, we can resolve most technical challenges.
For me, one of the most enjoyable aspects of the job involves interacting with people and seeing the satisfaction of removing technical hurdles and obstacles. I miss the human element of our work!
What are you doing to stay safe?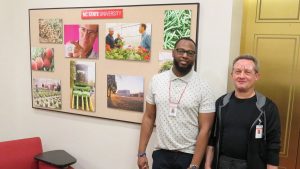 Vigilance in hand washing routines and wearing face masks. At home, we make monthly supply runs to keep a healthy inventory of hand sanitizer, sanitizing wipes and cleaning supplies. At work, we have re-written the rules on how we interact during support requests.
In IT support, we interact with a large amount of faculty and staff throughout the week. A typical day prior to COVID-19 could include interactions of 20-30 people per day. This sets us up as a potential "pollinator" for the virus. We've taken some tactical measures to ensure we do our part to prevent and limit the transmission of COVID-19. All of our support staff have been equipped with safety kits that include items like gloves, disposable masks, and sanitizer.
Any final words?
This time has given me space to find a renewed perspective on what it means to be grateful and appreciative of those things that we commonly take for granted.
I also want to thank the CALS Community for exercising so much patience with us over the last few months. We understand how much the current conditions have forced our reliance on technology. We also know how frustrating it can be when it fails. Our team is always just a chat, call or email away!
Standing Ovation
"No matter the task, big or small, Jevon remains steadfast with the concentric thoughts of our entire CALS family." Trevor Quick
"Since FBNS made the decision to contract with CALS IT for technology support, Jevon Smith has become a valued FBNS team member. Jevon's group consistently goes above and beyond their standard duties, not only to fix IT problems but to provide cutting edge and informed solutions to make our work more efficient. Jevon and his team are always available when needs arise and most recently have helped us revamp the entire wifi infrastructure at the dairy farm. I truly believe that one of the more important decisions made by FBNS was bringing on CALS IT to support our technology, and Jevon has been an integral part of that transition." Carl Hollifield
"Jevon is incredibly knowledgeable and helpful! He is always willing to jump in and help with issues that come up unexpectedly." Molly Bradshaw
"Over the past 5 years, CALS IT has experienced rapid growth that has been both exciting and very challenging. We went from being the primary IT support for the CALS administrative environment to being primary IT support to the majority of on-campus and off-campus, non-extension, research intensive units. Effectively, we have more than tripled our base of support. If it wasn't for the expertise, vision and industrious skills of Jevon, these challenges would have seemed almost insurmountable. Jevon is not intimidated by new technology, in fact, he seems to thrive on learning technologies and finding spot on solutions. He actively keeps on top of emerging technologies, comes up with innovative solutions, and thrives on face to face interactions with our supported users. He is our road warrior and prior to COVID-19, it was not uncommon to find out he was traveling from Kannapolis to Eastern 4H to CMAST in one week to work on issues. In addition, he has helped to build an equally impressive team of IT professionals and leads by example. It is such a pleasure to work with Jevon. He is affable, receptive and proactive. A real team player!" Denise Luken
"Jevon has been instrumental in starting the process of transforming the research stations and field labs into 'Future Ready Farms.' From fiber connections, to expanding wifi, to cloud computing, Jevon is a valuable partner at a time when new digital tools are transforming agriculture." John Garner
Have a coworker who is an essential employee and deserves recognition? Email cals_communications@ncsu.edu.