Awards and Honors
Parker Dearing: Stepping Stones to a Nursery Business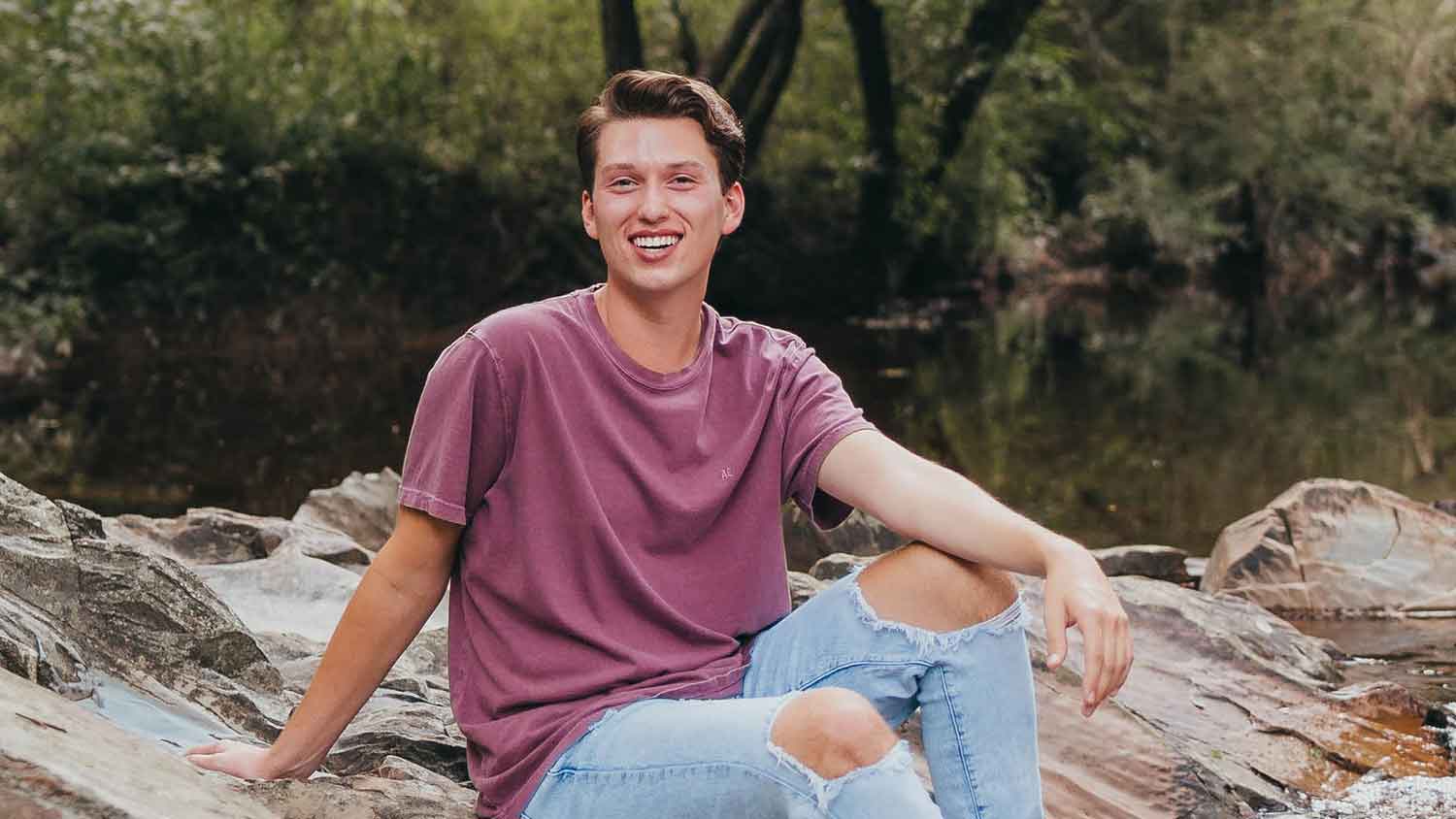 Parker Dearing is using all of the right stepping stones to his dream of owning a nursery. His time at NC State has been well spent, recently finishing a summer internship and being awarded a scholarship for his extraordinary academic merit.
A web search connected Dearing with the Dr. P. Allen Hammer Scholarship; founded by Dümmen Orange to honor Hammer's lifetime contributions to the floriculture industry. Hammer, a fellow alumnus of the Department of Horticultural Science, sought to invest in horticulture students academically and build industry leaders and opportunities.
Dearing will graduate this May with a degree in horticulture production systems and entrepreneurship and a minor in business entrepreneurship.
Tell us a little bit about yourself. Where are you from?
I am from Monroe, North Carolina, located just south of Charlotte. I love taking care of many plants and recruiting my parents to do so when I'm not home. I just recently completed an internship with Ball Horticultural Company at their headquarters in West Chicago, where I was able to be immersed in the corporate world of horticulture. I am excited to graduate so I can go out and make a difference in the industry.
What got you interested in horticulture?
I first became interested in plants when I was a young boy helping in my family's garden. I developed a great fondness for the practice; the smell of the dirt, planting seeds and watching them grow into plants. To be able to take something as small as a seed and turn it into edible produce allowed me to experience a new sense of accomplishment. I continued to help in the garden and still do to this day.
As a freshman in high school, I found out that I could grow plants for a living, and I immediately knew that horticulture was what I was called to do. From there, I became actively involved in my high school's Future Farmers of America (FFA) chapter and took on the role of supervisor for our spring plant sale, which began the foundation of what I now call my dream. It's my goal to open a plant nursery, and I often find myself daydreaming about what my future business will be like. I ponder on how I will be able to take this aspiration of mine and turn it into a viable lifestyle. The dream of owning my own nursery is what has driven me to accomplish all that I have, and it continues to fuel me for what I will accomplish in the future.
What brought you to NC State?
I decided to apply to NC State because I was informed that it was one of the top schools for horticulture and I wanted to be taught by the best. I really didn't have any other schools in mind when doing college applications. My heart was set on NC State.
Tell us about your internship experience with Ball Horticulture Company.
My internship with Ball was a 12-week internship starting in May and ending in August. I was working under the Darwin Perennials business unit mainly working for their product management team. I evaluated trials, maintained trial beds and took rooting data on certain trial crops. I was able to attend AmericanHort Cultivate '22 with this company and walk the trade show floor meeting many people in the industry. We were also able to attend all sorts of events and company dinners that allowed us to get to know each other outside of the office. We even got to have dinner with Anna and Susannah Ball.
How has your internship prepared you for the nursery business?
I would say this has prepared me for the nursery business by showing me the importance of plant genetics when it comes to a crop's performance. The close evaluation of each plant species has shown me that if a plant doesn't perform in perfect nursery conditions, then it won't perform for the customer, and we'll ultimately lose the customer. This made me think of implementing my own trial system into the nursery business that I hope to run one day so I can guarantee my customers' satisfaction.
What has been the highlight of your undergraduate experience so far?
The highlight of my undergraduate experience so far has been all of the people I have gotten to know and the amazing things that I have learned about the horticulture industry. All of the staff and administrators in the horticulture department are very helpful, and you can tell that they truly care about helping their students accomplish their goals.
Do you have any advice for incoming horticulture students?
Don't be afraid to step out of your shell! Go to every school event, club meeting and sporting event that you can because those are the places where you meet the most people and make the best memories. These are the things that have truly made my college experience what it is.
Are you interested in studying horticulture?
The Department of Horticultural Science provides a hands-on academic path that provides real-world benefits and applications. Explore our undergraduate and graduate programs to learn from expert faculty and have career-focused experiences.
Connecting students with opportunities is part of how we advance plants.
Get the latest Horticultural Science News
Sign-up to get the latest news and updates from Horticultural Science straight to your inbox every month.