Awards and Honors
Impacting Global Food Security Through Improved Tomato Varieties
Tomatoes are the second most consumed vegetable in the United States and the top-produced vegetable in the world. Improving tomato production has increased relevance with population expansion while agricultural resources are exasperated due to climate change.
Considered critically important research, the National Institute of Food and Agriculture (NIFA) Agriculture and Food Research Initiative (AFRI) awarded a $590k grant to NC State research scholar, Reza Shekasteband, and the Horticultural Science tomato breeding program for the development of improved crop varieties. New tomato varieties may have better productivity, quality and environmental tolerance; the impact preserves grower livelihoods and provides consumers nutrition and food while conserving natural resources. Located at the Mountain Horticultural Crops Research and Extension Center (MHCREC), Shekasteband and the nationally-awarded lab have committed to improving food security through their tomato genetic improvement research.
Learn more about Reza Shekasteband, what brought him to NC State, his current research, and what the AFRI grant means for the tomato breeding program.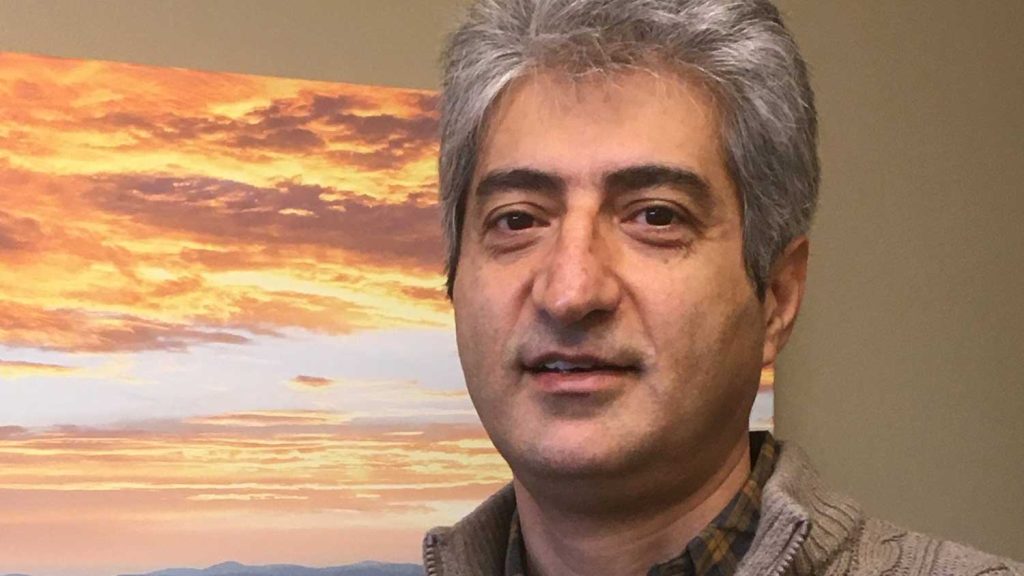 When and why did you get into plant breeding?
It was a providential moment in my life and career when I received a postdoctoral job offer to work in the tomato breeding program at the University of Florida under Dr. Jay Scott's supervision ten years ago. My academic training in plant biology was very rewarding and I was able to use my skills and experience in basic plant science to advance my knowledge in plant breeding. Shifting my career to plant breeding broadened my scientific paradigm into a more tangible application of plant biology in human life.
What brought you to NC State?
The tomato breeding program at the NC State University was started in 1976 by Dr. Randy Gardner, Department of Horticultural Science professor emeritus, and has been one of the most prominent tomato breeding programs in the nation and worldwide. My passion for tomato breeding and strong desire to learn from Randy's experiences brought me to NC State University.
Tell us about your tomato breeding research.
Three years ago, I started my role at NC State as a research scholar and found myself surrounded by wonderful people and knowledgeable researchers working on tomatoes. Multiple interdisciplinary research teams at NC State welcomed me onboard and gave me the opportunity to explore my potential. With different approaches and expertise, we have teamed up to tackle different challenges tomato production faces in NC and nationwide.
What does the NIFA AFRI grant mean for your program?
Our teams have received multiple federal and state grants to support our effort and the NIFA-AFRI grant is one of them focused on exploring host genetic resistance effective against Verticillium wilt (VW) in tomatoes. VW, incited by new races of the pathogen, has been a major issue in western NC and neighboring states, gradually forcing growers out of tomato production in the region. We have seen great potential in host resistance against VW and have initiated breeding activities and genetic works to harness that potential. Having NIFA-AFRI funding injected the most needed fresh blood into our interdisciplinary veins in the research body at NC State University. I also would like to acknowledge exceptional inputs from the co-Principal Investigators, Drs. Ralph Dean, Frank Louws, Dilip Panthee, Tika Adhikari and the rest of the team in this project.
What is your research goal for the NIFA grant?
By the end of this project, we anticipate having a significant contribution to mitigating the damages caused by VW in tomatoes. I have learned a lot about plant breeding during the last ten years working on tomato breeding and genetics, and I believe there is still more to learn and explore. Federal and state grants are very crucial and determining factors in this process supporting our efforts to improve the sustainability of agriculture locally and in the nation.
Want more horticultural science innovation?
Horticultural Science research impacts growers, consumers, students and industry across North Carolina and the globe. Follow our monthly newsletter to see how our research advances plants and people.
If you are interested in improving food security and the environment through plant breeding and genomics, explore our undergraduate and graduate degree programs.
Get the latest Horticultural Science News
Sign-up to get the latest news and updates from Horticultural Science straight to your inbox every month.