Academic
Anju Pandey: Enhancing Tomatoes for a Better Tomorrow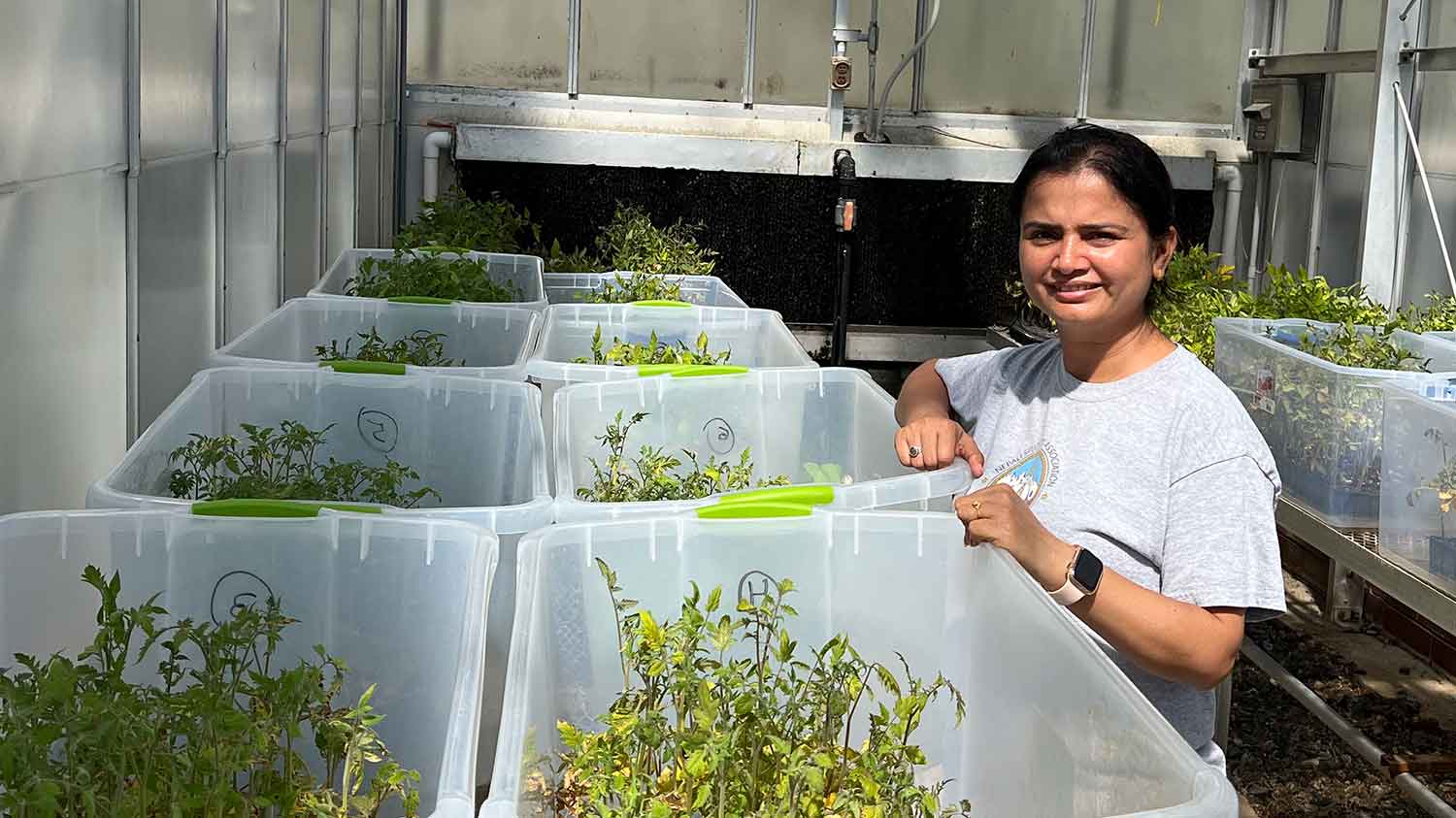 Anju Pandey is a doctoral student in the North Carolina State University's Department of Horticultural Science who researches tomato disease resistance breeding, a process by which tomatoes are selected based on their resistance to certain diseases, like Alternaria linariae and Septoria lycopersici. As a scientist, she looks for tomatoes that have genetic traits that make them more resistant to these diseases, and then they will grow those tomatoes to create a new crop that is more disease resistant without the use of pesticides.
Tell us a little about yourself. Where are you from?
I am originally from Nepal, a country of the Himalayas. My parents are not involved in commercial agriculture, but my interest in agriculture sciences increased after spending more time with my uncle and aunt, whose primary source of income was agriculture, especially vegetable farming. This led me to study agriculture.
Where did you get your previous degrees?
There were many undergraduate research options, but I chose to study plant pathology at the Institute of Agriculture and Animal Sciences at Tribhuvan University. This research exposure led to the realization that I want a career conducting research to benefit food safety and security at the global level. My philosophy is that theoretical knowledge should have practical implications, so after completing my undergraduate studies, I worked for International Maize and Wheat Improvement Center as an intern for nine months.
Since those days, I have been actively involved in research on plant disease management, cropping patterns and nutrient management. Later, I attended Banaras Hindu University for a master's in mycology and plant pathology to improve my understanding of different disease management principles. I took plant breeding as a minor with plant pathology as a major subject, and my research interest and thesis research involved the study of lesion mimic genes and their association with spot blotch disease resistance in wheat. During that time, I researched host-microbe interaction and the self-defense mechanism of plants against pathogens. I am very passionate about plant biotechnology, especially in the field of resistant breeding through the mapping and screening of resistance genes. 
After acquiring all this background information, I was always looking for an opportunity to expand my knowledge of vegetable farming and minimize the loss caused by pathogens. My research interest in resistant breeding, varietal screening and identification of disease-resistance genes against several plant pathogens led me to earn a second master's in biotechnology at Tennessee State University. My research with Dr. Taheri's lab provided relevant biotechnology and nanotechnology research experience. Manipulation of genes involving glyceollin synthesis pathway using CRISPR-Cas9, acquainted me with molecular tools and genome editing skills. Similarly, the synthesis and development of carbon-based nanomaterials and their utilization in gene delivery in microbes and  as an alternative to commercially available antibiotics gave me a basic understanding of nanomaterials.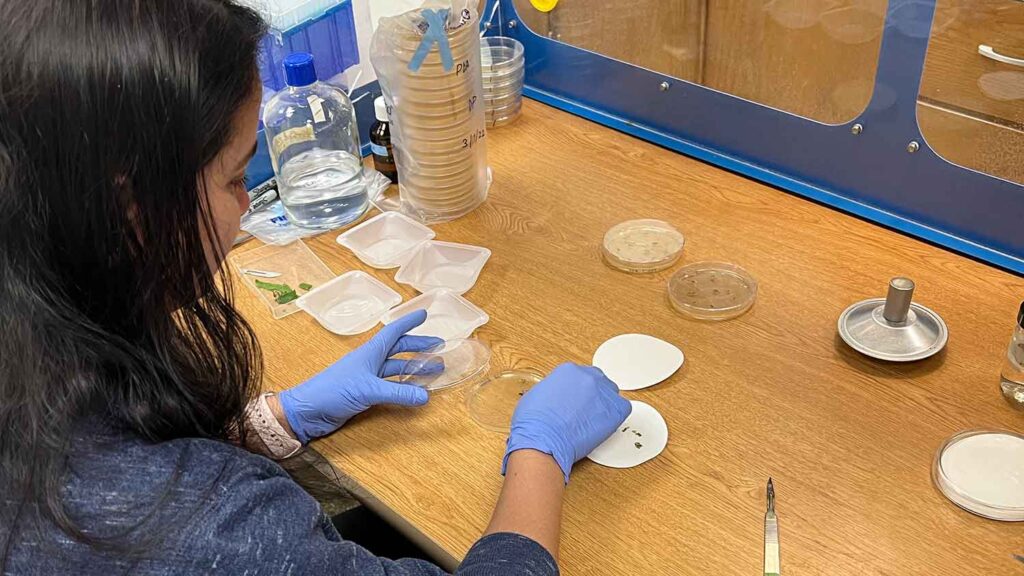 Can you tell us about your research?
I believe that a doctorate in horticultural science specially focused on tomato breeding to develop tomato lines with broad adaptation, high yielding and resistance to early blight and Septoria leaf spot will allow me to achieve my objective of improving food safety and security at a global level. With this objective, I began my doctoral degree in tomato disease resistance breeding in the spring of 2022. My research project is titled "Mapping of Resistance Genes for Resistance to Septoria lycopersici (Septoria leaf spot) and Alternaria linariae (early blight) in Tomatoes." My graduate committee consists of Dilip Panthee, Tika Adhikari, Frank Louws, Ralph Dean and Reza Shekasteband.
What brought you to North Carolina State University?
It was my dream to be a part of NC State, as it has a great research environment with all-new advances and a homey feeling. 
Do you have any advice for incoming graduate students?
Never stop dreaming big and never stop working to make those dreams real and always think first before doing it.
Are you interested in studying horticulture?
The Department of Horticultural Science provides a hands-on academic path that provides real-world benefits and applications. Explore our undergraduate and graduate programs to learn from expert faculty and have career-focused experiences.
Connecting students with opportunities is part of how we advance plants.
Get the latest Horticultural Science News
Sign-up to get the latest news and updates from Horticultural Science straight to your inbox every month.