Academic
Andrew Pfeifer: Student Spotlight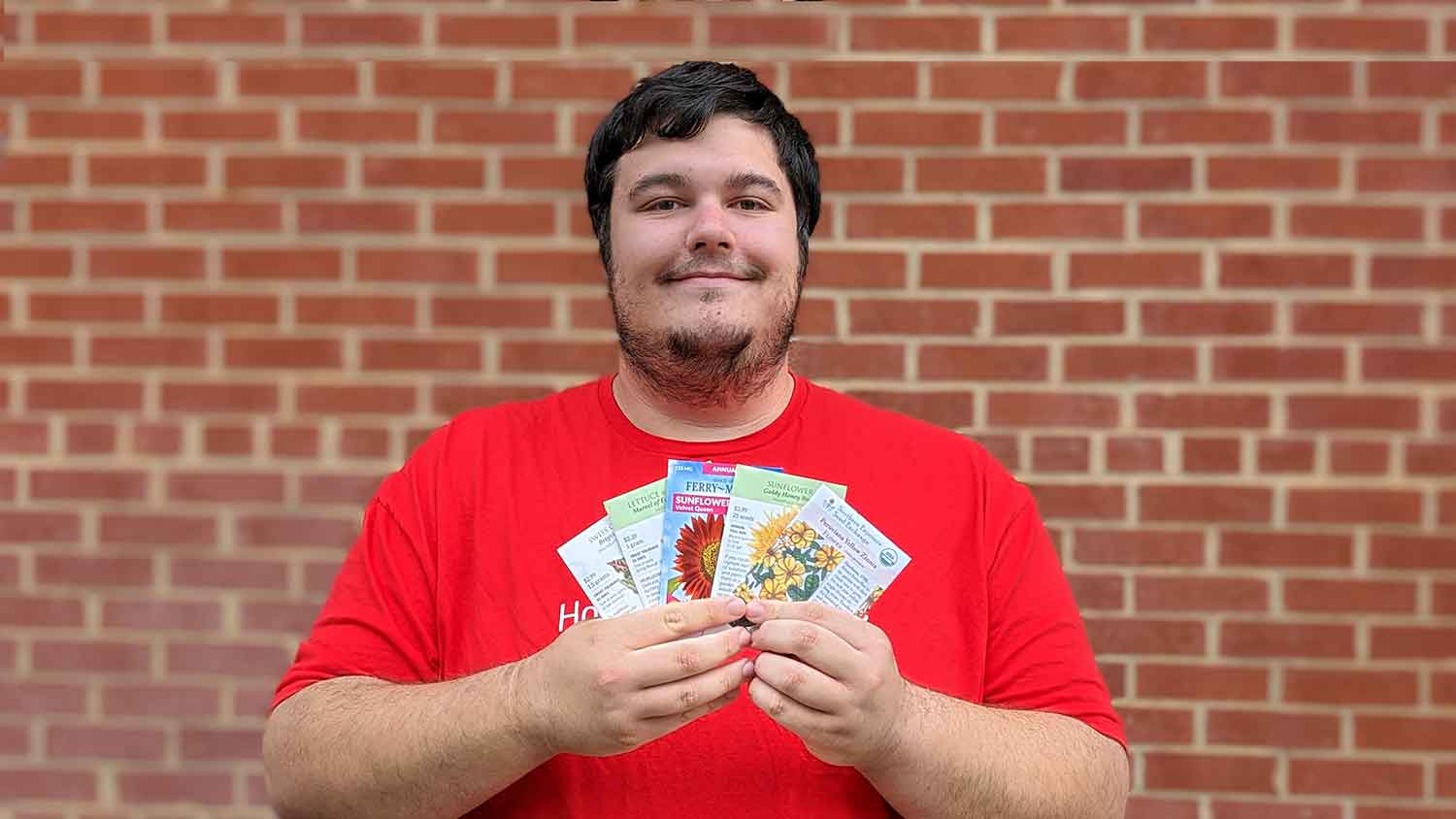 Raised in the Blue Ridge Mountains, Andrew Pfeifer has traversed North Carolina and dwelled in some of the state's most picturesque places. Our state's diverse ecosystems inspired his interest in entomology and zoology, but he discovered a passion for horticulture at North Carolina State University. Pfeifer will be graduating with a bachelor's degree in horticultural science with a concentration on landscape design, garden and urban environments and minors in entomology and biological science this semester.
How did you become interested in horticulture?
I have always loved nature and the outdoors, being both an insect enthusiast and an avid fisherman. Because of their extremely interesting and complex relationships with insects, plants were a natural next step. I wanted to learn how to create better and more productive habitats for wildlife while still keeping it tied to the human aspect of gardening. I also have a penchant for seed collecting and starting my own plants. A good chunk of the Kilgore Hall rain garden consists of my own seedlings.
What brought you to North Carolina State University?
My interest in entomology initially brought me to North Carolina State University because we have a globally recognized program in the field. It was also affordable compared to some of the other big universities.
What have been the highlights of your undergraduate experience?
Despite COVID causing an enormous amount of difficulty halfway through, I think the biggest highlights of my experience are tied to my major. I have been a very active member of every activity the department has to offer, such as the Horticulture Club, HortPack and Pi Alpha Xi. I served as an officer in Hort Club as the agri-Life representative and helped plan and execute some of the major field trips the club participated in. Our trip to Pennsylvania and Washington D.C. was by far my favorite in the fall of 2021. I have built some amazing relationships with faculty, and helped maintain and expand the gardens in front of Kilgore.
What was the best part of the National Collegiate Competition and competing with the HortPack?
Having participated in the National Collegiate Landscape Competition twice, I got to experience a ton of different things. By far, the people were my favorite part. I love learning about other places and different perspectives, and meeting students from across the country fits the bill perfectly. I will also say that I made some friends and have a few fans as a result, too!
Which was your favorite horticulture course or lesson and what made it special?
I actually have four, and this is because each had its own special properties.
Landscape Ecosystem Management (HS 471) was probably my favorite, and this is because it was the culmination of every course I'd taken and it focused very heavily on practical application.
Landscape Design and Build (HS 272) was a great time. Despite being a hefty six credit hours, working with my peers and Julie Sherk was a treat and a ton of fun. Plus, we actually got to build something at the JC Raulston Arboretum, and my class added to the children's area arbor.
Planting Design (HS 416) was a very fast-paced and demanding course. However, I loved all the different projects, and because I'm very plant-focused it allowed my design skills to shine properly. The various clients were great to work with, too.
Plant Propagation (HS 301) was an awesome way to combine physiology with hands-on learning. Lis Meyer does a great job making sure the course covers a broad array of topics and keeps it engaging. I also contributed materials to this course, and it was a good way to give back.
Do you have any advice for incoming horticulture students?
Get involved! The Department of Horticultural Science is special in that we are much closer than others. It's a very welcoming and helpful environment, but you have to take advantage of it and actually use it. Make time for clubs and extracurriculars, too. It's a great way to make friends.
Do you have plans for after graduation?
I have been offered a position in Stanly County to become their new North Carolina Cooperative Extension Agent in horticulture. I start in June, and I'm quite excited about it!
Are you interested in studying horticulture?
The Department of Horticultural Science provides a hands-on academic path that provides real-world benefits and applications. Explore our undergraduate and graduate programs to learn from expert faculty and have career-focused experiences.
Connecting students with opportunities is part of how we advance plants.