The NC State Livestock Science Camp is designed for high school students aged 15-18. During the camp, youth will engage with NC State students, faculty, and staff to explore animal science and learn more about the livestock and agricultural industries and related careers. No previous livestock species experience is necessary.
Camp Life
You will learn about the vast field of agriculture and livestock production outside of the world of veterinary medicine and participate in many hands-on activities, including:
Visits to the beef and dairy cattle, swine, sheep, goat and horse educational units
Run laboratory experiments
Attend farm and industry tours and hear from industry guests
Explore the science, technology and biotechnology of livestock industries and the interaction of animal production and food safety
Participate in leadership activities
And you'll make many new friends from across North Carolina and beyond.
How to Apply
The camp is open to high school students, ages 15-18, who want to learn more about the livestock industry and potential career opportunities. No livestock background or experience is necessary, only a desire to learn.
Applicants will receive notification of acceptance and follow-up details for registration packets and payment by email. The camp is limited to 40 participants. Applications will be available soon.
Camp Costs
The $900 camp fee for selected participants will include a five-night stay on campus, meals, field trips, supervision, and program materials. (No refunds are available after receipt of payment).
If selected, a camp deposit will be required to save your spot.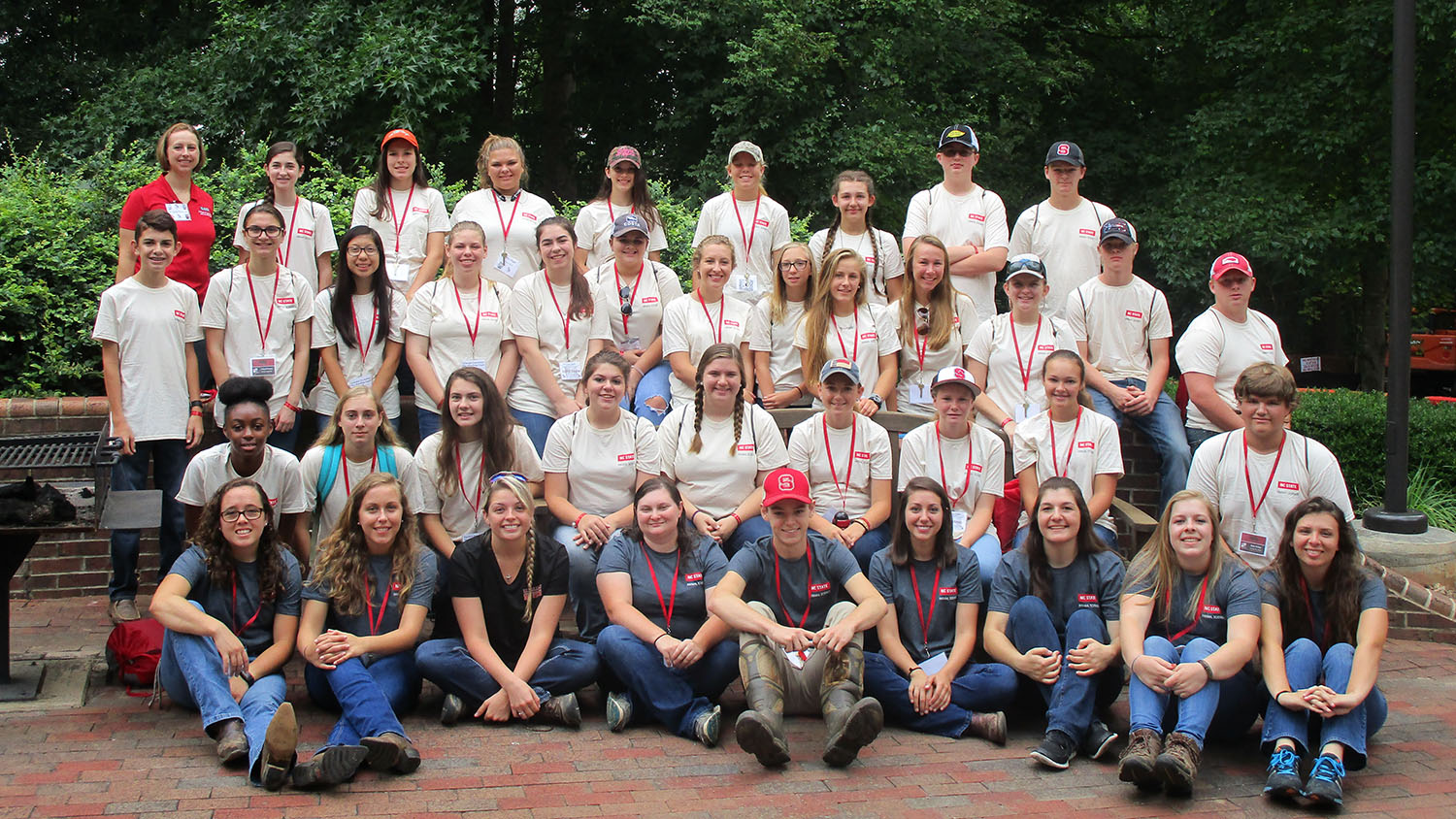 Questions about Livestock Summer Camp?
Additional Camp Info
Scholarship Information
Is cost a concern? The Livestock Science Camp actively seeks sponsorship of camp programming and scholarship donations to support campers. No scholarships are yet committed, but we encourage you to apply and indicate financial need on your application.
Thank you to past scholarship sponsors: NC State Department of Animal Science, NC Cattlemen's Association, NC Dairy Producers Association, NC Sheep Producers Association, North Carolina Pork Council and County Farm Bureau Associations (Alexander, Forsyth, Chatham, Guilford, Rockingham, Wake, Transylvania, Cleveland, Caswell, Johnston and Mecklenburg).
Additional sponsorship of camp activities: NC State Animal Science Club, Agricultural Institute and Mule City Specialty Feeds.
What does the camp registration fee include?
Education
The camp fee covers educational resources and educator fees for hosting 5 days of programming, which will include guest speakers, industry tours, and farm and laboratory demonstrations. Some supplies will be sent to participants as well.
Leadership and Supervision
We employ about nine (9) NC State students for the Livestock Science Camp program. These young adults dedicate many hours in the spring to preparing the camp curriculum, coordinating unique events and experiences for campers, and working with faculty and staff. Additional faculty and staff support are covered for Livestock Science Camp coordinators on nine-month contracts. Counselors and staff are on duty 24 hours daily for camp participant supervision.
Safety
NC State University requires a minimum of one (1) staff member for every ten (10) participants for all residential programs with youth 15 to 18 years of age. Several counselors are first-aid certified each year to take care of general health care needs. The camp program also purchases a supplemental insurance policy to help cover out-of-pocket expenses in emergency medical situations.
A secondary transport vehicle is always available during Livestock Science Camp in case of an emergency.
Housing
Five (5) nights stay in a suite-style dormitory on NC State Campus. Typically there are two (2) campers per room in a suite with approximately eight (8) campers and 1-2 counselors. Rooms include two twin-size beds, a closet, a min-refrigerator, and a small microwave.
Meals
The Livestock Science Camp strives to provide a variety of food and ensure options are available to those with dietary restrictions.
Breakfast: Continental-style breakfast provided at the dorm by the Livestock Camp staff. Typically this includes a variety of cold cereals, breakfast bars, fruit, bagels, bread, peanut butter, jelly, microwavable breakfast sandwiches, juices, and milk.
Lunch: An all-you-can-eat buffet-style at one of the University Dining Halls. The meal typically includes a fresh salad bar, several hot entree selections, Howling Cow ice cream and milk, soft drinks and water.
Dinner: Options vary by day and location due to field trips. Typically dinners are "fast-food" style catered meals such as pizza, Chic-fil-A, Subway, etc.
Snacks and Beverages: The camp program strives to keep snacks such as granola bars, fruit snacks, etc. and an assortment of water and soda available to campers between meals during transportation times.
Additional Items
Each camper receives a camp T-shirt and a drawstring backpack.
Transportation
Additional staffing and emergency vehicles are available at all times to maintain ratios in case of an emergency.