North Carolina FFA President Finds Home at NC State
Sydney Loflin is from a small town in Davidson County, North Carolina, but she's had an impact across the state. Loflin grew up in Denton, where she was homeschooled with her sister. In sixth grade, Loflin joined the FFA chapter that her mom — and teacher — started. Her mom also taught a weekly class on environmental and natural resources for other homeschooled students as part of the FFA chapter.
"It's cool that my mom is also my adviser," Loflin says with a smile.
With a growing passion for agriculture and natural resources, Loflin joined her FFA chapter, High Rock FFA, as well as the Cedar Springs 4-H Club. She was president of both during her senior year and went on to become president of North Carolina FFA and a state secretary and treasurer of North Carolina 4-H.
Coming from a family of North Carolina State University alumni, Loflin — a sophomore in the College of Agriculture and Life Sciences — knew she wanted to be part of the Wolfpack. Her experience with 4-H and FFA also helped her feel more comfortable at NC State. She had already met faculty members through FFA activities, including Travis Park, a professor in the Department of Agricultural and Human Sciences, and Mary Kate Lanier, who was an FFA state officer when Loflin was in middle school. Lanier is now Loflin's academic adviser and teacher.
"It was really neat that I built this relationship with them for years, and it felt like I was going to home away from home whenever I went to NC State," Loflin explains. "That helped my decision."
With an interest in agricultural communications, Loflin is majoring in agricultural education and minoring in extension education, science communication and environmental education. She's also a Park Scholar and a part of the newly-launched agricultural communications program with Assistant Professor Katie Sanders.
"Education's always been something that I've loved, and I see ag communications as a great way to use my experience with ag and my communication skills that I've gained through 4-H and FFA to get the news out about ag," Loflin says.
As Loflin wraps up her year as president of NC FFA, she's excited for the State Convention in downtown Raleigh, scheduled June 27-29. This year's theme is "Leave a Legacy."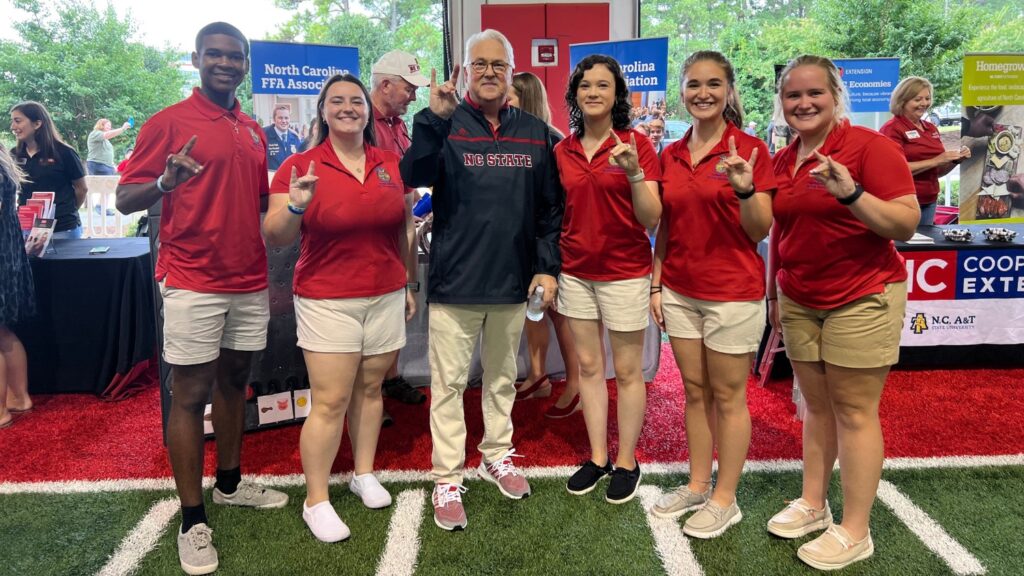 "My favorite part is getting to see the members again that I've met throughout this year," Loflin shares. "We've traveled thousands of miles across the state, and it's going to be really neat to have members that we absolutely adore and look up to. I'm really excited to have all of them in one place."
Loflin is also excited that the organization had a record number of new chapters join this year.
"We'll see a lot of members that have never been to a State Convention before, and we'll get to watch their faces light up as they walk into that convention hall and realize that they really are part of something bigger than themselves."
This post was originally published in College of Agriculture and Life Sciences News.