Lucas Seijo on Internships, Oaks Leadership Scholars Program, and Future Plans
Wolfpack senior Lucas Seijo grew up in rural New Bern, North Carolina, with cotton fields in his backyard and a hog farm next door. But it wasn't until high school, where Seijo eagerly dove into all the extracurriculars available to him, that he would discover his interest in agriculture. That's because, in addition to joining the marching band and the Science Olympiad team, he became a member of FFA, an intracurricular student organization that promotes leadership and professional development through the lens of agriculture.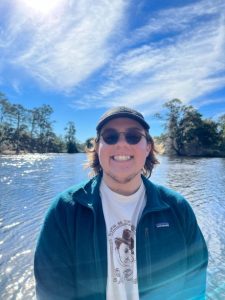 While serving as a member and officer in his FFA chapter, as well as a regional officer and member of the parliamentary procedure team, Seijo was excited to find connections between agriculture and another topic he was passionate about: politics. "I had always been interested in politics and the political happenings of our country", says Seijo, "and FFA allowed me to begin examining the direct effects of public policy and political advocacy within the agricultural field".
A career in politics and policy, Seijo realized, could allow him to serve the agriculture sector as a whole. FFA was a "transformative" experience that motivated his decision to attend NC State and pursue degrees in political science and agricultural science.
Seijo credits his coursework, internships, and extracurricular experiences at NC State with helping him hone his skill set, his professional interests, and his career plan at the intersection of agriculture and politics. "The hands-on experiences I have gained within my classes have really allowed me to get much more 'up close and personal' with the agricultural industry than I had before", Seijo notes. The summer after his freshman year, he joined New Hanover County Cooperative Extension as an intern, excited to apply his coursework to the real world. He worked with the Supplemental Nutrition Assistance Program, and other affiliated programs in the county, and learned "how local agriculture and county governments work together to help all citizens".
It was a great experience, and one that inspired Seijo to seek out additional internships: in the years since, he's worked with NC State's Agricultural and Human Sciences Department, the nonprofit Democracy North Carolina, and the office of Congresswoman Deborah Ross. While working in the Agricultural and Human Sciences Department, Seijo has had the opportunity to work with Geri Bushel, executive assistant, who he says has made a significant impact on his life. "Geri was and continues to be so supportive of my endeavors, and always allowed me to get the most out of all opportunities she gave to me", he notes. "I don't think there is anyone within the Ag and Human Sciences Department who hasn't been directly impacted by the work done by Geri".
Working with Congresswoman Ross, whose jurisdiction includes NC State students, on constituent outreach was the perfect fit. Seijo processed mail and phone calls from constituents to send opinion statements along to Ross and her legislative team, was responsible for case intakes for constituents in need of support navigating federal programs, wrote letters on behalf of Ross, and wrote briefs and opinion statements for use by Ross and her staff. Through his work, Seijo helped the office run smoothly, and helped connect individuals in need with government resources. Most of all, says Seijo, he "played an important role in making sure that the constituents of the Congresswoman's district had their voices and concerns heard". Regardless of where he ends up, Seijo says, he knows that the lessons learned, and insights gained about voters, during his time working with Ross will be highly relevant to his future career.
In addition to completing a diverse range of internships, participating in the Oaks Leadership Scholars program has been a highly impactful experience for Seijo. Since becoming a member at the end of his freshman year, the program, which provides "evidence-based transformative leadership development with the goal of reaching justice and equity outcomes through programming, mentoring, and travel", has helped Seijo build leadership skills and a sense of empowerment. "This program taught me how to get involved with the communities I exist in, and how I can better any and all spaces I take part in". Oaks co-directors Katherine McKee and Jackie Bruce have also served as mentors and sources of support for Seijo, who says they have been "paramount" to his personal growth in college. By making themselves available for questions and advice, and providing guidance and encouragement, Seijo says that McKee and Bruce helped him to see his own potential.
Perhaps most importantly, Oaks has given Seijo a community at NC State. "The Oaks, the mentors who run it, and my fellow peers within it, have been my favorite thing at NC State, and I'm really appreciative of them all". This is particularly so, says Seijo, given the sense of anxiety and uncertainty he felt his freshman year about starting college far from home, in an environment very different from his small high school. "I didn't know who I was, really, nor did I know what I would do while here.
"I wanted to work in a place that understood that justice and equity work are essential to the future of agriculture."
Seijo says he's always had two goals in his life: creating as much positive change as he can, and making his mom proud. "My mom is the main reason why I am who I am today", he notes. "I was a rambunctious and ambitious kid, but she just rolled with the punches and made sure that my siblings and I were well taken care of". Through both successes and challenges, Seijo says that his mom has been incredibly supportive, and that in moments of doubt, he can always pull inspiration from her support.
Seijo will graduate in May with a B.S. in agricultural science and a B.A. in political science (concentration: public policy), and plans to take a gap year before tackling law school. He's interested in contributing to voting rights and court reform advocacy work, as well as focusing on his physical and mental health, during his year off. In the long run, he says, he's interested in practicing constitutional or civil rights law. "My overall career goal is to one day argue a case in front of the Supreme Court, or maybe one day be a federal judge (who knows what will happen)", he notes. "My career objective has changed a lot over the past four years, but I feel very comfortable with this current goal". Armed with the experience gained through internships, involvement, and mentorship while at State, Seijo is graduating ready to take agricultural policy by storm.