AHS Student Places Second at Graduate Student Research Symposium
Savannah Currens, a graduate student in agriculture education and extension (AEE), placed second in the education category at the 15th annual NC State Graduate Student Research Symposium. It is held each spring, and includes poster presentations from more than 200 graduate students. Posters are judged by faculty, and students receive recognition for top posters. The goals are to showcase the outstanding quality and diversity of graduate-level research at NC State, in addition to providing students with the opportunity to practice and enhance their communication skills with those outside of their discipline.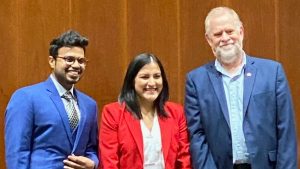 Her research project was titled "Does Teacher Professional Development in a Field Yield Increased Majors?" Currens states "I am so honored that my poster earned second place in the Education category at the Graduate Research Symposium! The research for this poster is the starting point for my thesis on developing a viable professional learning community and professional development for food science teachers in North Carolina. I could not have done this without the support of my team, Dr. Travis Park, Dr. Clint Stevenson and Paige Luck and of course, the AEE Department. Go Pack!"
Congratulations to Savannah on her award. We wish you continued success at NC State and the future.