This Is Sparta: One Rural Student Fights To Return Home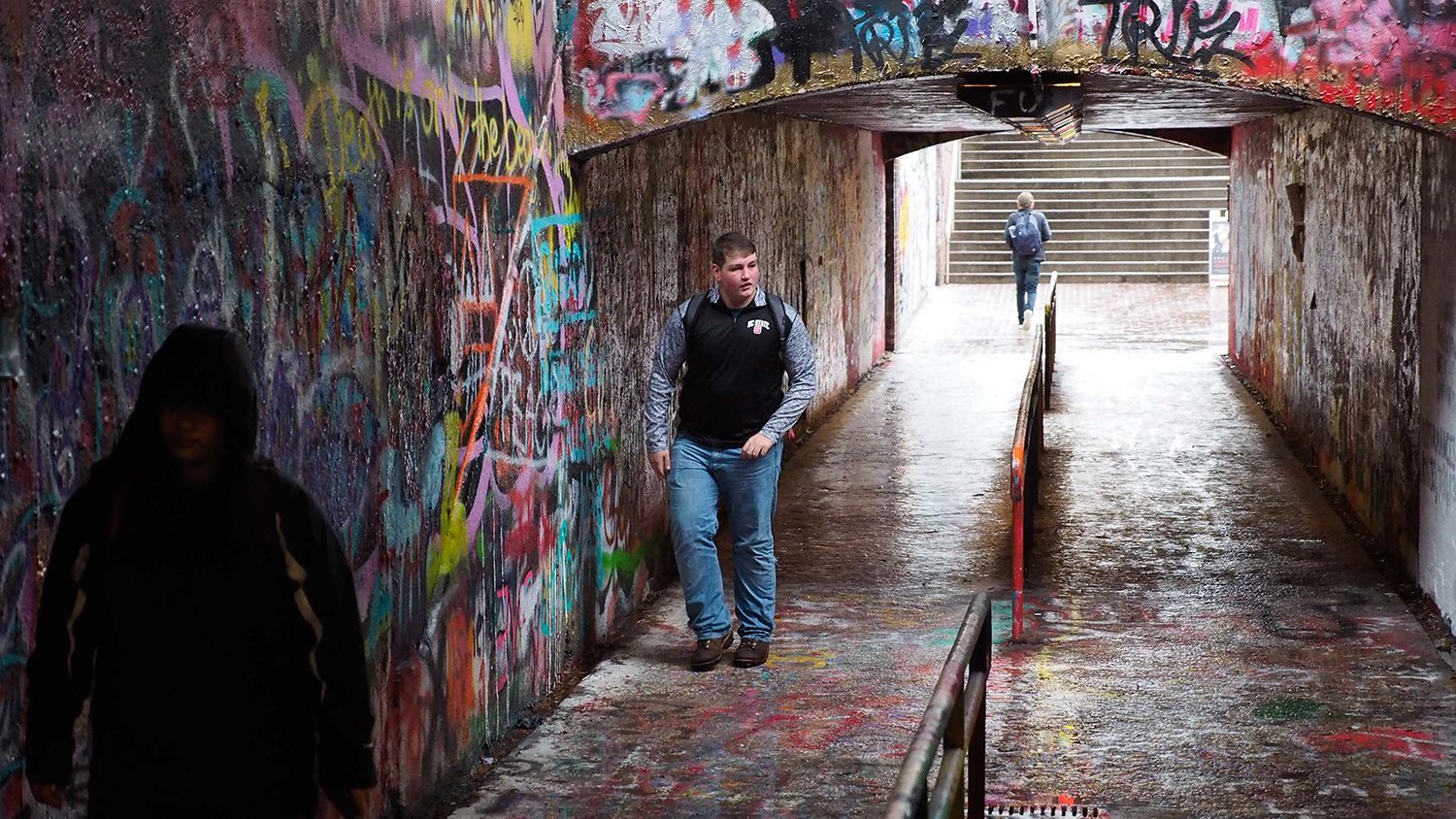 Students from rural areas face a unique set of challenges, from access to test preparation to culture shock on campus.
Some work their way to college as the fast track out of country life.
Others, like Alleghany County native David Cox, are fighting to go back and stay.
---
One of the most difficult adjustments in David Cox's journey from the family farm to the Brickyard has been physical: his aching, throbbing feet.
"It was a change, walking on something other than gravel and dirt," David says. "I noticed about the second week that my boots didn't have mud on them anymore, and my feet were sore from walking on hard brick all the time."
A second-semester animal science major, David grew up working on his parents' cattle farm in Sparta, North Carolina, population about 1,200. He's one of only three CALS students from Alleghany County, dubbed a "Tier 1" county by the North Carolina Department of Commerce for its low population and economic challenges.
[pullquote color='red' align='right']He's going to have a special insight into his community, what their desires and hardships are.[/pullquote]Even in the sea of engaged, high-achieving students at CALS, David stands out. He's already got seven years' experience as a veterinary technician, starting as a volunteer at Sparta's Twin Oaks Veterinary Hospital at age 12. An Eagle Scout and former lifeguard, David has been a volunteer emergency medical technician for two years, signing up after his grandmother broke her hip — David had to carry her from the hallway to her bed, then onto a gurney. He earned his welding certificate in high school so he could build his dad a steel cattle-hauling trailer, and his artificial insemination certificate last fall to help improve the genetic stock of the family herd.
As CALS continues to improve access to its top-notch land-grant education, stellar students like David in Tier 1 counties are still about 11 percent behind in fall acceptance rates — but thanks to the Pathways to CALS initiative, that number is climbing.
Many rural students see higher education as a path out of the country to the plentiful jobs and amenities of city life.
Others, like David, are fighting to go back to their hometown and stay.
"You need somebody dependable"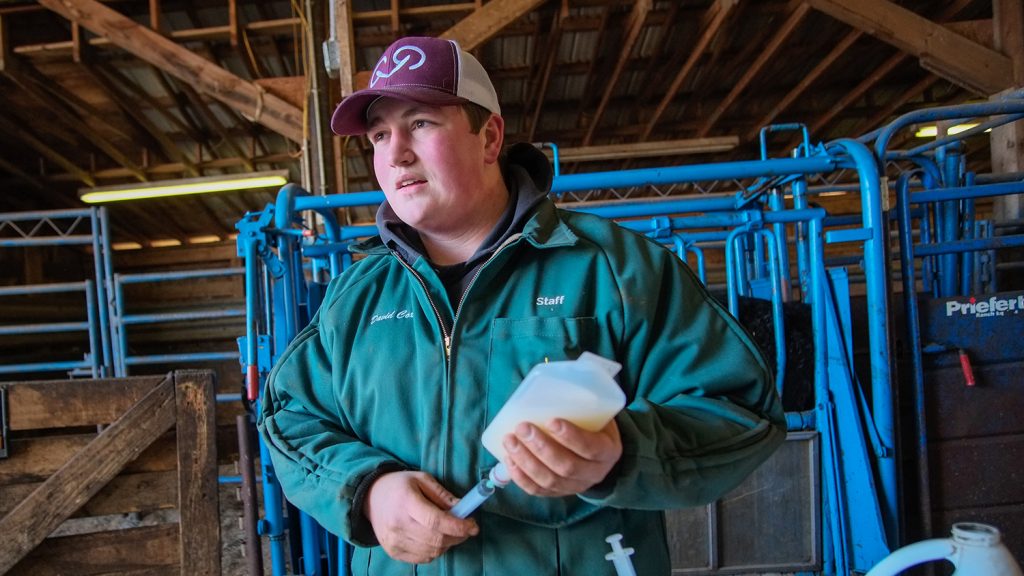 The night before he heads back to campus after his first winter break, David's phone rings: heifer calving on a mountainside across the valley.
It's 1 a.m. after a 16-hour workday at the family farm and the vet clinic.
[pullquote color='red' align='right']I had to peel my hands off where they froze.[/pullquote]David grabs his boots from their spot by the wood stove and runs out the door.
In the -11 degree windchill, the calf is reluctant to leave the warmth of her mother. That means extra time in the freezing darkness for David, coaxing the calf out hoof by hoof.
"My hands froze to the calf jack," he recalls. "I had to peel my hands off where they froze."
He got four hours of sleep that night. But the calf was born healthy and safe.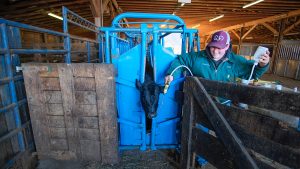 David's long-term goal is to join his boss at the clinic, Nash Williams, as one of Alleghany County's only large-animal veterinarians. Based on population projections, that goal puts David in the minority: Large urban counties like Wake and Mecklenburg are expected to double in residents between 2010 and 2050, says CALS economist Mike Walden, while a third of the state's counties — mostly rural regions — will continue to see steep declines.
Farmers in Sparta are hoping David will help Alleghany County buck the trend, says his father, Larry Cox.
[pullquote color='red' align='right']He has an insight that's hard to develop for someone that's not from here.[/pullquote]"They know that you need somebody dependable here," Larry says. "It was kind of a revolving door at that clinic for a long time before Nash got there. … They know David has got roots here and won't just up and leave."
Those roots also give David a special kind of job qualification, Williams says.
"He's going to have a special insight into what the people in his community go through, what their desires and hardships are," Williams says. "He has an insight that's hard to develop for someone that's not from here."
Rural Pride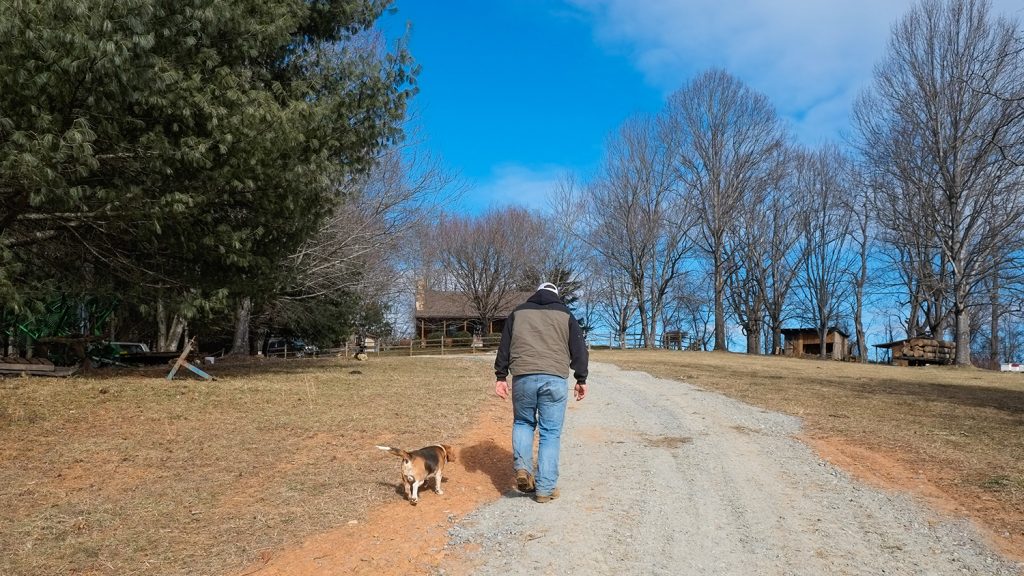 In the late 1700s, two brothers, both Revolutionary War veterans, traveled south from Pennsylvania and founded what would become Ashe and Alleghany counties in the mountains of northwestern North Carolina. One of those brothers was David's great-great-great-great grandfather. He's buried in a small cemetery just a few miles from the Cox's farm, land that's still in the family after 300 years.
"It kind of makes you sick to think about somebody else ever owning it," David said.
[pullquote color='red' align='right']There's a deep connection and love of the land.[/pullquote]That kind of longevity is part of what gives rural North Carolina its identity, says Patrick Woodie of the North Carolina Rural Economic Development Center.
"Most of the folks are there because it's home," he says. "There's a deep connection and love of the land."
When he's home, David's days start at sunrise. He feeds his dad's cattle and helps around the farm before putting in about 12 hours at the animal clinic, eating dinner with his family and crawling into bed after midnight. On call for both EMT and veterinary work 24 hours a day, David leaves his boots by the wood stove when he goes to bed so they're warm and ready if he needs to dash off in the middle of the night. Williams has had many apprentices over the years, and he believes David has what it takes to be a fine veterinarian.
"A lot of times there's odor, there's excrement, there's blood — to come here and deal with those things and stay, you've got to be a very compassionate person," Williams said. "None of that bothers David. If he feels like he's helping that animal, that's the only thing that's on his mind."
Around strangers, David is soft-spoken. He's inherited a commitment to hospitality and community engagement from his parents, Larry and Patti Cox — there's a family tradition of quietly gauging the needs of those around them and figuring out how to help.
Many of the economic recovery issues the Rural Center has flagged as crucial for rural communities like Sparta — such as accessibility to internet and cell phone coverage — directly affect students like David. Many of his high school classmates didn't have internet access at home, he says, limiting their ability to complete assignments. And when he's rolling hay bales at his third job helping manage Williams' farm, David has to drive 30 minutes in any direction to get cell phone service.
"It makes my parents and my boss nervous, because what if something went wrong?" he says. "But what are you going to do? There's work to get done."
Avoiding Culture Shock On Campus
When students from rural areas get to college, a common stumbling block is culture shock. The transition from country to city can be jarring. Twenty years ago, David's older brother ended up leaving a different large state school for that reason.
[pullquote color='red' align='right']When my oldest son left Sparta, it was like he went onto another planet.[/pullquote]"I think it's really, really tough for them, especially on a large campus like State," Larry says. "When my oldest son left Sparta, it was like he went onto another planet."
"He got lost," Patti adds, "and the school was so big that nobody knew he was lost."
So it was a relief for Larry and Patti when David got to CALS and found that the Animal Science Department functions more like an extended family. People know David's name, professors keep an eye on his progress, and he stops by the administration office every Friday to say hello to Jennifer Knoll, the department administrator.
Hard work and community outreach aside, Cox is also in many ways a typical 19-year-old first-year student. He's found friends who share his background; they work out at Carmichael Gym and swap stories about runaway cow chases over their scrambled eggs at Fountain Dining Hall.
And, of course, he's taking on extra work: In addition to the academics that won him the prestigious Mildred S. Edeson Scholarship and the leadership-intensive Caldwell Fellowship, he found a job as an assistant at East Wake Animal Hospital in Zebulon. He also joined the Northern Wake Fire Department as a volunteer.
To David, the most important message to other rural students working to make it to campus is simple: You can do it.
[pullquote color='red' align='right']Students like David have learned to put the effort in.[/pullquote]"It's less about the book smarts and more about the dedication," David says. "Because it's not about being smart — I graduated pretty well in my class, but that doesn't make me smart compared to a lot of people. I feel like if anybody buckles down and takes care of their grades, does their assignments when they get them, they can do it. When you don't understand it, you keep working on it. That's what makes the difference."
That's one of the reasons CALS should continue its outreach to rural areas, Larry Cox says.
"When you grow up as far out as he did, everything you want isn't instantly available to you," Larry says. "If you want to go see a movie, you're going to have to travel 35 miles. You have to put effort into things, they don't just come easily. David and students like him have learned to put the effort in."
"Just Let Us Know We Can Do It"
David won't know for sure whether he can go back to Sparta for another half a decade. First, he needs to get into a college of veterinary medicine — preferably the one at NC State, which had an 11 percent acceptance rate in 2017. There then needs to be a job for David back in Alleghany that pays enough to live on.
For now, David is doing what he does best: keeping his head down and his wits about him, working hard on what's in front of him each moment, trusting the future to unfold as it should.
Know a phenomenal rural student like David? Let us know!
[button]Nominate a student[/button]