Taking Poultry Science to the CEO Suite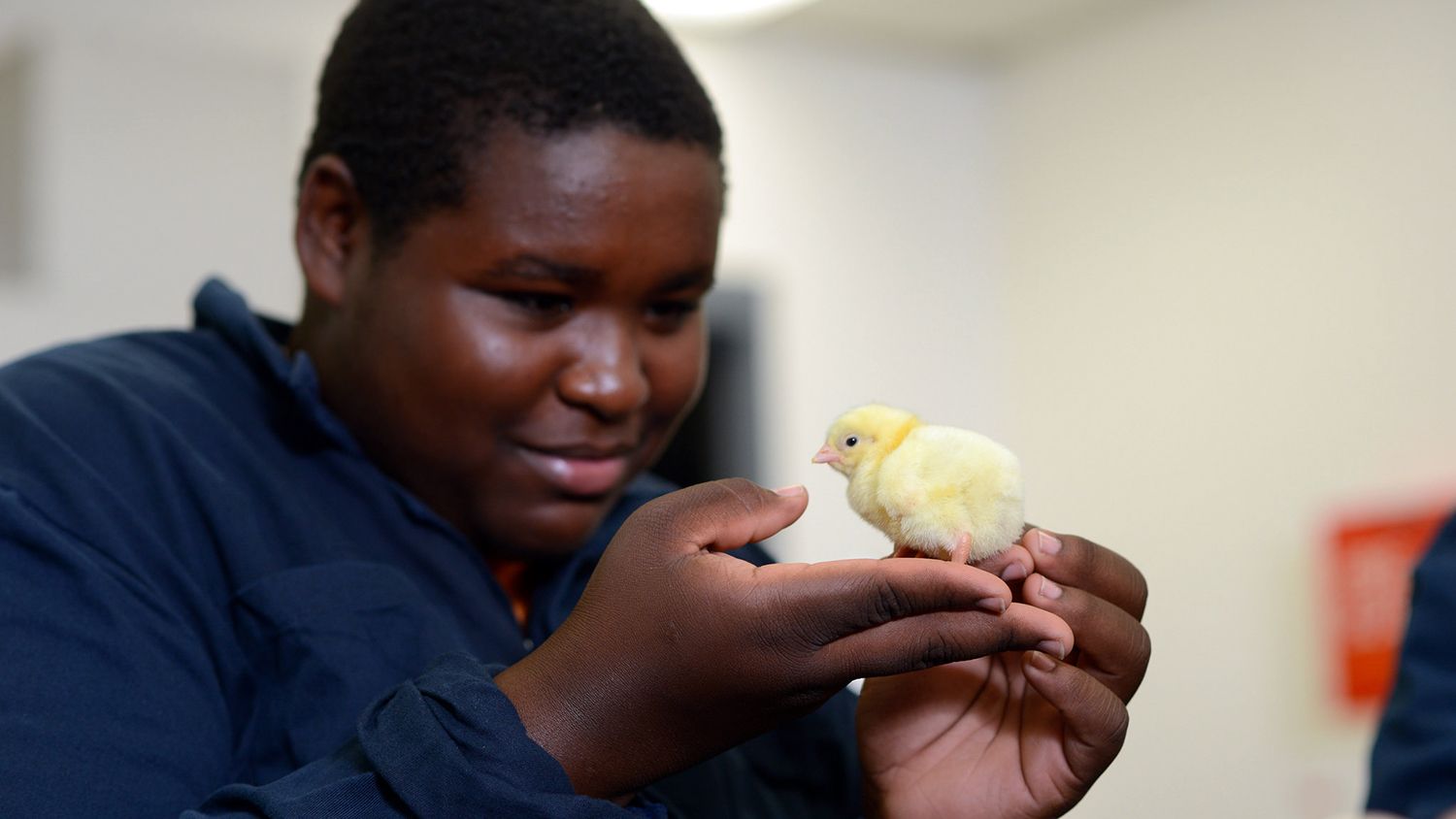 Most sleep-away camps for high schoolers don't cover both DNA testing and egg-smashing machines.
Almost none teach you how to artificially inseminate a hen.
[pullquote color='red' align='left']The more experiences you get, the more you know what you're going to be good at and where you might find your passion.[/pullquote]Celebrating its tenth anniversary this year, the Poultry Science Summer Institute is a highly competitive five-day, four-night camp for high school students through the Prestage Department of Poultry Science. Each July, students study physiology, avian pathology and embryology with department faculty. They tour commercial hatcheries and chat with industry experts over lunch. They explore the field's unexpected job options, from HR to IT — and soon, Program Director and Assistant Professor Kim Livingston hopes, CEO.
How do students know whether they'll like poultry science?
When I graduated high school 18 years ago, I never would have thought I would go into poultry science. I was going to be a veterinarian. But you find a passion and something that really intrigues you, and it starts by taking every opportunity that's open to you. I think it's encouraging for these students to start working with our faculty, and then we can help place you in internships.
The more experiences you get, the more you know what you're going to be good at and where you might find your passion.
What made you stop wanting to be a veterinarian? Why poultry instead?
When I was in high school, I worked for a dog and cat veterinarian. After the 1,000th time you help neuter a pet, you think, man, this really isn't all that interesting. So at the start of my sophomore year, I set out to find other things I could do with my animal science degree.
I serendipitously got a job in the poultry and nutrition lab with Carl Parsons. I was doing all the grad students' grunt work, and next thing I know, I get the nerve up to start quizzing them — what does this data mean? What was your hypothesis? Did it work? Then I had one of them say to me, you like to solve problems, you ask too many questions — you are destined to be a researcher.
What do you tell students and parents when they ask why to enroll?
It's a matter of breaking through the stigma of, "You're going to get a poultry science degree and then you're going to be a chicken farmer or a turkey farmer." No. You can go be, for example, a virologist. I tell them, your flu vaccine is grown in an egg! That's why your doctor asks you whether you're allergic to eggs beforehand. Those are things they don't necessarily think about, and why would they, because they're 16. That's our job.
[pullquote color='red' align="]I want us to be graduating future CEOs.[/pullquote]Even if they come from an agricultural background, their parents may be saying, 'I don't want you getting a degree that has you doing the same thing we did." But you can stay in that same field and have a better future. I tell the dean, I want to get our students to where we're graduating future CEOs. They may start out as field supervisors, but we need to get them critically thinking and understanding, we've got to help them realize they can be the CEO and make decisions — and have the background to understand why they're making the decisions they're making.
At the end of PSSI week every year, do you see changes in your students from when they started?
Yes! I think a lot of times, they sign up because maybe, for example, their family has backyard chickens. Then they see all the career opportunities we have here. I like to tell them stories about our faculty — like how we have one faculty member who got million-dollar grants to study how to cure ovarian cancer. Things they never in a million years they think of when they think of studying poultry.