Gifts and Awards
Supporting the True Nature of Education
Wilson Cunningham challenges his fellow plant and microbial biology classmates and supporters to participate in the 2023 Day of Giving.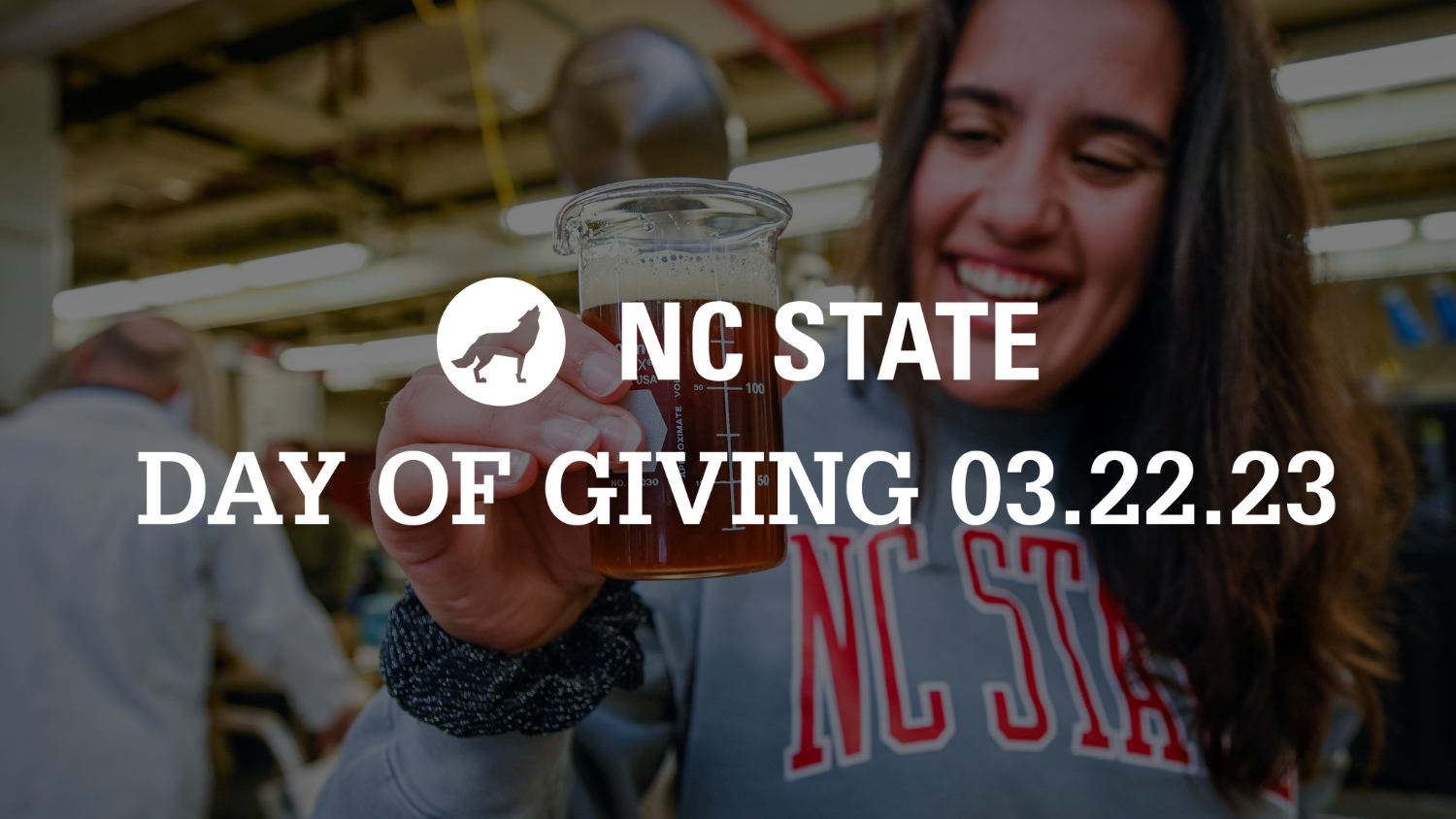 With a degree in botany, it seems appropriate that Wilson Cunningham is a believer in supporting the true "nature" of education.
Cunningham supported the College of Agriculture and Life Sciences and its Department of Plant and Microbial Biology in a number of ways, culminating with the creation of the H. Wilson Cunningham Student Laboratory Enrichment Endowment.
"I think alumni should see they need to support the function of the university first," Cunningham said.
"Scholarships, infrastructure support – so that the university can offer students the best educational opportunities."
As NC State University's 2023 Day of Giving approaches on March 22, he hopes others will follow his lead. Wilson is committed to matching up to $10,000 in gifts to his Student Laboratory Enrichment Endowment on Day of Giving.
Inspired By His Own Experience
As a high school student, Cunningham looked at NC State for a botany degree. His home state of Virginia offered biology at Virginia Tech at the time, but not botany.
It was a high school biology teacher who initially piqued his interest in the field. From NC State, he went on to Michigan State to pursue a graduate degree in aquatic ecology.
Cunningham said the experiences he had at NC State never left his mind. Personal interaction with dynamic professors, small class sizes and meaningful learning and research experiences were all life-changing for Cunningham.
During a research project in his senior year, he worked with Gus Witherspoon, whose prestigious career at NC State began as the first African American to become a professor at the university and culminated as an associate provost and the coordinator of African-American Affairs.
"He was a great mentor and a great human being," Cunningham said. "He and others helped get me to Michigan State, which was really mind-expanding – I realized the only limitation to knowledge is yourself."
Witherspoon's influence in his life was one reason Cunningham began giving to CALS. When Cunningham and his wife, Jane, thought about where they wanted their savings to go, higher education immediately came to mind.
"I got to where I am because of my experiences at North Carolina State and Michigan State," he said.
It began with a gift toward the planning efforts of the NC State University Plant Sciences Building.
"What that building represents is what the university should be doing, in my opinion," Cunningham said.
Then, on a previous Day of Giving, he directed his support to an existing endowment honoring Witherspoon. On last year's Day of Giving, he supported the Department of Plant and Microbial Biology Enhancement Fund.
Not long after, he met Bob Franks, professor and department head for Plant and Microbial Biology, and in him saw another professor passionately supporting today's students.
"It's a way to affect every student that goes through the Plant and Microbial Biology department."
The two began a conversation about Cunningham's wish to support infrastructure and equipment – in Cunningham's mind, making sure students have what they need for cutting-edge learning. That conversation led to the creation of the H. Wilson Cunningham Student Laboratory Enrichment Endowment.
"It's a way to affect every student that goes through the Plant and Microbial Biology department," Cunningham said. "You've got to have the tools, and having a good product improves the experience."
Franks said he's grateful for Cunningham's support of the department and sees it having a long-term effect.
"Wilson has expressed a strong interest in supporting our students, especially with hands-on learning opportunities," he said. "We worked together to find a way that he could help us to provide students with more laboratory and field research experiences.
"It is inspiring and humbling to be part of something that will continue to benefit our students even beyond my lifetime."
Ensuring Students "Learn How to Learn"
Cunningham's own career path shows the importance of preparing students for wherever the road ahead may lead, he said.
While in graduate school at Michigan State, he realized he didn't want to pursue a Ph.D. and go on to teach, feeling it wasn't the right fit for his personality.
At the same time, his wife was about to begin a post-doctorate at the University of Wisconsin, and Cunningham decided to leave the field. In addition to his love of botany, he'd discovered he was quite adept at chemistry and took a job working for the state of Wisconsin in the state water lab.
His wife went on to work in Washington, D.C., for the Department of Agriculture, and Cunningham found work doing water chemistry and hazardous waste analysis.
From there, he went on to what might today be considered a unique and successful career path. At the time, the American Newspaper Publishers Association was hiring for a hazardous waste analyst.
"There was a great fear that they were going to have to label their newspapers as hazardous to your health," he said.
Cunningham developed the association's research and development laboratory to analyze compounds used in the printing process, examining each for hazardous materials and determining how much might be present.
"It supports the true nature of education."
He became vice president for technical research, traveling the country to see how various publishers were doing the same work and meeting high-powered publishers from papers like the New York Times and Chicago Tribune.
When newspapers began to decline in the early 1990s, Cunningham started a consulting business, traveling all over the world. He did that for a long time until, looking for a new adventure, he went to work for Gannett. He began as a production analyst and later became a business analyst. Finally, he worked with a national commercial printer before he retired in 2013.
"You couldn't have planned that path if you had to," he said.
It's part of why his gifts to CALS today come back to investing in cutting-edge learning experiences and ensuring students "learn how to learn," he said. Then students are prepared for wherever they go next.
"It supports the true nature of education," he said.