Breeding a Better Stevia Plant for the Southeast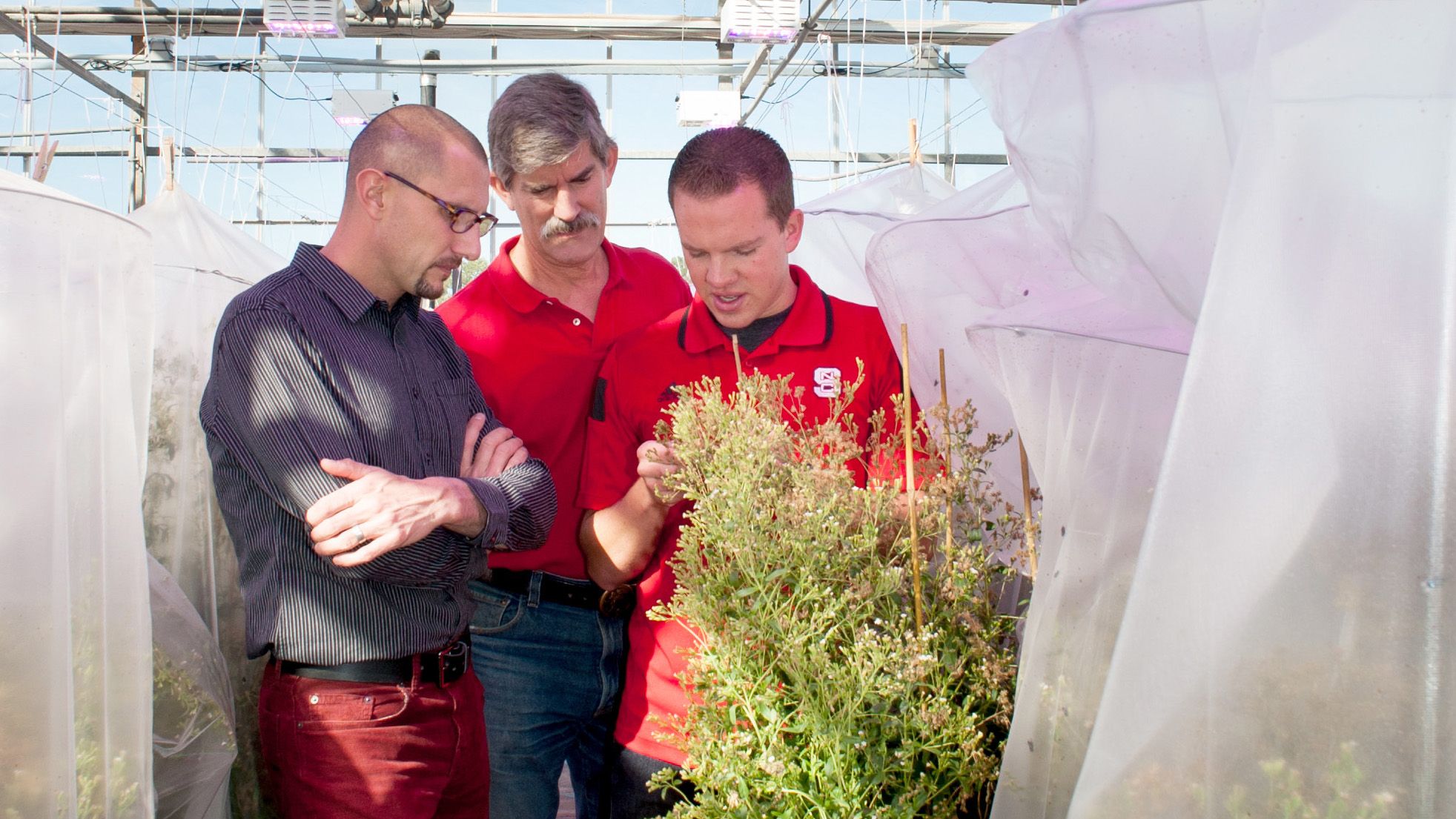 At NC State University, scientists are working on something sweet, experimenting with ways to improve a plant that yields a sweetener known as stevia.
As interest in sugar alternatives has risen, so has farmers' curiosity about a gangly shrub whose leaves are dried and crushed to extract no-calorie compounds used to make the sweetener.
Dr. Todd Wehner, from NC State's Department of Horticultural Science, has been working with graduate student Brandon Huber to create breeding lines of the stevia plant that not only taste better but also are better-suited to production in the southeastern United States.
Stevia leaves have been used to sweeten teas and medicines in South America for hundreds of years, but it wasn't until 1971 that Japan produced the first commercial stevia sweetener. Stevia has shown promise in the marketplace, and it's now grown in several countries, including China, and used to sweeten soft drinks.
Still, plenty of people who try it don't like it as much as sugar, Wehner said. That's why part of the NC State breeding research, funded independently by PepsiCo and N.C. Agricultural Research Service, involves coming up with stevia plants whose leaves contain more of the sweetening compounds that people like and less of the ones they don't.
In addition to finding ways to improve the crop's yield and taste, the researchers must consider the most efficient ways to plant, tend and harvest the crop.
"Because it's a new crop, you can read all the literature there is – there's not much – and you are left with a lot of questions about how to do a lot of things," Wehner said. "We've worked quickly to come up with solutions for an eager industry."
Wehner and Huber were both newcomers to stevia research when they began their project in earnest in 2015. While Wehner is an accomplished breeder of cucumbers, gourds and watermelons, which are in the cucurbit family, Stevia rebaudiana is a much different type of plant, more closely related to sunflowers and chrysanthemums.
Still, he began the stevia project with some specialized knowledge, having worked on an Asian cucurbit known as luo han guo, which is also used as a low-calorie sweetener.
Wehner and Huber started their stevia work by collecting germplasm, then evaluating it for traits that they thought would be important for both growers and buyers. They now have populations with much higher yields and higher concentrations of the glycosides people may prefer than when they started.
Through their research, they've also found that stevia production could be well-suited to the Southern United States, especially for tobacco growers looking to transition to another crop.
As with tobacco, seeding stevia in a greenhouse float system, then transplanting it to the field, seems to work well. And stevia leaves can be dried in curing barns, as tobacco is, Wehner said.
"For someone who was a tobacco grower who wants to grow other crops, unlike a lot of things that they go into — cucumbers, sweet potatoes and strawberry — stevia uses their equipment, facilities and knowledge really well," he said.
Still, the researchers insist it would be important to buyers that stevia not to come into contact with tobacco and that it be cultivated and dried with equipment that's used exclusively for stevia production.
While optimistic about their progress, Wehner and Huber said much work remains. With Huber preparing to graduate in May, Ph.D. student Emily Silverman will continue the breeding research. She'll focus on questions related to how the crop should be propagated.
As Huber noted, "With a new crop, you will gain a lot of knowledge early on and eventually you will get a plateau, but I don't think we are anywhere close to that.
"I think we've figured out a lot of things, and our research will enable even more progress," he said. "I think it will be a good crop."