Other News
Spring 2021 Fermentology Line-Up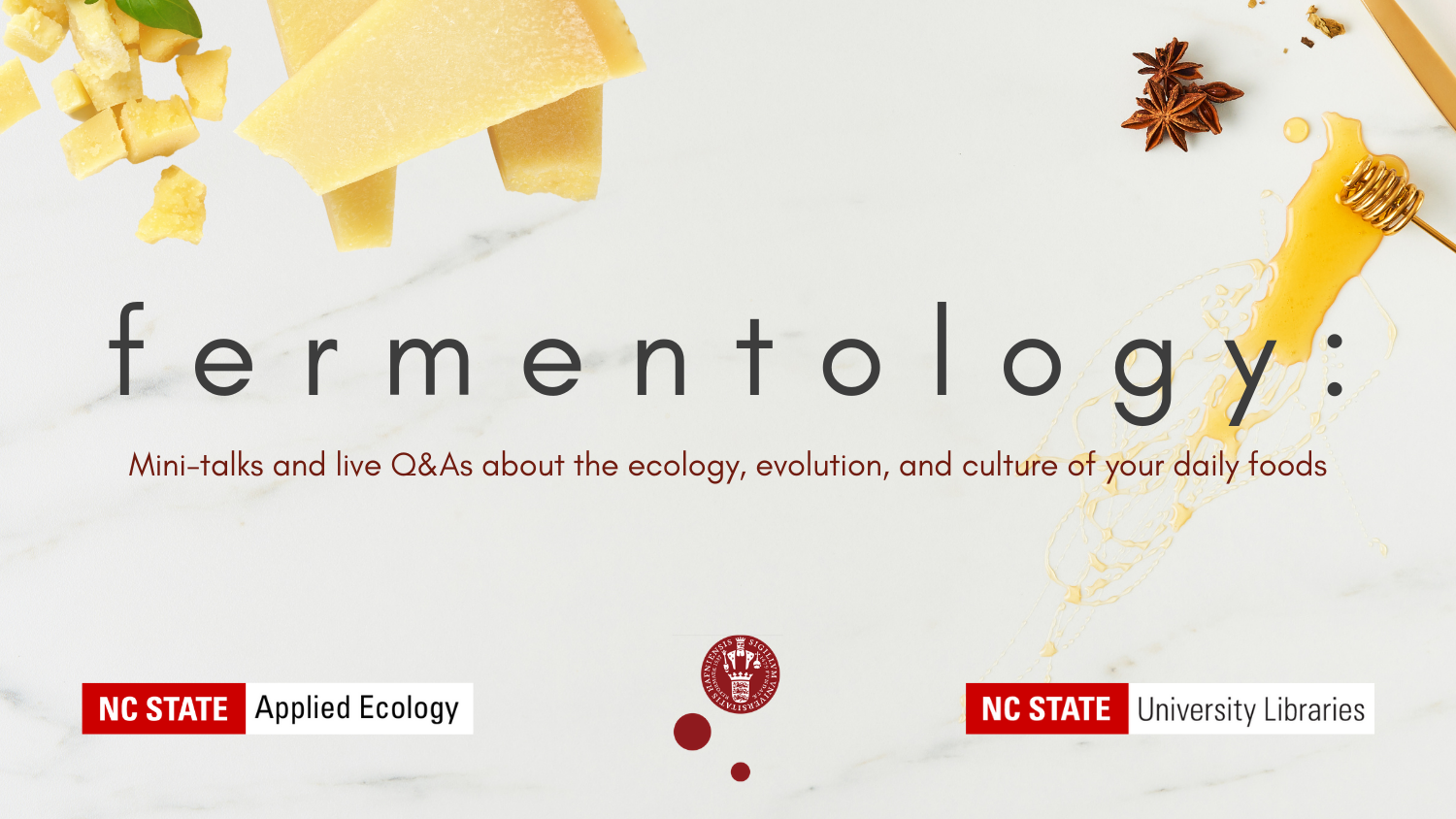 LAST UPDATED December 8, 2020.
Join us for our spring series of short talks with a live Q&A with experts on the culture, history and science behind your daily fermented foods!
Talks are Thursday at 4pm ET, unless otherwise specified, and open to everyone–the more the merrier! Register to attend the virtual talks by filling in this form.
This is a living blog where talks will be updated and filled in over time. Please check back for any changes and additions.
You can revisit all previous fermentology talks on the Applied Ecology YouTube page or follow the links from the 2020 lineup here.
January 21 – The Story of Garum: Roman Fish Sauce in a Modern Context
Garum, an ancient Roman staple, was made by fermenting ungutted fish in the hot sun with salt. However, this notorious ingredient was transformed by Roman cooks and home-bakers with honey, herbs, and wines, and has many parallels with luxurious fish sauces used in 5-star restaurants today. In this presentation, Sally Grainger will talk through her experimentations with garum and differentiate ancient sauces (including rare Mediterranean survivals, namely colatura de alici and pissalat) from the modern forms in the east.
Sally is a Roman food historian and experimental archaeologist. She has authored several books, including Cooking Apicus: Roman Recipes for Today and her latest The Story of Garum: Fermented Fish Sauce and Salted Fish in the Ancient World.
January 28 – Novel Misos
How do microbial communities change as fermentation techniques move around the world? What happens when people mix far-flung traditions and local ingredients in new ways in new places for new flavours? Joshua Evans will talk about experiments with novel misos he has conducted among chefs and fermenters in some of Copenhagen's leading kitchens. He will discuss the ideas behind the experiments, share some results, and explore what these culinary fermentation experiments tell us about microbial biogeography and domestication histories. He will also reflect on the social context of these experiments and what it means to share and remix cultures in today's world.
Josh is a PhD candidate in Geography and the Environment at the University of Oxford, and a visiting PhD student at the University of Copenhagen. Previously he was Lead Researcher at Nordic Food Lab, a non-profit institute in Copenhagen that conducted open-source gastronomic research for chefs, academics, and the public.
February 11 – Tasting the History of Wine and Cheese
Each cheese and wine has a history. So too each featured aroma and flavor in each cheese and wine. In this short seminar, Charles Ludington, a historian of both wine and cheese, teams up with a chemist and a neuroscientist to describe key aromas that distinguish notable wines and cheeses and the history of those aromas. In doing so, he will allow listeners to literally savor specific moments in history and, while doing so, understand the chemistry and neuroscience of just what they are experiencing. Ludington is the author of several books, including The Politics of Wine in Britain: A New Cultural History (2013, paperback 2016), and most recently, Food Fights: How the Past Matters in Contemporary Food Debates, edited with Matthew Booker (2019). He is currently writing a book about the role of Irish wine merchants in the transformation of Bordeaux into a luxury wine during the eighteenth century.
February 25 – Ukrainian Fermentation: Traditional Practices and Modern Uses with Olia Hercules!
Renowned author, Olia Hercules will talk about traditional fermentation practices that take place in special traditional kitchen spaces, called 'summer kitchens'. She will talk through a number of regional pickles from fermented tomato sauce to apples pickled in pumpkin puree and whole watermelons fermented in wooden barrels. She will discuss the pickles' traditional uses in cooking as well as modern interpretations.
This talk is run in partnership with Quail Ridge Bookstore and attendees have the opportunity to purchase Olia's book, "Summer Kitchens" before and after her talk!
March Meadness:
March TBD – A 40,000 Year History of Mead in Southern Africa
Three ingredients exist inside any honeybee hive, wild or domesticated – yeast, beebread (transformed floral pollen) and honey (fructose and glucose). If combined with water these ingredients produce alcohol. Success depends on an accumulation of pharmacological knowledge, keen observation and an astute but flexible cognitive ability. Archaeological evidence from Border Cave, South Africa suggests that honey bee products were being used and consumed by early people 40, 000 years ago. In this presentation Neil Rusch draws on the archaeological record in support of a long-term chronology involving bees and cognitive development. This better explains the early appearance of intentional fermentation. A deep time perspective also accounts for the occurrence of bees in the ethnography, rock paintings and mythology of the region.
March TBD – Make Mead Like a Viking
Jereme Zimmerman, experimental home-brewer and fermentation enthusiast, will speak on his experiments in recreating ancient meads and beers utilizing the simple techniques and ingredients that would have been available to ancient peoples. He will share what he has learned from his deep digs into ethnographic, archaeological and biomolecular archaeological sources to determine how mead, arguably the world's most ancient fermented beverage was prepared and enjoyed by ancient peoples across the globe.
April 1 – The Evolution of Sour Taste in Hominids
Rob will begin with a discussion of ongoing work he, along with Mick Demi, Brad Taylor, and Ben Reading are doing on the evolution of taste. He will then focus on the evolution of sour taste. Rob will discuss new insights into when and why sour taste evolved, when and why sour tastes became attractive to our ancestors and how sour taste helped early humans (and before them Homo erectus) begin to ferment foods. Rob Dunn is the author of Never Home Alone and the forthcoming book with Monica Sanchez, The Nature of Flavor (Princeton University Press).
May 6 – The Safety of Fermented Foods
With Heather Paxson from MIT.
To be scheduled soon:
TBD – The Sourdough Library
The sourdough library is unique in the world. Right now, 128 starters from 25 countries are kept in mason jars to be preserved for the future. Their biodiversity is kept for the following generations and all subjects of study. Studies conducted with different universities from around the world. This amazing collection of wheat, rye, rice, wholegrain, durum wheat etc. is maintained following the original protocol and the original flour. Join the sourdough librarian, Karl De Smedt, for this exciting talk!
TBD – In the Name of Deliciousness – Ferment!
Homo is evolutionary designed to crave foodstuff with the basic tastes sweet and umami. Umami is a common trait of meat, fungus, and marine foods like fish, shellfish, mollusks, and seaweeds. The most powerful way of releasing a latent potential of umami (and kokumi) in foods proceeds via microbial and enzymatic fermentation, as is well known from cheese, fish sauce, soy sauce, and cured ham. In contrast, green plant-based foods like vegetables are, by fundamental biological reasons, very poor in umami and sweetness. Understanding how we can impart these taste sensations to green food, most prominently by fermentation within a flexitarian dietary scheme, will aid us towards an eating behavior that is not only more sustainable but also healthy, delicious, and enjoyable. Join University of Copenhagen food professor and author of Umami: Unlocking the Secrets of the Fifth Taste, Ole G. Mouritsen for this enlightening discussion.
TBD – Baking Yeasts of the Future: Where to Discover Them and What They Can Offer
There are nearly 1,500 species of yeasts in the world, many of which influence bread flavor, texture, shelf-stability, and even nutrition. Yet only a handful of these species are used for making commercial breads. In this talk Dr. Anne A. Madden will discuss why there is so little yeast diversity in the baking world, and share the research she is conducting with a team at North Carolina State University to discover new yeasts for breads of the future.
Anne is a microbiologist, entrepreneur, and 5x TED speaker, who has spent more than 15 years discovering new microorganisms from nature for diverse human applications. She is an adjunct assistant professor in the Department of Applied Ecology at North Carolina State University (@AnneAMadden).
For more information, contact Rob Dunn or Michelle Jewell.
This collaborative project is sponsored by NC State Extension Family and Consumer Sciences Program, NC State's Departments of Applied Ecology and Agricultural and Human Sciences, NC State University Libraries, the Center for Evolutionary Hologenomics at the University of Copenhagen, and the Natural History Museum of Denmark.
This post was originally published in Department of Applied Ecology.