Program Plants Leaders in Agriculture and Science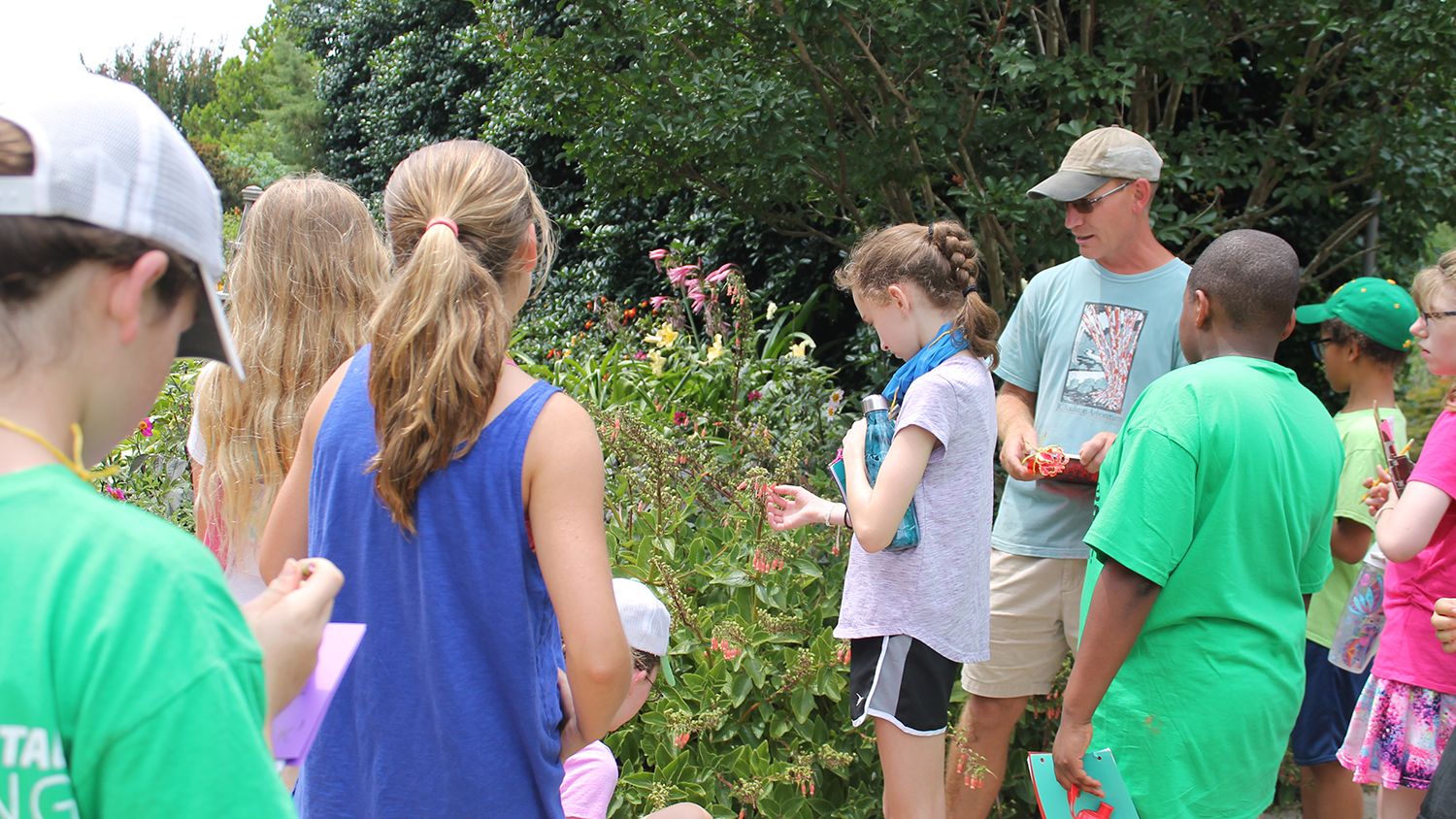 By Rachel Berube, Project PLANTS program coordinator
On an early Saturday morning, 16 middle schoolers rush around the gardens surrounding the Yurt, a round tent-like structure at NC State University's JC Raulston Arboretum. They are harvesting watermelon, looking for ripe eggplants and propping up okra tall enough to topple over.
Anticipation fills the air — these kids want to know the name of every weed they pull up and every bug they see.  The excitement only grows as the day unfolds, with the students learning about the importance of water in agriculture, focusing on hydroponic systems as one way to decrease water usage.
They are given a challenge — fix the Yurt's own hydroponic system — and collaborate to create a working system using coconut fibers and sponges to wick the water up to the plants.
When it comes to science, interest decreases most notably during middle school years, but not among these seventh and eighth graders. They ask complex questions and experiment to find answers. They are members of the 2017 class of Project PLANTS participants. Liz Driscoll, a 4-H youth specialist at NC State University, and Elizabeth Overcash, children's program coordinator at the JC Raulston Arboretum, started the program in 2015.
The two educators wanted to create a program that combined middle school students' need for positive science experiences along with peer social interactions. Research shows that middle school students who engage in group activities in science, technology, engineering and math activities gain more confidence in their STEM abilities.
The idea for Project PLANTS (Planting Leaders in Agriculture and Science) was created, and it resonated with the Burroughs Wellcome Fund, who generously provided a three-year grant to fund the program.
This two-part program has evolved over the years and now consists of a weeklong summer camp and a monthly Science Saturday program at the yurt — the educational space at the JCRA. Now in its third year, Project PLANTS has joined with many community partners to provide real-life applications of the concepts explored, along with meeting mentors to see actual horticulture being implemented in the students' communities. Students have gone on field trips to Transplanting Traditions, Sweet Pea Urban Garden, the Well-Fed Community Garden of Irregardless Café, NC State's horticulture greenhouses and Bayer Bee Care.
Bayer collaborated with the program to provide funds for the students to build a beehive at the 2017 summer camp with Oak City Bees, a local beekeeping business, so students could learn about apiculture and the importance of pollinators throughout the year.  Previous campers came to help with the hive build, and this passion for pollinators actually took four Project PLANTers from the 2016-2017 cohort to Washington, D.C., to share their knowledge by presenting at the 2018 4-H National Youth Summit on Agriscience.
Besides being good pollinator stewards, the students have created hydroponic systems, built soil health through vermicomposting, composting, and cover crops, used natural plant dyes and fibers to create hand-crafted art, constructed solar ovens, and dug deep into a variety of other agricultural and horticultural topics.
The Project PLANTS education model has proven to have a positive impact on student attitudes toward science. After the first two years, research showed a significant correlation between positive attitudes in science and self-efficacy within the program. Pre- and post-tests showed significant gains in attitudes toward the importance of horticultural sciences and analyzed writing samples showed consistent themes on the value of friendship and group work.
Throughout the Project PLANTS program and the three different cohorts of students, Overcash and Driscoll have observed a growing interest in horticulture and agriculture, but perhaps more interestingly, how these students have invested in each other. As the program gears up for the 2018 summer camp, the focus will remain on creating a space for students to wonder and wander with friends through science.
Interested in signing your middle school student up for the upcoming Project PLANTS Summer Camp?
[button]Visit the JCRA Children's Program website for details[/button]
Summer camp is for rising 7th and 8th graders and acceptance is on a first-come, first-served basis. The cost is $300 for JCRA members and $330 for non-members, with multiple scholarships available. The scholarship application can be found on the registration webpage.