Princess? Ballerina? Not A Chance.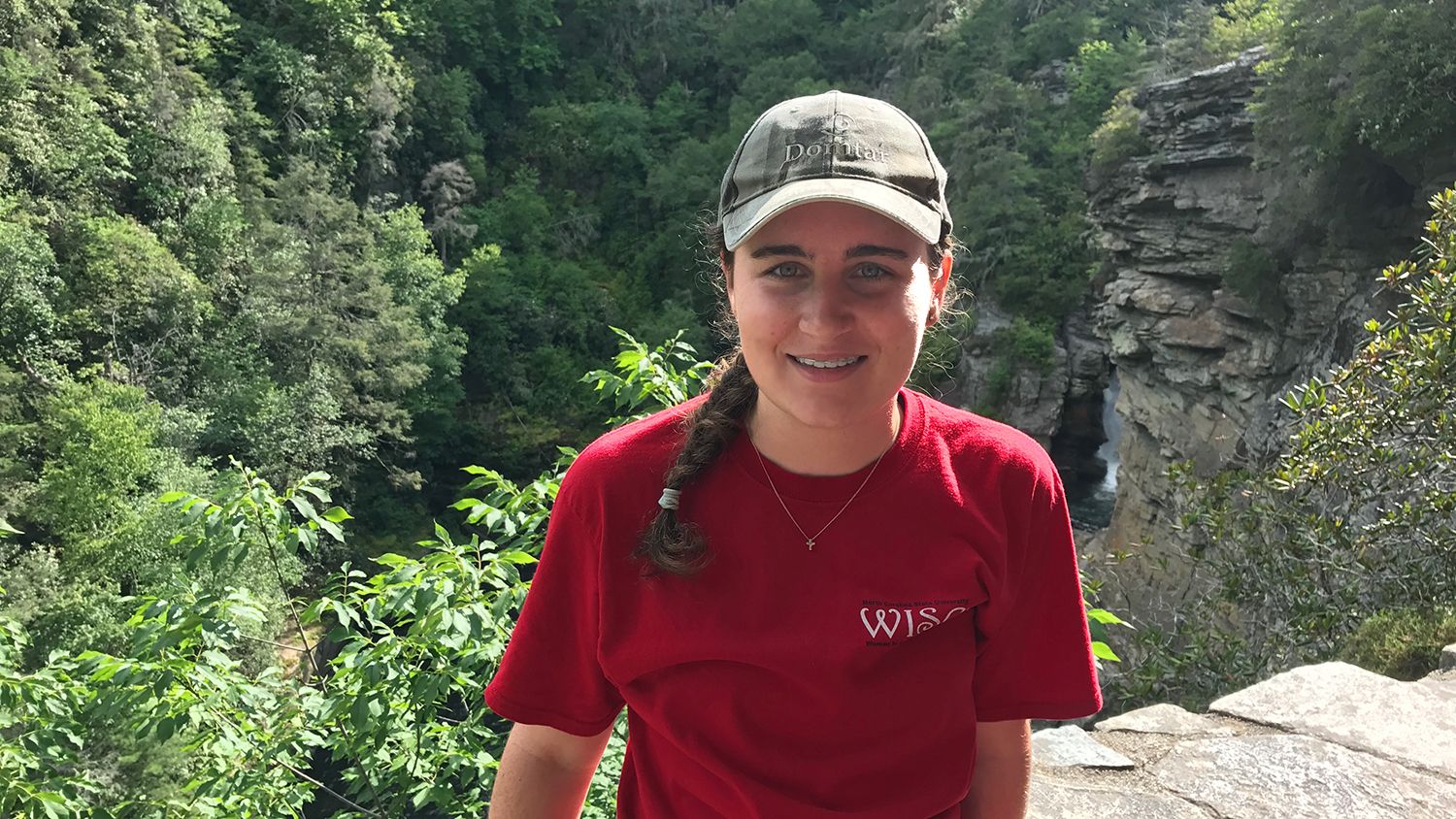 Pick which one is more stressful:
Being the only biscuit-maker and cashier working the drive-through at Bojangles during the morning rush?
Or stepping into the ring with an untrained steer and convincing it to let you lead it around on a halter?
Junior agriculture education major Erin Stewart has handled both — and in unexpected ways, one helped prepare her for the other.
Why did you choose agriculture education?
My interest in agriculture began at a young age, when I dreamed of being a farmer as opposed to a princess or ballerina. My parents are both foresters and I grew up reading Little House on the Prairie and Charlotte's Web, so I always had an inclination toward agriculture and being outside. That interest became a passion when I got involved in my high school's FFA chapter.
What's the best career and/or academic advice you've gotten?
[pullquote color='red' align="]I remember that I can only do one thing at a time instead of stressing out about three tests at once.[/pullquote]It was from my manager at my first job at Bojangles: "You can only do one thing at a time." I was a cashier and biscuit-maker, and it was one of my first months working the drive-through. Things could get really crazy…His advice helped me feel less stressed and get the job done.
I use it all the time at CALS, especially those days where there's like three club meetings that you need go to and two essays and a test tomorrow and a project due next week. There's so much studying you have to do, it feels like you don't have enough time for it all. I sit down and prioritize and remember that I'm only one person and can only do one thing at a time, then work through it that way instead of stressing about three tests at once.
What's your favorite memory so far at CALS?
The time I showed a steer with the Animal Science Club. Showing was a brand new experience for me, and it was so much fun. We got a steer who had never been worked with, and we had to get them used to being led around on a halter. [pullquote color='red' align="]It was therapeutic to go to practice and walk with my steer, away from the city. It was a good way to de-stress.[/pullquote]
It was definitely scary at first, because they can very easily hurt you, and I haven't had a whole lot of experience with livestock — but I loved it. Then we went to the North Carolina State Fair and got to show there. It was so cool to learn and be involved in a part of agriculture I hadn't previously had experience with.
It was almost therapeutic to go to practice after a while and walk around with my steer. Being away from the chaos of campus, being out there at the Beef Unit, it's quiet. You're away from the city atmosphere. Animals don't require a whole lot out of you…they're gentle spirits in a way, I guess. It was a good way to de-stress.
What's been your proudest moment so far?
The day I gave my mini-lesson at Wakefield High School. Agriculture education majors are required to observe an agriculture educator in the classroom in the fall semester of their sophomore year, and we were tasked with planning and giving a 30-minute lesson.
[pullquote color='red' align='left']I was so nervous. … I usually enjoy one-on-one interactions more than big groups.[/pullquote]I was so nervous. While I do enjoy people, I usually enjoy one-on-one interactions more than big groups. Dr. [Wendy] Warner helped me with preparation a lot — I went to her office hours, and she looked at the lesson plan with me and gave me extra confidence about it.
There's almost an adrenaline rush that comes with public speaking, and I got more comfortable as we went on…By the time I got to the second presentation, I was feeling confident and ready to improve what I had messed up the first time. The students interacted and asked questions, they all seemed excited to talk about things. By the time I was done, I was very proud and excited that I had accomplished it.
What are your goals for the future?
Right now, I have a really cool job working at Green Hill Farms, which is a hosta nursery in Franklinton, North Carolina, owned by a world-known hosta hybridizer.
In the future, I hope to become an agriculture educator and encourage my students the way my advisors encouraged me. They believed in me and gave me something — FFA and American Agriculture — in which to believe. I hope to be that person for the next generation of students.
Erin is the recipient of the Marvin P. Taylor Endowed Scholarship. Want to become a part of the educational journey of other hard-working CALS students like Erin?
[button]Give now.[/button]