Plant Sciences Initiative Task Forces Report Recommendations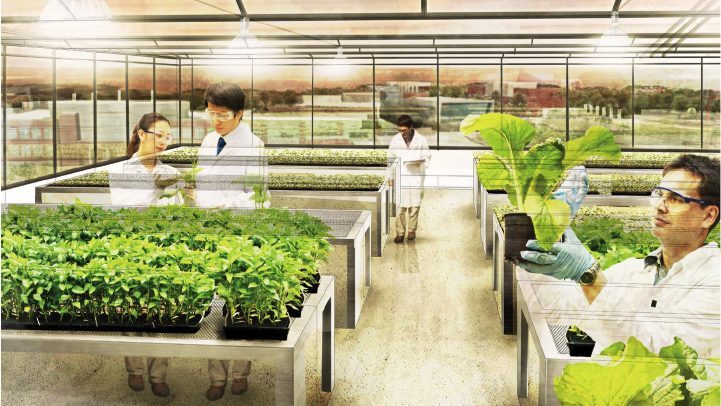 Task forces charged with mapping a vision for the North Carolina Plant Sciences Initiative came together May 1 at NC State University's McKimmon Center to discuss and share recommendations, to learn about next steps for the initiative and to celebrate progress.
Four task forces were assembled in 2016, when the College of Agriculture and Life Sciences administration charged the groups with providing guidance in creating and sustaining a world-class, transdisciplinary research endeavor. That effort will be headquartered in a Plant Sciences Building, planned to open in 2021 on Centennial Campus.
Focusing on the large initiative that the building is part of, the task forces included representatives of business, government and academia. They addressed four areas: governance and leadership, research and technology, workforce development and public engagement and advocacy and resource development.
Key recommendations highlighted
Deborah Cummings of TEConomy Partners, a consulting firm that helped facilitate the task forces' work, summarized the recommendations: The governance and leadership group, for example, recommended job responsibilities for the eventual executive director and a commercialization and entrepreneurship director, and it called for an environment that encourages flexibility, natural evolution and transformative disruption of technology from discovery to commercialization.
A key take-away from this task force, Cummings said, was that "at every stage there (should be) input and feedback loops from internal stakeholders and external stakeholders from around the state, making sure the needs of industry and producers and consumers … is heard continually."
Cummings then discussed the research and technology task force's recommendation for three inaugural scientific platforms to help tackle challenges significant to North Carolina, the nation and the world.
The group recommended that directors be selected for each of the platforms – plant improvement; plant data sciences; and food systems, environmental sustainability and resilience – and that PSI projects focus on the intersection of the platforms, Cummings said.
The workforce development and public engagement task force split into three subtask forces – science policy and communications, research translation and delivery and workforce education and development. Recommendations included ensuring that Extension has a pivotal role, from beginning to end, for each project.
Cummings also said that sub-task forces called for hiring a communications and external relations specialist and a dedicated professional development coordinator. They also suggested that the initiative include specific program efforts focused on workforce development initiatives geared at providing hands-on and experiential learning opportunities for students.
Cummings explained that while the other task forces were developing recommendations, the fourth task force, advocacy and resource development, chose to wait until the other task forces reported before continuing their efforts to raise funds to support the initiative.
Next Step: Knitting Together Recommendations
During her report-out to stakeholders, Cummings also spelled out major points of discussion that were raised earlier in the day during the task forces' working meeting. "There is now a need to knit together the variety of excellent recommendations" so that they lead to "a transformative ecosystem," she said.
Participants in the task forces' meeting also noted "the need to leverage the resources that already exist both within CALS and across NC State to ensure that the North Carolina Plant Sciences Initiative itself does not itself operate within a silo but is very tied to the resources and the areas of excellence and efforts already occurring," Cummings added.
Another key point from the task forces' meeting was the need to balance building "a world-class leading cluster of plant science companies within North Carolina" with "conducting the work of applied research that needs to be done to improve the performance of North Carolina agriculture," she said.
'A Town Square for Creative Collisions'
The report-out to stakeholders also included a report from the architectural firm, Flad Architects, which was hired in September to design the Plant Sciences Building. Dean Richard Linton said that the complex "will be more than just a new building. It will be a town square for creative collisions that spark innovation and create new technologies to serve agriculture in our state."
Chuck Mummert of Flad Architects explained that while the upper floors will include laboratory, office and meeting spaces, the ground floor "is all about bringing people into the building and telling the story of the Plant Sciences Initiative. We think when you come in the front door, there will be a hearth space … that's the community center and social hub for the facility. There's also the opportunity for honoring those who've been key to the Plant Sciences Initiative, ranging from donors to (those instrumental in) the history of agriculture in North Carolina."
Mummert said the firm is hoping to wrap up advance planning in May and move on to other stages: schematic design, design development, construction documentation and then construction.
Doing Science Differently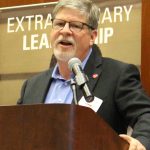 Dr. Steven Lommel, CALS associate dean for research, said that he was "energized" by the design process. "With the building, we are trying to do something different with how we organize ourselves and assemble interdisciplinary teams and how we do big science to solve problems and create opportunities," he said. "It requires us to think differently than we have done in the past, to get out of our silos, making it easy to talk to other people to solve these kinds of problems."
Lommel also commented on the initiative's next steps, noting that TEConomy will generate a written report on the task forces' work and recommendations, and CALS administration will share the report online.
"Over the next several months, we will engage with university and college faculty members and others to create an implementation plan from the task forces' recommendations," Lommel said.
Meanwhile, a search is underway this summer to hire a launch director, who will lead the initiative during the nascent pre-building phase.