Outstanding CALS Grad: Danny Marulanda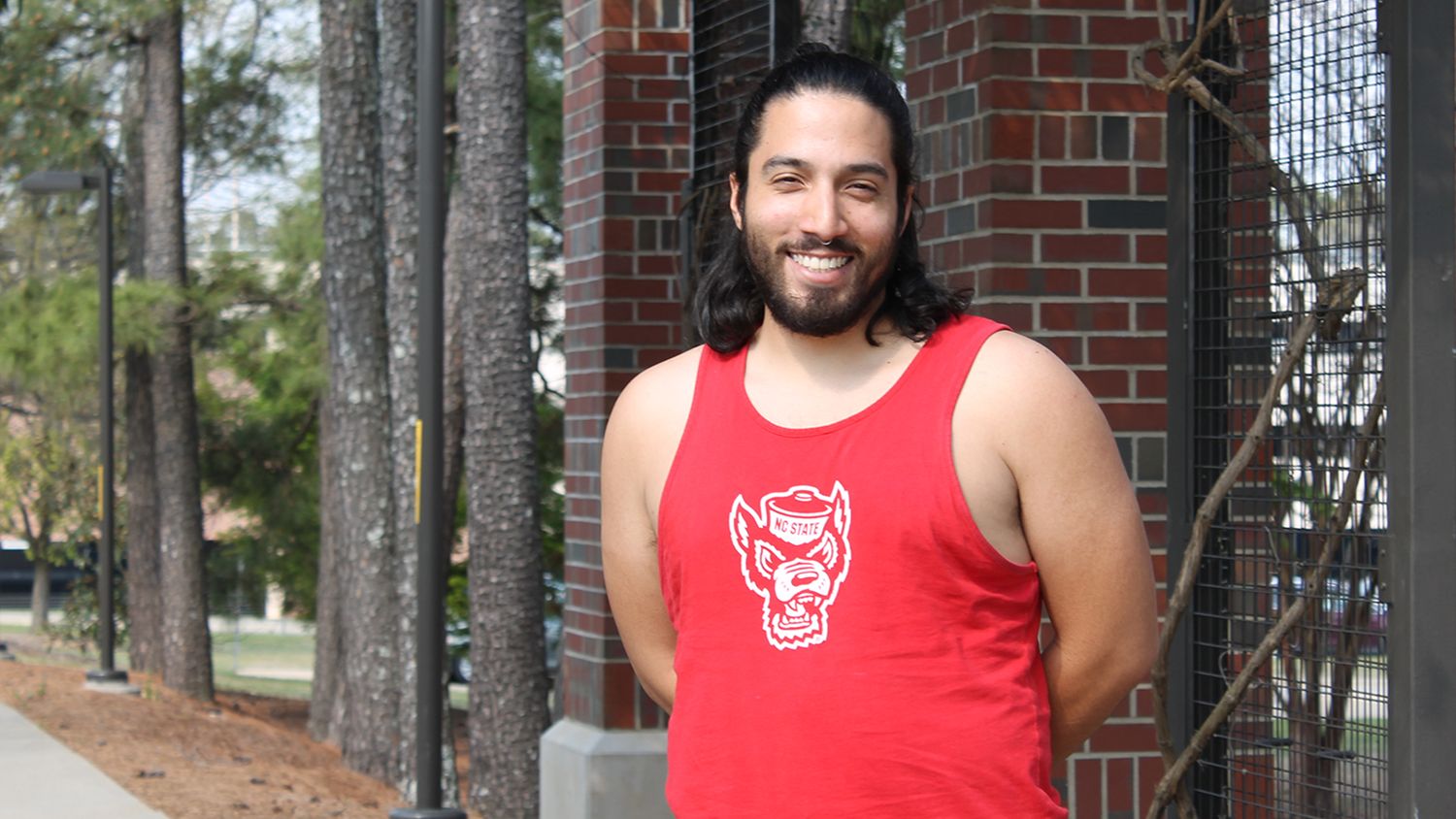 When it comes to global environmental challenges, NC State student Danny Marulanda believes that agriculture can, and must, play a critical role. His mission: to help tackle problems facing the environment and agriculture in ways that sustain both.
It's why, in large measure, he added a major in NC State University's College of Agriculture and Life Sciences to undergraduate studies that began in the College of Natural Resources.
Before coming to NC State, Marulanda had taken part in a life-changing five-year early college program in his hometown of Statesville. Through the program, he had the chance to visit Yellowstone National Park, witnessing first-hand a tense debate between conservationists and farmers and ranchers over wolves.
Before the trip to Yellowstone, Marulanda hadn't thought much about either the environment or agriculture – he wanted to be either a computer scientist or engineer.
"I would run and enjoy being out in nature. I also spent a few years in Colombia around coffee farms and a lot of plantation style farms," he said. "But it wasn't until I started getting more into my environmental science education and I started to learn that so many of the challenges that we're facing are linked back to agriculture and land stewardship."
Slated to graduate with bachelor's degrees in plant and soil sciences as well as environmental sciences, Marulanda sat down recently to discuss his time at NC State and his hopes for a sustainable future.
What do you plan to do with the insight you've gained from NC State?
I want to help bring about sustainability: I think that's been my goal ever since coming back from Colombia and seeing large disparities for people living there versus people living here. I also want to create more efficiency: We're wasting almost half of our food in the United States. It gets dumped before it's even sold. I'd like to try to find ways to solve issues like these.
I'm not sure where I'll be 10 or 15 years from now, but I want to be doing something to help bring about sustainability. I want to be able to communicate science to people, to be able to communicate sustainability well and to get people on board.
[pullquote color='red' align='right']Don't be afraid to change your mind, and don't be afraid to explore.[/pullquote]
What led you here to NC State and to agriculture?
I had heard a bit about the environmental science program in the College of Natural Resources, and when I came here, I really fell in love: The program allows you to design your own focal area, so you have classes with students who have different perspectives and interests – and that's a good thing.
I picked up the agriculture degree my junior year. I was taking agroecology with Dr. Michelle Schroeder Moreno, learning about trying to solve agricultural problems through an ecological lens. I realized that was my dream. 
What's been your biggest challenge here at NC State?
I think my biggest issue was spreading myself too thin. I'm fascinated by so many things, and I want to be a part of all these things. I just wanted to be able to do it all. It would have saved me some with stress and some anxiety if I had just taken it calmly and slowly. On the other hand, I can say that I've learned how to deal really well with pressure.
What's next for you?
I have a summer internship through CEFS, the Center for Environmental Farming Systems. I'll shadow different people and learn about the food supply chain, the basics of marketing in the agricultural field — and then there will be a small portion that I'm particularly excited about it: I'll be involved with teaching kids about agriculture.
What advice would you give to a first-year NC State student?
Accept the present moment, and don't compare yourself to other people. That may sound corny, but it's so important. Define success for yourself first, and don't let other people define success for you. Don't be afraid to change your mind, and don't be afraid to explore.
College is great for that because there are so many disciplines represented here. Why not experiment and view different disciplines and get experience in them? You might find something else that really speaks to your heart. And don't be afraid to reach out to the people you admire. There are so many bright minds on this campus, and networking is powerful.
You can make a difference in the lives of students like Danny!
[button]Give Today[/button]