Faculty and Staff
Lightning Round: Knitting Networks and Seeding Solutions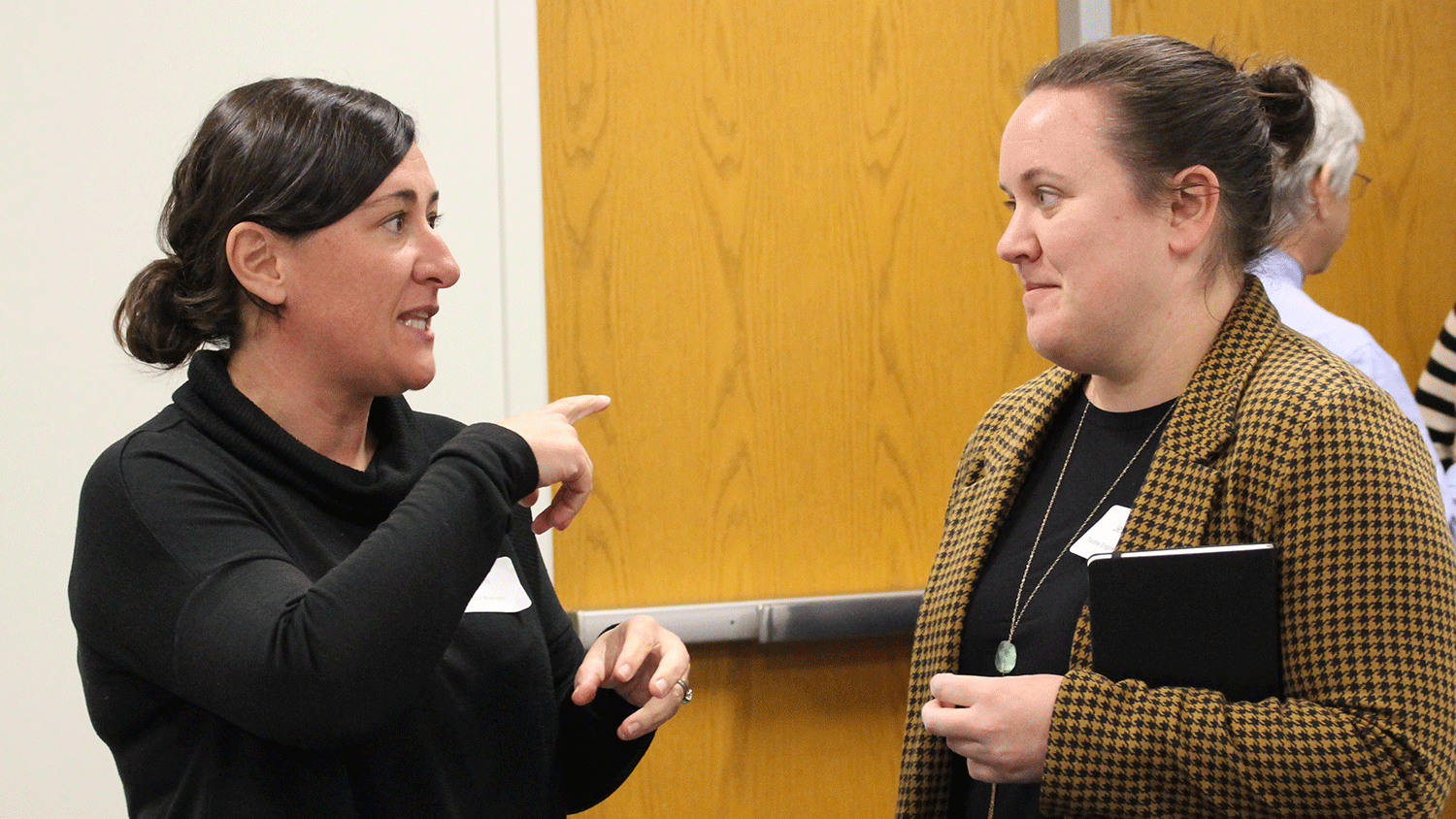 The North Carolina Plant Sciences Initiative (N.C. PSI) organized a lightning round ideation session on Wednesday, Nov. 13 designed to spark research collaborations to tackle grand challenges, whether they ended up being focused on plant sciences or not.
During the session, dozens of faculty members from the College of Agriculture and Life Sciences (CALS) and the Wilson College of Textiles (WCOT) braved unseasonably cold weather to share their current research and research aspirations with one another.
Xiangwu Zhang, WCOT's associate dean for research, and Steve Lommel, CALS' associate dean for research, briefly introduced themselves. Then Steve Briggs, the launch director for the N.C. PSI, spoke. He was pleased to see so many experts in diverse fields in one place and the boundless potential collaborations therein.
"We look forward to an exciting afternoon; you'll find out some amazing things that are going on among the different folks here," Briggs said. "Afterward we'll have time to mingle, exchange business cards and set up lunch meetings. The bottom line is: establish any potential collaborations and ideas. You never know what will come out of these events. We can attest to some inter-college partnerships that have really borne great fruit."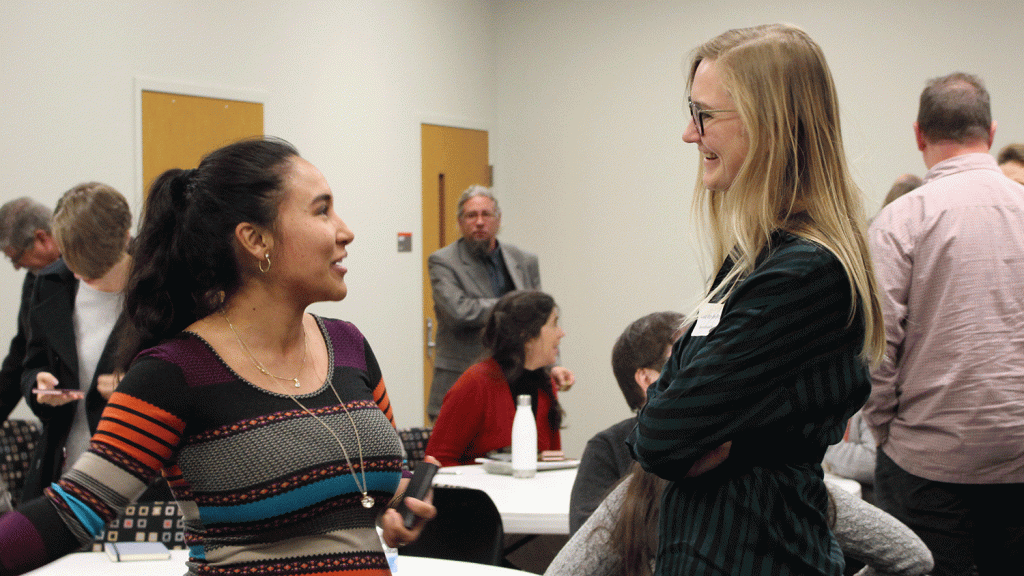 Each researcher, primarily faculty members with a few postdoctoral fellows, had a scant two minutes to present their research followed by a fruitful and ice cream-filled networking reception.
In addition to talking about ongoing research in topics ranging from the genes that influence development of cotton fiber to textiles for capturing carbon dioxide from power plants, researchers shared their high-risk, high-reward ideas. These included a fabric-based soft robot inspired by plants, fabric shields for row crops with weather sensors, biodegradable packaging to keep food fresher and bio-engineering pre-colored cotton.
A nanofiber fabric for monitoring plant growth
One on-going research collaboration — focused on developing a fabric to monitor plant growth and stress in the field — which involves faculty members from CALS and WCOT had a chance beginning.
The interdisciplinary collaboration led by Terri Long, an associate professor in plant and microbial biology, and Ericka Ford, an assistant professor in textile engineering, started when they were introduced by Cranos Williams, an associate professor in electrical and computer engineering, who is also involved in the project.
"Originally I thought the idea of designing a nanofiber to monitor plant growth was kind of far-fetched, because I didn't know much about nanofibers but I wanted to see what might happen," Long said. "The project has really evolved over the last couple of years. We had to learn how to speak each other's language, including all the acronyms, and how to work together."
For example, in order to use the nanofiber fabric as a sensor to monitor plant growth in response to stressful conditions — such as drought or a lack of iron — the research team needed to know the density of the Arabidopsis plant, a question that floored the plant scientists, Long said.
The fabric can be used as a sensor because Sachin Hiwale, a doctoral student in Ford's lab, designed the nanofibers to have particular properties. For example, when the fabric is pushed or tapped the fibers produce an electrical signal, which can be detected.
[pullquote align="left" color="red"]This project would not exist without our collaborators. It's been great to talk to and interact with people in other fields.[/pullquote]
Other collaborators on the project include Ross Sozzani, an associate professor in plant and microbial biology, and Anna Locke, a USDA assistant professor in crop and soil sciences, who keeps the collaboration grounded in the end goal of applying the knowledge gained from the project in the field.
"This project would not exist without our collaborators," Long said. "All of us have to think outside of our boxes in order to move forward. It's been great to talk to and interact with people in other fields."
The collaboration is supported by a N.C. Agricultural and Life Sciences Research Foundation innovation fund grant, though the team hopes to leverage their results and apply for federal grants.
"We are only touching the tip of what is possible to do with nanofibers," said Lisa Van den Broeck, a postdoctoral fellow who is heavily involved in the project and is mentored by Sozzani and Long. "We are exploring the possibility of not only using the fibers as a water-availability sensor, but also coating the fibers in materials to cause iron deficiency in the lab, or with proteins for visualization. There are so many plant-related things we can do with nanofibers."
Long, Locke, Van den Broeck and Sozzani were among the 17 CALS and 13 WCOT researchers who participated in the session. One researcher from the Genetic Engineering and Society Center and one from the College of Engineering also presented their research at the session. In addition, four research librarians from the University Libraries attended the session to introduce themselves to researchers.
Only the future will tell the innovative solutions produced by the collaborations sparked at this event.
The next N.C. PSI lightning ideation session will be held the afternoon of Tuesday, Dec. 10. Faculty members from CALS and the chemistry department within the College of Science will have the opportunity to briefly present their research and form fruitful collaborations.
Our interdisciplinary research solves grand challenges.
[button]Learn more about the N.C. Plant Sciences Initiative[/button]