Horsing Around in Ireland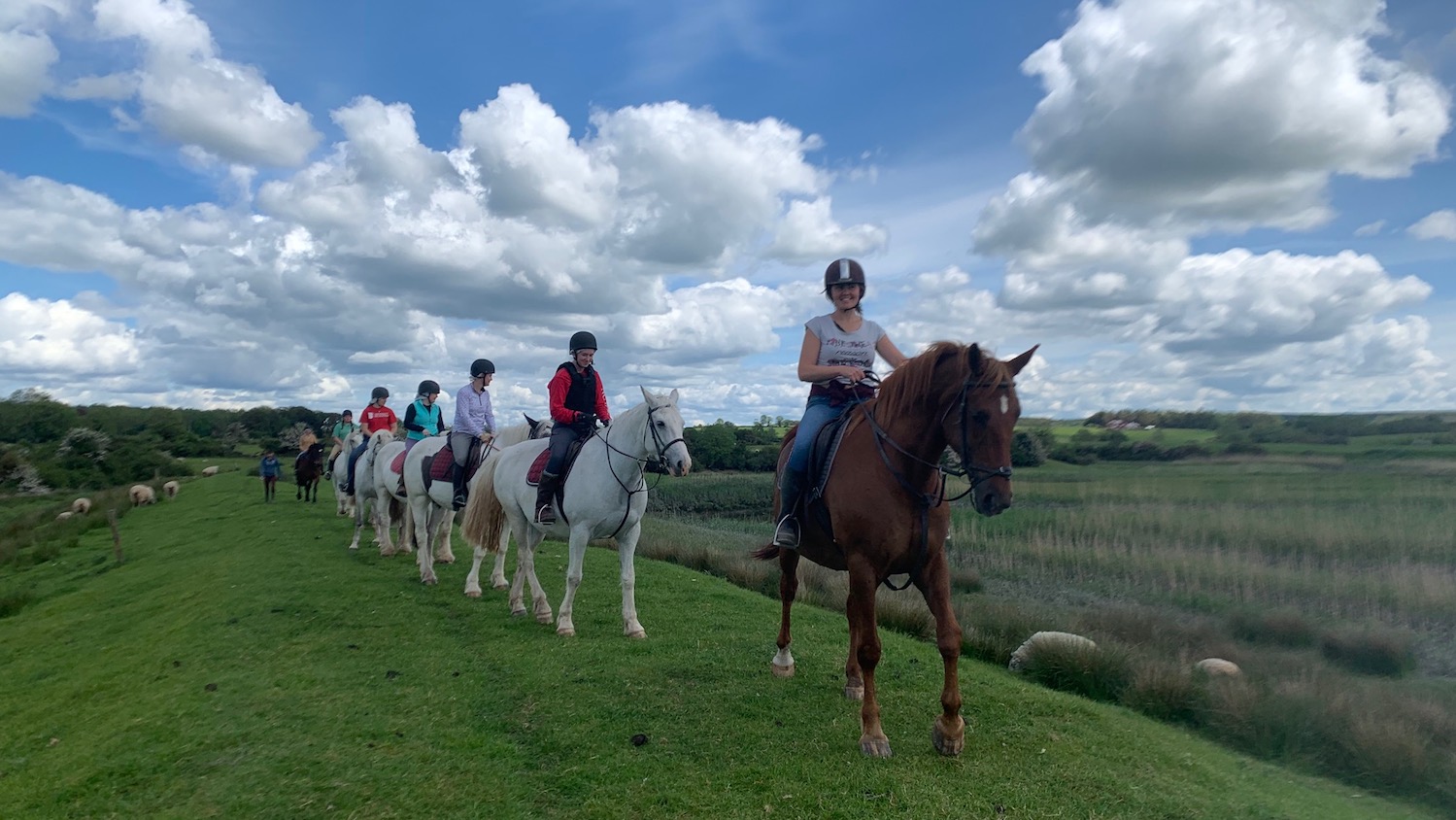 By Juliana McCully
NC State students on a study-abroad trip to Ireland's world-renowned equine industry expected to learn something about horses, but they were surprised to learn so much about themselves.
"I learned so much about this amazing country and made so many memories with a great group of girls," said Sara Evans, a rising junior in animal science from Charlotte. "I am also grateful for how much I learned about myself – it pushed me out of my comfort zone a few times and gave me the opportunity to broaden my independence."
Professor Shannon Pratt-Phillips in the Department of Animal Science, took 18 students to Dublin and Limerick in a May 12-26 course she has led since 2008. It introduces students to Ireland, Irish horse breeds and sporting disciplines. It also includes academic lectures; visits to historic stud farms; racetracks; farrier and jockey schools; feed, research, and marketing facilities; a saddlery; veterinary clinics; a sightseeing tour; and horseback-riding.
Ireland is about the same size as Kentucky, Pratt-Phillips said, but it's third in the world for breeding and encompasses a multibillion-dollar, multifaceted industry with historic roots and significant cultural and economic investment.
"It's a great way to see many facets of the horse industry in a small geographic location and explore opportunities more deeply," she said.
Ready to Go
Faith Church, a rising sophomore from North Wilkesboro majoring in animal science, said Pratt-Phillips mentioned the trip at the beginning of spring semester and, "as soon as class ended, I told her I was interested and had my application ready within 24 hours."
"I have always wanted to travel to Ireland," she said, "because I knew they had a big standing in the equine community, as well as the pure beauty of the country I had seen in photos. We were able to visit world-known stud farms, top-notch equine science universities, and many famous Irish landmarks.
"I also had the opportunity to not only see, but touch, Galileo, 'the best sire on the planet.' What an experience!"
Galileo's progeny have won more money than those of any stallion in history, and he commands fees of several hundred thousand dollars per mare, seven days a week, twice a day, for three months in the spring and three months in Australia, Pratt-Phillips said.
"We don't have a large thoroughbred racing industry in North Carolina," she said. "We have some of the sport horses, but a big part of the trip is to be introduced to the race-horse side of things and to realize the (breadth of) opportunities (in the equine industry).
"I think, a lot of times, students who like horses default to wanting to become veterinarians, and this trip exposes students to careers they may not have considered."
Newfound Confidence
Marley Clark, a Mooresville junior in animal science, said she was pretty set on the idea of being a small-animal surgeon, but the experience opened her eyes to possibilities in equine surgery.
"I also gained some spectacular friends and newfound confidence in myself," she said.
Students were impressed with the Irish attention to detail: "The standard that Ireland upholds in terms of the humane care of these animals is absolutely amazing," Evans said. "The culture and history also led me to believe that almost every person in Ireland is in some way connected to horses and loves horses in some way.
"This trip made me realize just how big Irish horse racing is, which gave me an idea of how many jobs the industry provides."
Riding Flying Armchairs
The itinerary includes horseback riding, which Pratt-Phillips said is always a highlight and often a student favorite: "We go to a very special place called Castle Leslie, where they have horses affectionately called flying armchairs. Their horses are just so good,  the instructors are great, and it's always a great experience for students."
"An experience to last a lifetime," said Elizabeth Lane, a junior psychology major from Fuquay-Varina who had never been out of the country and knew little about the horse industry before the trip. She hopes to work with horses to help people.
"It was educational and fun," said Samantha Garnett, a sophomore agriculture education major from Whitsett. "You will learn more than you think, and it might spark interest in a field you may have never considered.
"I took the leap of faith to go abroad with a group of 17 strangers," she said, "and it paid off in full because, I ended up coming home with bountiful horse knowledge, friendships, and memories."
Want to Go? This popular study abroad takes place every other year.