Alumni and Friends
Greenhouse Vegetable Growers Support N.C. Plant Sciences Initiative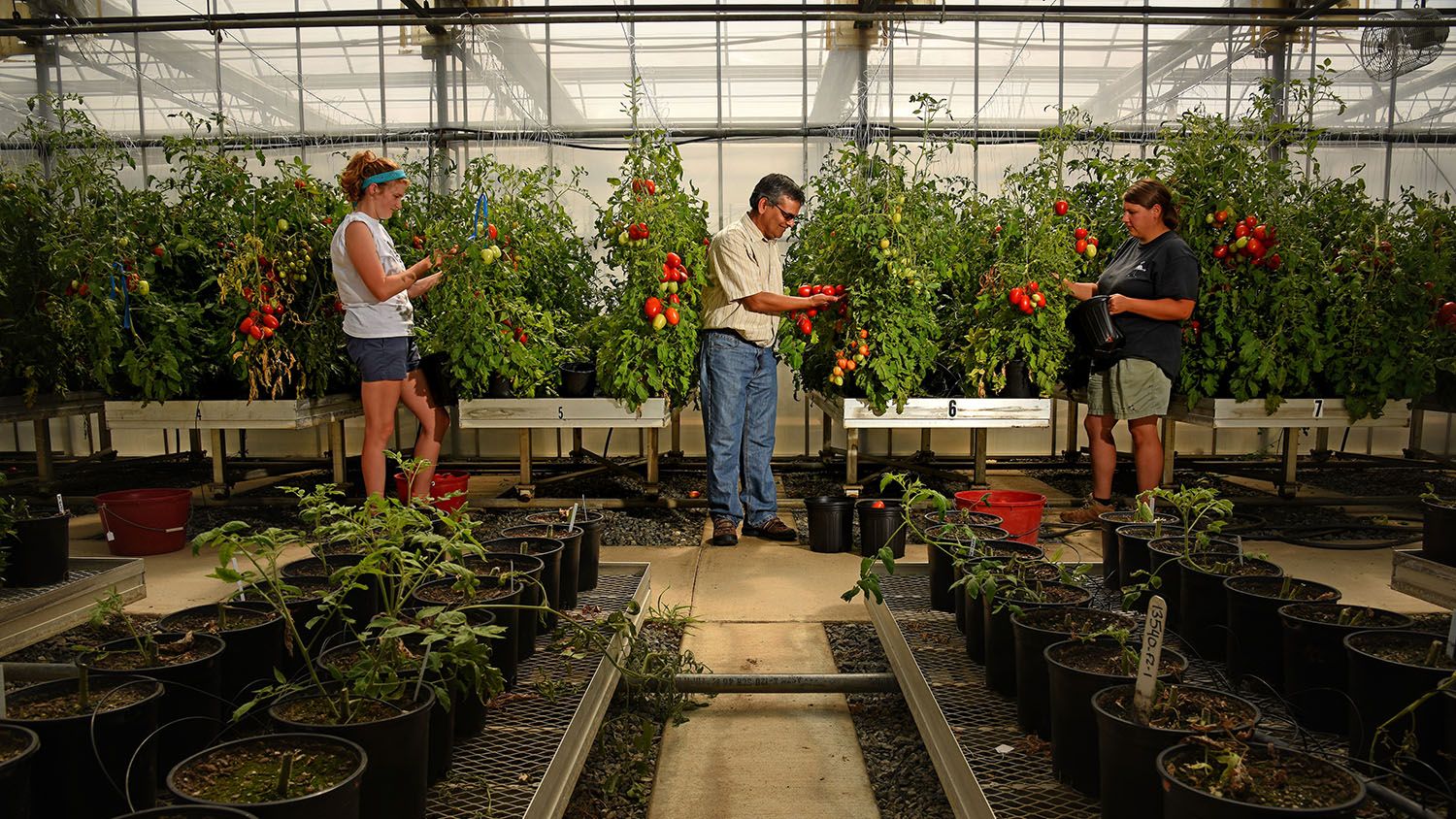 Did you know that in 2017 greenhouse-based growers in North Carolina produced almost $11,800,000 worth of vegetables?
In fact, half of that was in fresh market tomatoes, a crop that NC State breeders have devoted decades to improving.
In honor of NC State's past support and continued partnership, the North Carolina Greenhouse Vegetable Growers' Association donated $7,000 to the N.C. Plant Sciences Initiative (N.C. PSI).
"I think the Plant Sciences Initiative is going to be humongous in the future, once we get the building built," said Richard Whitaker, the president of the association and owner of Whitaker Farms. "There will be people coming from out of the country to do research there, and we will be able to learn from their research about how we can better manage our greenhouse operations and have a better profit."
The North Carolina Greenhouse Vegetable Growers' Association was started in 1972 and has approximately 25 members. Most of the members manage small family greenhouses that primarily produce fresh tomatoes. The association's gift to N.C. PSI represents the savings of many years under great leadership, Whitaker said.
Greenhouse vegetable growers face a lot of challenges including profitability and pests. Even weather — especially cold, cloudy weather — can impact their bottom line, Whitaker said.
The growers are looking forward to even more new plant varieties released by the N.C. PSI to replace varieties that are played out, or aren't as productive as they once were.
Insects and plant diseases also pose significant challenges for greenhouse vegetable growers.
"A lot of greenhouse vegetables are grown organically or pesticide-free," Whitaker said. "We need help on using beneficial insects. Information such as which beneficials should we use that would be better."
He also recalled several times where he sent a sick plant to N.C. States' Plant Disease and Insect Clinic for diagnosis and others when he received aid from county Extension agents.
"NC State has been there for us in the past and I know that if I have problems that arise in my greenhouse they will be there and they can help me with those problems," he said. "We made a donation to the Plant Sciences Initiative, thinking in the future there may be something that you all can help us with. Although it will be a little drop in the bucket for the finances you all will need for the project, we did what we could do to help you all get moving along."
He added, entreating other growers and associations considering where to give their charitable donations, "If more people donate, the quicker we can get the Plant Sciences Initiative off the ground and working for the betterment of agriculture in North Carolina."
Help grow plant science innovation.
[button]Give to N.C. PSI today[/button]