Grant Helps Farmer Develop a Christmas Destination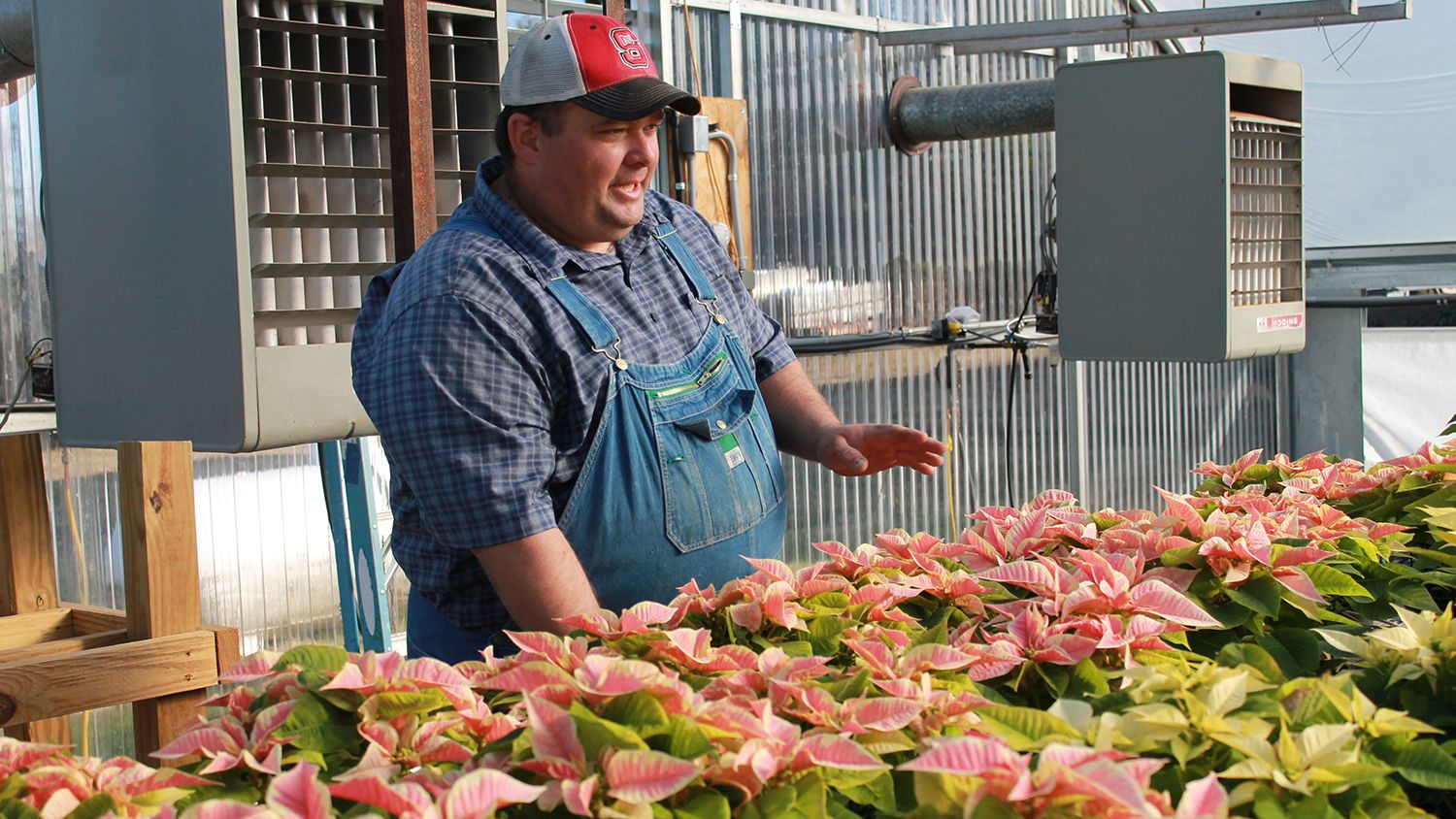 Kevin Gray's favorite time of the year is Christmas, and he welcomes people to experience that enchantment on his Greensboro farm. Gray has Christmas trees galore, and, with the help of NC State Extension, he's growing a greenhouse full of poinsettias.
The part-time farmer won a grant from the NC AgVentures program at NC State in 2016 to start the poinsettia operation. The annual grant program, run by Extension and funded by the North Carolina Tobacco Trust Fund Commission, helps family farmers in North Carolina pursue new and innovative agricultural ideas to increase farm profits.
To get his poinsettia operation going, Gray sought Extension's advice on everything from growing the plants to managing the greenhouse. "It's been a really good crop for us," he said. "I couldn't have done it without them."
As it is with Gray, the holidays are big business for many North Carolina farmers. The state ranks second in the nation in the production of both Christmas trees and poinsettias, and it's also a leading producer of two foods associated with the holidays: turkeys and sweet potatoes.
On his century-old family farm, known as Hickory Creek Farm, Gray used to grow tobacco. But in an effort to keep the farm in his family and keep it profitable, he's diversified to other commodities. Now he sells Christmas trees shipped from the North Carolina mountains, but in another year or two, the ag entrepreneur will open a choose-and-cut Christmas tree operation. He's got 500 Christmas trees growing on his farm now, and when they mature, he'll be able to offer customers a wide variety of tree choices. This coming spring, Gray plans to plant another 500 trees.
While the piedmont isn't suited for growing the state's most popular Christmas tree, the Fraser fir, it does support production of Leland cypress, red cedar, white pine and other types of holiday trees.
"The demand for fresh, live Christmas trees is really booming, and we have doubled our sales over the past three years, which is phenomenal," he said. "We get a lot of phone calls from folks wanting to cut trees – to have the experience of … cutting the tree down but without the drive to the mountains."
As Gray works to fill that demand for a local choose-and-cut experience, Hickory Creek Farm is gaining popularity as an agritourism site.
People "can come out here and take a hayride and roast some marshmallows on the fire and spend a day in the fresh country air and enjoy the farm. We've got lots of games for the kids and pony rides on the weekends — all kinds of fun stuff," he said.
Gray is always dreaming of what else he can do to make his farm the destination for "all things Christmas," as he puts it.
"I love seeing the kids come out and enjoy the farm and play outside and get dirty," Gray said. "And I'd like to add a Christmas craft store and to show Christmas movies — I have lots of ideas."
Have a great agricultural idea? Learn more about the NC AgVentures Program.