From Factory Floor To First-Generation College Student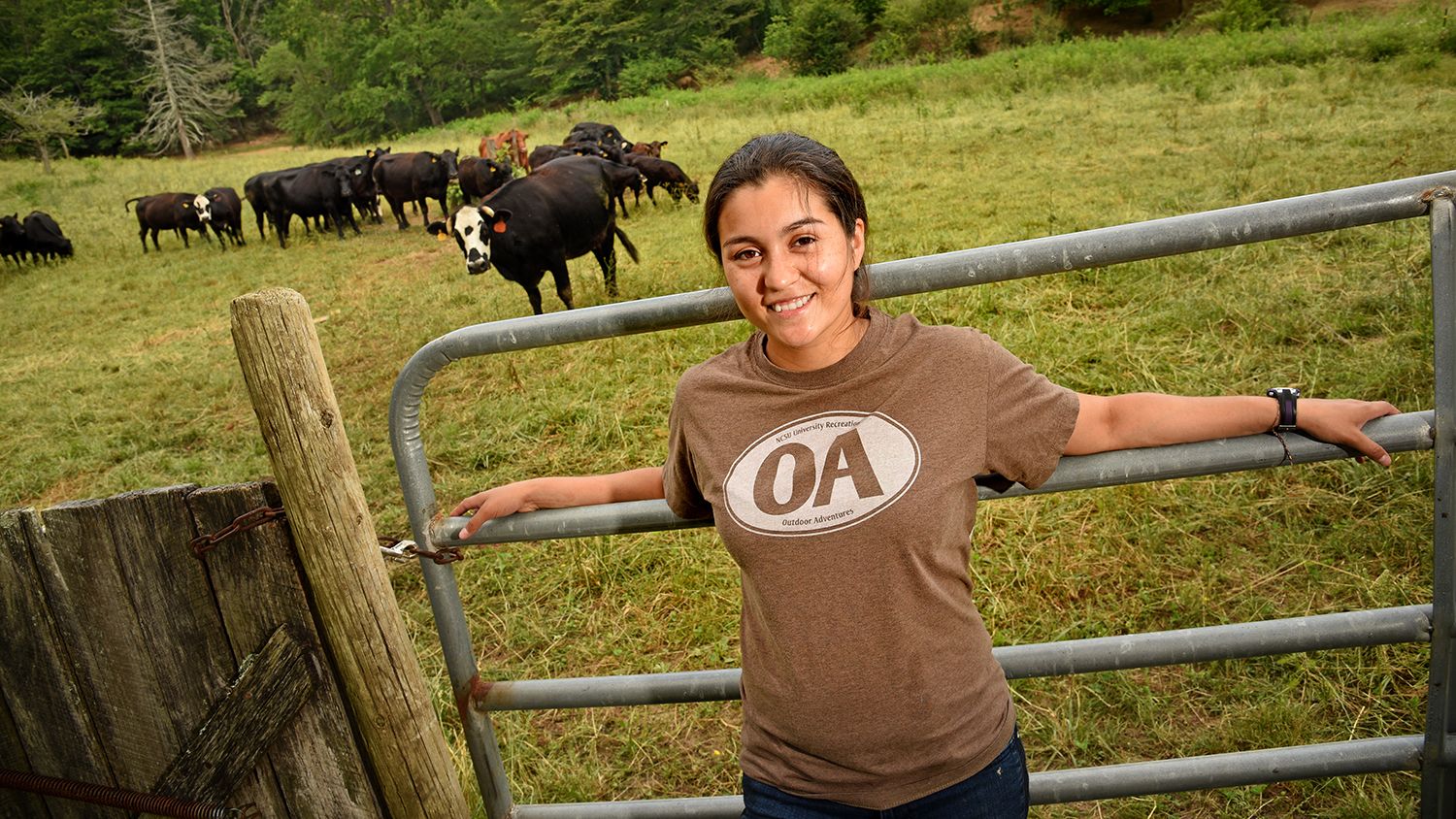 From teenage packing plant worker to animal science student and mentor, Sampson County's Selena Ibarra is a first-generation college student who refused to quit.
---
Selena Ibarra was 14 years old when she started work at a packing plant to help pay the bills for her family of 13.
Fingers flying, Ibarra could strip the seeds from a bell pepper in under two seconds. Slower workers didn't last long. The job required Ibarra to stand for hours, and lunch breaks depended on workload.
So when Ibarra decided she wanted to leave rural Sampson County to attend university in the state capital, she had already developed the persistence and work ethic needed to be first in her family to figure out the system.
[pullquote color='red' align='right']I had no one close to me to go to with questions.[/pullquote]"I constantly called staff members about the application process, because I had no idea how to apply — I had no one close to me to go to with questions," Ibarra says.
Her dream: a master's degree from NC State in an animal-related field, followed by a stable job and her own small farm someday.
Step one: an acceptance letter.
Falling In Love With NC
Born in Oregon, Ibarra and her family moved to North Carolina when she was 10. Her father, a farmworker, kept getting pneumonia from field work during Oregon's harsh winters.
"The plan was to stay in North Carolina only until my dad felt better, but my parents ended up falling in love with the state," Ibarra says.
So Ibarra grew up in Turkey, North Carolina, a tiny eastern town just half a mile square. The population hovers around 300. Her family didn't own a farm, but they raised chickens and collected the eggs. The Ibarras attended a local "farm church," where most congregants had agricultural jobs and sang hymns in their work clothes. Since her large family had to share a single car, Ibarra's world revolved around school, church and home.
She started working summers at the packing plant during the 2007 recession, when her dad's canning factory job was slashed to two days a week. But her dream continued to grow: Animal science. Master's degree. CALS.
If One Door Closes…
No one in Ibarra's family had attended college, but it wasn't their first time tackling a complex bureaucracy from the outside. Born in Mexico, her parents had successfully navigated the United States immigration system to receive citizenship decades before. They encouraged Ibarra as she toiled over her NC State application.
But even with hard work, her first attempt met with disappointment: a rejection letter in her mailbox.
[pullquote color='red' align='right']It might be a little harder, but there's always another way.[/pullquote]"I got very discouraged," Ibarra says. "But I thought, if you get a letter saying 'no,' it doesn't necessarily mean 'no' — there are other options, you just have to look for them. It might be a little harder, but there's always another way."
So she called back one more time. That's how she found out about the Agricultural Institute, CALS' focused, hands-on associate degree program allowing students to dive directly into agriculture.
The odds against Ibarra were steep. First-generation college students are less likely than their continuing-generation peers to persist through the first couple years of college, according to the U.S. Department of Education — and in one study, only 17 percent had attained a bachelor's degree eight years after high school graduation.
But two years after Ibarra's acceptance into the Agricultural Institute, she earned her associate degree and transferred into the Department of Animal Science. Now 24, she's a senior animal science major, getting ready to graduate.
Going Back To Pay It Forward
Every time Ibarra heads home for a visit, she coaches her 10 younger siblings along their own college track, proofreading personal essays and explaining who to call in the admissions office. Three of her siblings have already followed in her footsteps, one to the University of North Carolina and the others to community colleges; another is on track to graduate from an early college program.
[pullquote color='red' align='right']I would advise other students in my situation to reach out.[/pullquote]"I would advise other students in my situation to reach out," Ibarra says. "It's important to realize that education is so valuable but that the system can be complicated, and you have to ask somebody who's in the field."
Ibarra's commitment to education still manifests through hard work.  At her internship on a mountain farm last summer, she worked 50 hours a week or more, building fences and hauling produce to the farmers market.
And instead of slinging seeds at the packing plant, she now has a steady job at the NC State gym to raise money for school. In addition to her animal science eduction, Ibarra just earned her certificate in physical training.
"I love college," she says. "I'm very happy — and very appreciative — to be here."
Looking for a CALS education? We want you here!
[button]Find your path to CALS[/button]